Amber Heard's Team Slams Ex Johnny Depp Over Recent Interview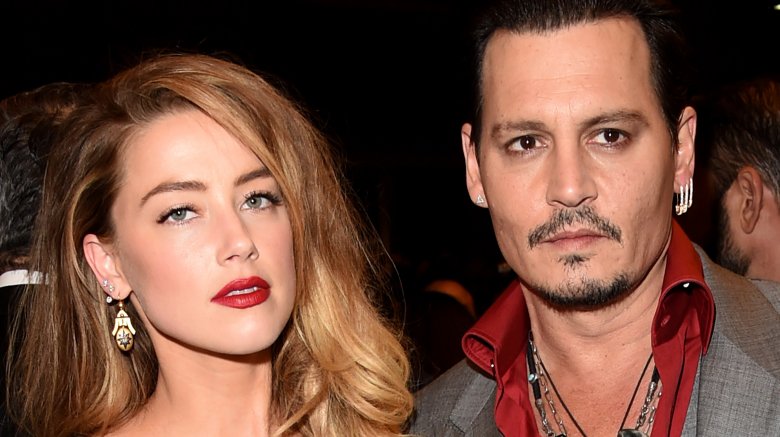 Getty Images
Amber Heard's attorneys have some words for her estranged ex-husband, Johnny Depp.
On Wednesday, Oct. 3, 2018, the Justice League star's legal team released a statement to The Hollywood Reporter after Depp denied the domestic violence allegations she'd previously made against him in his recent interview with British GQ.
Calling the magazine's reporting on the matter "outrageous," the statement read, "If GQ had done even a basic investigation into Mr. Depp's claims, it would have quickly realized that his statements are entirely untrue. Mr. Depp has blatantly disregarded the parties' confidentiality agreement and yet has refused to allow Ms. Heard to respond to his baseless allegations, despite repeated requests that she be allowed to do so."
Heard's legal team added, "Mr. Depp is shamefully continuing his psychological abuse of Ms. Heard, who has attempted to put a very painful part of her life firmly in her past. One need only look at the physical evidence to draw the proper conclusion."
Heard, 32, and Depp, 55, had married in 2015. However, the Aquaman actress filed for divorce the following May and obtained a restraining order against her ex after accusing him of being verbally, emotionally, and physically abusive throughout their marriage. As Nicki Swift previously reported, the accusations led to an explosive divorce, which was settled in August 2016. Depp was obligated by the terms of their agreement to pay Heard $6.8 million, which she donated to the Children's Hospital Los Angeles and the American Civil Liberties Union.
At the time, the former couple released a joint statement, saying, "Our relationship was intensely passionate and at times volatile, but always bound by love. Neither party has made false accusations for financial gains" (via Entertainment Weekly). Their statement continued, "There was never an intent of physical or emotional harm. Amber wishes the best for Johnny in the future."
In his British GQ profile, which gained traction online earlier this week, Depp opened up about the allegations, saying, "I knew it was going to stick on me." He added, "The thing that hurt me is being presented as something that you're really as far away from as you could possibly get, you know? To harm someone you love? As a kind of bully? No, it didn't, it couldn't even sound like me." Noting that he felt like he'd gone from some version of "Cinderella" in the entertainment industry to "Quasimodo," Depp said, "I could feel people look at me differently, because of the accusations towards you."
He then called Heard's claims into question — particularly noting the bruises she reportedly suffered after he allegedly hit her in the face with an iPhone. "Why didn't that person speak to the police? ... I mean, they spoke to the police, but the police saw nothing and they offered her an emergency medical technician. She said no," the actor said. Depp added, "And I don't know if it was the next day or a couple of days later, but then there was a bruise. There was a red mark and then there was a brown bruise."
At the time of this writing, Depp has yet to publicly comment on the recent response to his latest interview. However, his lawyer has since released a statement to E! News, claiming that the Fantastic Beasts: The Crimes of Grindelwald star is "a victim of violent abuse" himself and was "simply defending himself against Ms. Heard's lingering false abuse accusations." 
Depp's attorney also revealed, "In U.K. court proceedings next month, we will be submitting clear evidence of the violence committed serially against him by Ms. Heard and the serious injuries that he suffered. We will also submit overwhelming evidence that Ms. Heard faked the abuse allegations against Mr. Depp. ...The only 'shameful psychological abuse' stems from Ms. Heard's continuing cynical manipulation of the important #MeToo movement and its real victims, that she has used to pursue her own ends."
This, of course, isn't the first time Depp has stirred controversy in the press in recent months. In addition to being sued by two former security guards and facing a legal battle with his ex-managers, the movie star is currently being sued for allegedly attacking a crew member on the set of City of Lies in April 2017. The crime thriller was later pulled from its scheduled release date in September 2018.