Laura Dern's Daughter Jaya Is All Grown Up — Do You See The Family Resemblance?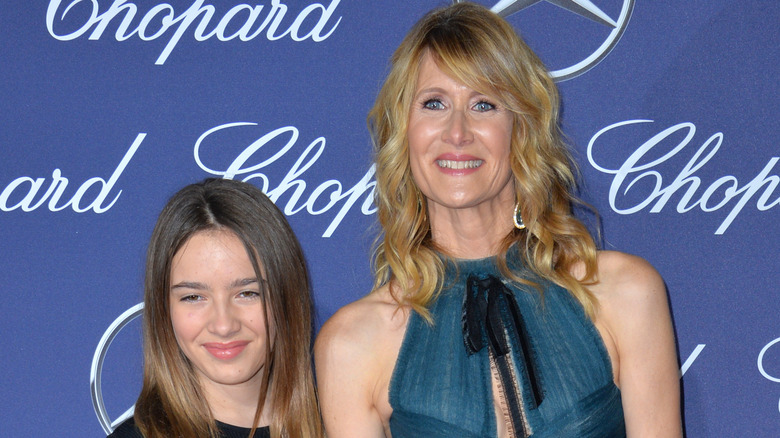 Featureflash Photo Agency/Shutterstock
Laura Dern has been linked to many high-profile actors but her only marriage was with singer-songwriter Ben Harper. The two started dating in 2000 after they met at Harper's concert and went on to have their son Ellery Harper in 2001 and daughter Jaya Harper in 2004. Ben filed for divorce in 2010 and according to the Daily Mail, Dern was "blindsided." The two attempted to reconcile but three years later, they finalized their divorce.
Dern and Ben agreed to share custody of their children and it seems the actor is a big influence on their daughter. Dern, known for being an activist, said of her then-12-year-old daughter in a 2017 interview with Refinery 29, "I'm deeply invested in our country and our moral obligations to the wellbeing of other families and [Jaya's] teaching me what's happening in the world in a really profound way ... She's teaching me: 'You don't wait for the country to change; you start the revolution right here.'" While Jaya is no longer a kid now, as an adult, she still continues to inspire Dern.
Laura Dern celebrated Jaya's high school graduation
Laura Dern is a proud mom of not just one, but two high school graduates. On June 5, the "Big Little Lies" star posted pics of the family at Jaya's high school graduation, which included her father Ben Harper, brother Ellery, and grandmother Diane Ladd. "The most amazing milestone to experience. My baby graduated high school ... Jaya. I'm so proud of you and your incredible heart and voice. I'm in awe of you," Dern gushed. Jaya celebrated by posting a pic of herself giving a commencement speech and while it's unclear if she's headed to college, a friend replied, "Congrats!!! Can't wait for your next chapter in NYC!"
Jaya was seen wearing a pin that said "Bans off our bodies," and following her graduation, the young activist posted an Instagram pic of herself at the U.S. Capitol and shared, "We delivered a letter to Leader Schumer today, on the 4th day of the sit-in, to urge him to put the assault weapons ban on the Senate floor for a vote. Gen Z wants to know where our lawmakers stand on this issue- and we will keep fighting until we see a change made." Jaya is clearly following in her mother's footsteps and just like their shared desire for social change, the young teen also wants to make it in Hollywood.
Laura Dern's daughter Jaya also wants to be an actor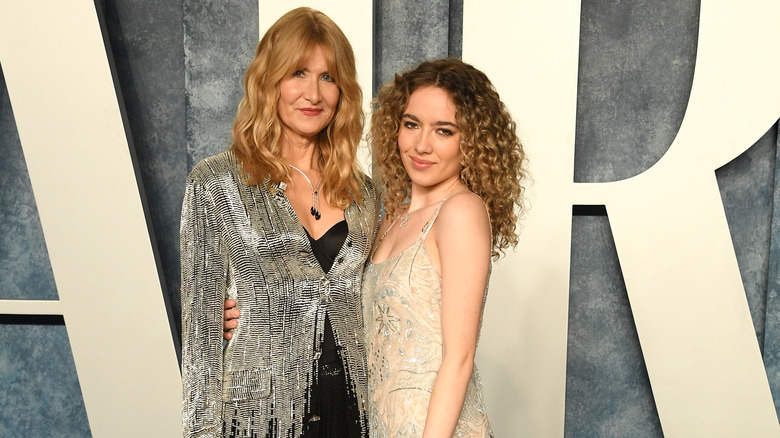 Steve Granitz/Getty Images
While Ellery Harper seemed to take his own path in life and is a model, Jaya takes after her mother and wants to pursue a career in acting. However, despite having started her own acting career at the age of 11, Dern shared on "Ellen" that she wanted her daughter to wait until she was older. At the time, Jaya was 17 and Dern stated, "I started very young at 11 but I'm so happy that she's waiting and wants to go to school but really knows in her heart she wants to act. And maybe if she does, we'll end up having the privilege of working together."
Despite her mother wanting her to wait, Jaya already has a couple of roles under her belt. In 2017, she was a short film, "The Good Time Girls" and the documentary "Teenage Emotions" in 2021. While Jaya has yet to win an Oscar like her mom, the aspiring actor accompanied Dern to the 2023 Vanity Fair Oscar Party where they wore coordinating outfits, per People. Dern had on a dark silver cardigan over black pants while Jaya complemented her in a light, silvery gown. The two were unmistakably mother and daughter, and Jaya will undoubtedly make a name for herself in Hollywood in the near future.