Jamie Foxx Is Above The Gossip In Unapologetic Health Update, Body Language Expert Says - Exclusive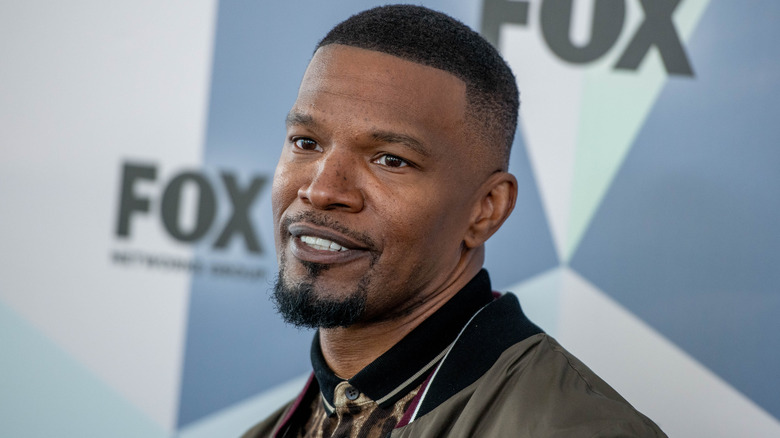 Roy Rochlin/Getty Images
Jamie Foxx is back and better than ever. In April, the "Django Unchained" actor's family revealed Foxx had suffered a "medical complication," per TMZ. Although it was unclear as to what the medical complication was, many media outlets suggested Foxx's health was deteriorating. However in May, Foxx's daughter, Corinne, decided to set the record straight on social media, per ABC. She wrote on her Instagram Story, "Sad to see how the media runs wild. My Dad has been out of the hospital for weeks, recuperating. In fact, he was playing pickleball yesterday! Thanks for everyone's prayers and support!"
Foxx even shared his own social media post thanking those who have wished him well. He wrote on Instagram, "Appreciate all the love!!! Feeling blessed." Although the post came from the actor's account, many fans speculated that he wasn't recovering as fast as he and his family suggested. Many wondered why he hadn't recorded a video showing his face as reassurance that he was doing well. Beyond the sketchy social media post, Foxx and his entire family were still extremely secretive about what his "medical complication" was. Because of this, many theories began to circulate about the true nature of Foxx's health scare.
However, body language expert Jess Ponce III believes Foxx's latest Instagram post proves he's not focused on all the gossip and is instead prioritizing his health.
Body language expert says Jamie Foxx was sincere in latest Instagram post
In July, Jamie Foxx shared his first video update regarding his "medical complication." While there was much speculation surrounding the actor's health, body language expert, communication coach, and author of "A.W.E.S.O.M.E.," Jess Ponce III, told Nicki Swift the post appears sincere.
In the Instagram video, the "Ray" actor explains that he "went through something." Although Foxx never explains what he dealt with, it was clear to Ponce that the journey was difficult. He shared exclusively with Nicki Swift, "He [Foxx] was being thoughtful on what he was going to share and not share. Holding his cards close to his chest, he also gave a sense of importance to what he's been going through." The communication coach even called Foxx's actions unapologetic as the actor explained his recent struggles. At one point in the video, Foxx even got teary-eyed and shared how "tough" this experience has been. Although Foxx is a professional actor, the tears didn't seem fake to Ponce. He explained, "He came across very sincere, his eyes were soft and watery. He was emotional."
Unlike many instances with celebrities' personal lives, Ponce explained that Foxx seems to be controlling this narrative. The author shared, "Jamie is not only course correcting what has been speculated, he unapologetically creating the narrative. He's managing and getting ahead of this story — and doing it with emotion and gravitas. He's clear and concise in his cadence, tone, and posture."