Comedian Pete Davidson Slams Kanye West Over Controversial SNL Speech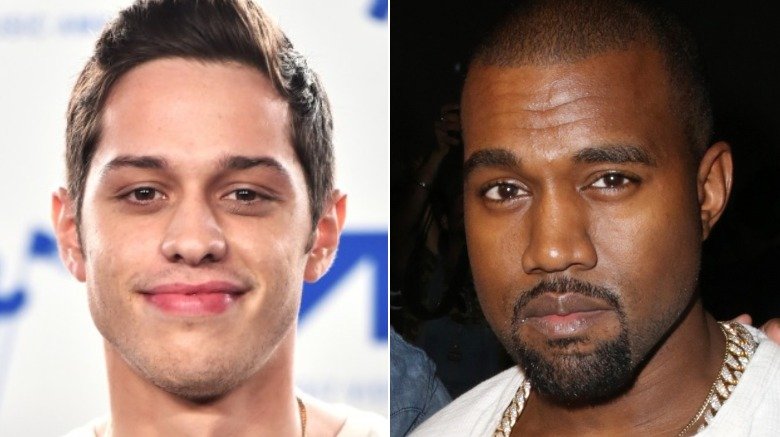 Getty Images
Comedian Pete Davidson stole the show this weekend.
On Saturday, Oct. 6, 2018, the Saturday Night Live star slammed Kanye West's recent pro-President Trump speech, which has since stirred controversy, during a segment of "Weekend Update."
"Speaking strictly for myself, what Kanye said after we went off the air last week was one of the worst, most awkward things I've ever seen here," Davidson began, before jokingly adding, "And I've seen Chevy Chase speak to an intern." The 24-year-old comedian made headlines last month after calling out Chase's recent criticism of the sketch-comedy series.
As Nicki Swift previously reported, West went on an unplanned pro-Trump rant at the end of SNL's 44th season premiere last Saturday, Sept. 29, after performing as the musical guest. While sporting a red "Make America Great Again" hat, the rapper's controversial claims left the audience, cast, and crew in shocked silence and received swift backlash on social media. 
In his recent "Weekend Update" appearance, Davidson disputed West's allegation that he'd been bullied into not wearing the hat backstage. "He wore it all week. Like, nobody told him not to wear it," the stand-up comedian said, but added, "I wish I bullied you. I wish I would've suggested that, you know, it might upset some people, like your wife or every black person ever." After listing West's other comments, Davidson poked fun at himself with, "Do you know how wrong about politics you have to be for, like, me to notice?"
Having revealed his Borderline Personality Disorder diagnosis last year, Davidson went on to share some advice with West, who previously opened up about his own mental health. "I know you're like, 'Yo, this is the real me, I'm off the meds.' ...Take 'em! There's no shame in the medicine game. I'm on 'em, it's great," the comedian said. He added, "Being mentally ill is not an excuse to act like a jacka**. I'm quoting my therapist, my mom, and my mailman."
Host Awkwafina also teased West's infamous appearance during her opening monologue. "I was gonna come out dressed as a water bottle," the Crazy Rich Asians star quipped, in reference to her stage name and the outfit the 41-year-old rapper's wore during his performance of "I Love It." "But apparently someone did that last week."
Prior to SNL's latest output, West had already made headlines on Saturday when he deleted his Instagram and Twitter accounts amid the ongoing controversy over his politically charged remarks.