What We Know About Sinead O'Connor's Children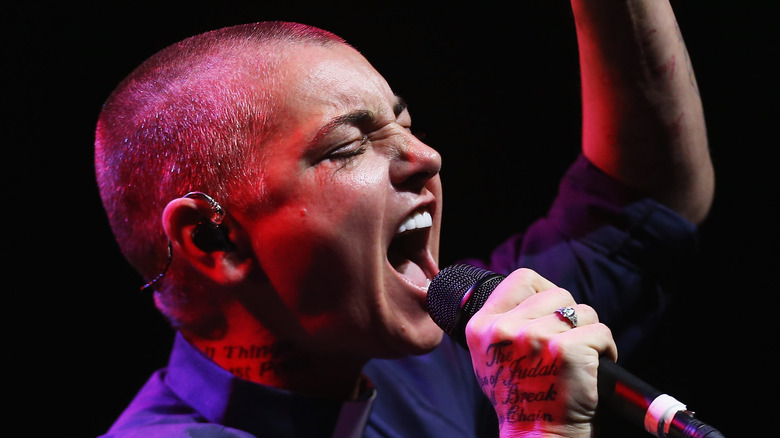 Don Arnold/Getty Images
If you or someone you know is struggling or in crisis, help is available. Call or text 988 or chat 988lifeline.org
If you or someone you know needs help with mental health, please contact the Crisis Text Line by texting HOME to 741741, call the National Alliance on Mental Illness helpline at 1-800-950-NAMI (6264), or visit the National Institute of Mental Health website.
The death of famed Irish pop singer Sinead O'Connor was confirmed on July 26, 2023. Among the legions of fans mourning her loss are her loved ones, including her three children and granddaughter. O'Connor was predeceased by her son Shane in 2022. A statement from the star's family reads, "It is with great sadness that we announce the passing of our beloved Sinéad. Her family and friends are devastated and have requested privacy at this very difficult time" (via Variety).
Despite O'Connor's musical brilliance, the singer's life was rife with controversy. In addition to many disputes with prominent figures, polarizing comments about race and religion, and other public scandals, O'Connor was known for her various romantic relationships. Among the men she's been tied to, she had a child each with record producer John Reynolds, journalist John Waters, musician Donal Lunny, and businessman Frank Bonadio. However, it seems O'Connor's relationships with her children were somewhat troubled.
O'Connor's son Shane died by suicide
Sinead O'Connor's third child, Shane Lunny, whom she shares with folk singer Donal Lunny, was born in 2004. In January 2022, it was reported the 17-year-old was missing from Tallaght Hospital in Dublin while on suicide watch, according to the Daily Mail. Two days later, it was confirmed the teen had died by hanging. O'Connor paid tribute to her late son in a series of now-deleted Tweets, writing in part, "My beautiful son, Nevi'im Nesta Ali Shane O'Connor, the very light of my life, decided to end his earthly struggle today and is now with God."
Following Lunny's death, O'Connor spoke out against Tusla, the child and family agency that was caring for her son at the time. She criticized them on Twitter for how they handled her son's case and blamed them for his death. However, she later retracted those statements and issued an apology to the organization. She tweeted, "Ok, I'm gonna do the right thing here and apologise for my lashing out. Tusla are working with very limited resources. They loved Shane. They are broken-hearted. They are human. I am sorry I have upset them. We are a third-world country. It's not their fault" (via Irish Examiner).
O'Connor had a tumultuous relationship with her other children
Sinead O'Connor's oldest child, son Jake Reynolds, was born in 1987. In 2015, he and his girlfriend Lia made O'Connor a grandmother with the birth of their son. The singer shared her joy at the event on Facebook, writing, "This for Lia and Jake and their little angel, who flew about with me in Vegas last week as I was singing the Foggy Dew" (via Independent.ie). However, it doesn't seem as if Sinead and Jake's relationship was always smooth. In 2016, she took to social media to call out her oldest son regarding custody of her other son, Shane, per NBC 5 Chicago. She suggested he and her ex, Donal Lunny, had schemed to give custody of Shane to the Irish child and family agency Tusla.
O'Connor shares her only daughter with John Waters. Unfortunately, the couple split up not long after Brigidine Roisin Waters' birth. What followed was an intense custody battle between the two parents, resulting in O'Connor making an attempt on her own life (via Biography). Eventually, the Irish star agreed to let the little girl live with her father. Now, Roisin Waters is a singer herself, following in her mother's footsteps, according to AmoMama.
Yeshua Francis Neil Bonadio, O'Connor's youngest child, is still a minor and not much is known about his life.