Body Language Expert Sees Kevin Spacey Enter 'Actor Mode' After Not Guilty Verdict - Exclusive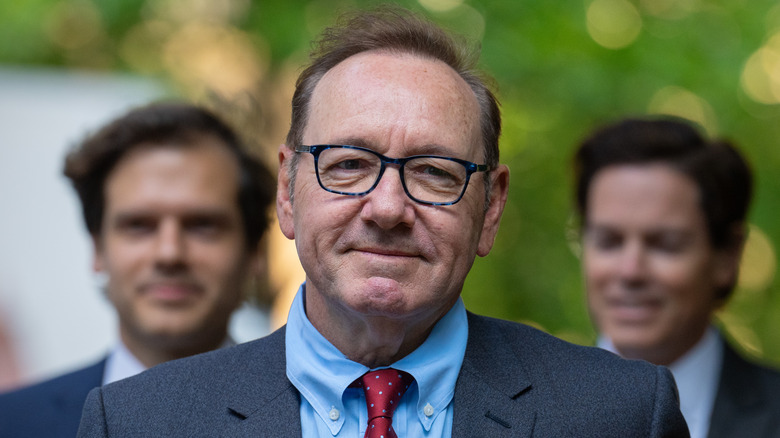 Carl Court/Getty Images
The following article includes mentions of sexual assault.
A body language expert has given further insight into Kevin Spacey's courthouse speech. Back in May 2022, Britain's Crown Prosecution Service (CPS) charged the controversial "American Beauty" actor with four counts of sexual assault against three men. "The authority of the charge follows a review of the evidence gathered by the Metropolitan Police in its investigation," CPS said in a statement. A few months after the initial charges were brought forward, authorities authorized seven more criminal charges for sexually assaulting a fourth person between 2001 and 2004.
After a four-week trial in London, England –– which featured emotional testimonies from the four individuals, Spacey and pop singer Elton John –– a UK jury cleared the "Baby Driver" actor of the adjusted nine charges on July 26. According to AP News, the decision was reached after 12 and a half hours over three days. "I imagine that many of you can understand that there's a lot for me to process after what just happened today," Spacey said in a statement outside of the court. "But I would like to say that I am enormously grateful to the jury for having taken the time to examine all the evidence and all of the facts carefully before they reached a decision." In the aftermath of the verdict and Spacey's statement, Nicki Swift spoke exclusively with a body language expert to get a better grasp of the actor's underlying messages.
Body language expert says Kevin Spacey's court statement resembled a award show acceptance speech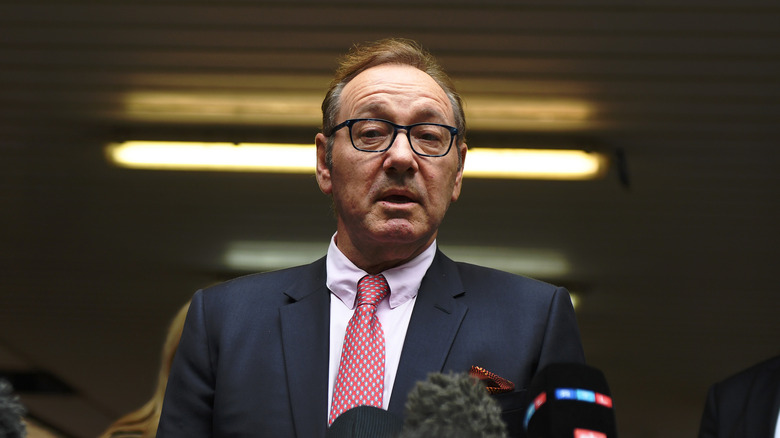 Chris J Ratcliffe/Getty Images
Following Kevin Spacey's courthouse address, Nicki Swift asked Jess Ponce III, body language expert, communication coach, and author of "A.W.E.S.O.M.E.," about his thoughts on the actor's behavior. "In many ways, Kevin Spacey's address resembled an award show acceptance speech," he exclusively told Nicki Swift. "He affectionately hugged and kissed someone before leaving the building, which is similar to what he may do in the audience before approaching the stage." Ponce also described Spacey as having "a bit of swagger in his gate" before stating that he didn't appear to have remorse or a sense of self-reflection about the situation.
"He then immediately pulled attention to himself, his experience and what HE is processing, making himself the center of attention, quite possibly playing on the audience's sense of empathy," he said. While Ponce III highlighted Spacey's emotional reaction after mentioning his legal team, he felt that the speech was "heavily prepared" and PR-centred. "He was polished and scripted. Not once did he mention the plaintiff or make accusations," he added. "This is all about him. What we saw was an actor in full actor mode." The aforementioned verdict comes a year after Spacey was cleared of sexual abuse charges regarding actor Anthony Rapp. In a 2017 interview with Buzzfeed, the "Rent" star accused the "Seven" actor of making unwanted sexual advances toward him when he was 14. In October 2022, a jury sided with Spacey, stating that Rapp lacked proof for his allegations, per NPR.