The Real Reason Barbara Bush Was In A Hurry To Get Married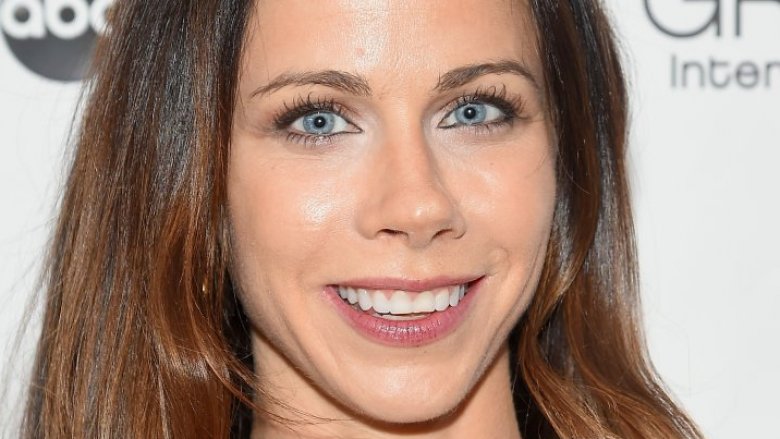 Getty Images
Barbara Bush, the daughter of former United States President George W. Bush, put a lot of thought into marrying her fiancé, screenwriter Craig Louis Coyne, after only a five-week engagement earlier this month.
In her new interview with People magazine, published on Wednesday, Oct. 10, 2018, the former first daughter revealed that certain regrets and concerns over her grandparents' declining health had inspired the couple to get hitched sooner rather than later.
As Bush told the magazine, "That's the one thing about waiting. You can have this great career and this great life. But, of course, the older you get, you lose people that you love."
Readers may remember that the Bush family sadly lost their beloved matriarch, former First Lady Barbara Bush — whom the newlywed is named after — in April 2018. According to CNN, she passed away at the age of 92 after opting to stop receiving treatment amid her battle with chronic obstructive pulmonary disease and congestive heart failure. She is survived by her husband of 73 years, former President George H.W. Bush, as well as their five children — including George W. and Jeb Bush — 17 grandchildren, five great-grandchildren, and her brother Scott Pierce.
While it was reported at the time that her grandmother's health had been declining for weeks, the younger Barbara Bush told People, "We weren't expecting that." She added, "Craig didn't get to meet my grandmother. I thought there would be plenty of time for that to happen."
Soon after, her grandfather George H.W.'s health began to worsen. Just days after his wife was laid to rest, the 94-year-old was hospitalized in Houston, Texas after an infection entered his bloodstream. One month later, he was admitted to a hospital in Maine due to low blood pressure and fatigue. 
His granddaughter, Barbara, understandably did not want to live through the same regrets twice. However, she told People that he's thankfully doing "great" these days. "Totally with it," the Global Health Corps co-founder said, but added, "He is, of course, 94 years old and misses my grandmother." 
So, when Coyne fittingly popped the question on Aug. 25, 2018, near the same location that Bush's grandparents got engaged back in 1943, "We just thought, let's try to do [the wedding] soon — a small wedding with just our family and my grandfather, here," she explained. Admitting that the happy couple "actually would have gotten married the next week if we could have," Bush said, "We knew we wanted to be married — we'd already made that decision — so we didn't need months of an engagement."
As Nicki Swift previously reported, Bush, 36, and Coyne, also 36, tied the knot in an intimate ceremony held in the backyard of her grandparents' home in Kennebunkport, Maine on Sunday, Oct. 7, 2018. According to People magazine, the newly married pair first met during a blind date in November 2017. While Bush lived in New York and Coyne resided in Los Angeles at the time, the two officially became a couple after New Year's Eve.
According to the Today show, the wedding itself was unsurprisingly a Bush family affair. The bride donned a custom-made Vera Wang wedding dress, while completing her gorgeous look with a very moving "something borrowed" — her late grandmother's bracelet, which she had received from George H.W. on their 70th wedding anniversary. Meanwhile, dad George W. walked his daughter down the aisle, before aunt Dorothy Bush officiated. As Bush's twin sister, matron of honor, and Today show correspondent, Jenna Bush Hager, revealed, "It was a very secret wedding, a little bit like my elusive sister. But also, just family in a place that means family love, and it was just beautiful."
However, it sounds like no one is happier for Barbara Bush and her new husband than her father, who took to Instagram to gush over the wedding news the following day. "Barbara is named for a unique and strong woman — and rightly so, because she is unique and strong," the former president and proud dad wrote, captioning a sweet snapshot of himself with his daughter on her special day. "@laurawbush and I are so proud of our compassionate, daring, fierce, kind, intelligent, loving daughter. And we're thrilled to welcome Craig Coyne to our family."
Congratulations again to Bush and Coyne on their marriage!