The One Thing Sandra Oh And Alexander Payne Feuded About During Their Divorce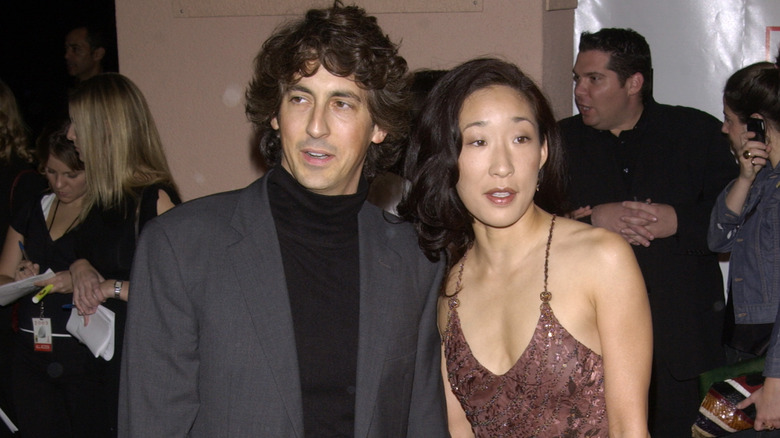 Featureflash Photo Agency/Shutterstock
Move over Villanelle — "Killing Eve" star Sandra Oh doesn't have a problem finding love IRL. That said, the actress, who rose to fame playing Dr. Cristina Yang on "Grey's Anatomy," has always kept her personal life private. Rather than go red carpet official with anyone, Oh opted to take her parents to the Emmys in 2008 and 2018. Unlike other stars who post loved-up snaps on social media, Oh's Instagram is scrubbed clean of significant others. As a result, her relationship with director/producer Alexander Payne in the early 2000s flew under the radar.
The two were married from 2003-2005 before Oh's career took off. Apparently, Oh felt she didn't have time for romance because she was laser-focused on her career. "[I'm] B-U-S-Y, in all capitals! I want it in the [expletive] record that Alexander Payne chased Sandra Oh for eight months and she would not go out with him because she was 'busy,'" Oh told the New York Times in 2004. "And by the way, the first thing you notice about Alexander Payne is that he is very handsome." Attractiveness aside, the marriage didn't last; Oh and Payne announced their separation in 2005, according to People.
Although a source told People that the separation was mutual and "the couple will remain friends," that wasn't the case. Per Journal Star, Oh and Payne were reportedly locked in a battle over their finances that delayed their divorce until 2007.
Alexander Payne and Sandra Oh's divorce stalled over financial matters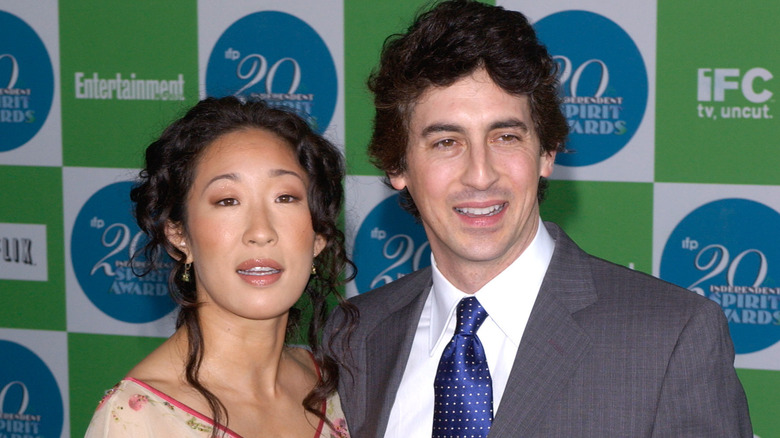 Featureflash Photo Agency/Shutterstock
Sandra Oh separated from Alexander Payne before she hit it big, so her financial matters were likely in a different place back then. (Oh is now one of the richest cast members of "Grey's Anatomy" and currently boasts a net worth of $25 million.) But because finances were a sticking point at the time of her divorce, Parade reported that Oh requested spousal support from her ex. Payne pushed back and denied her ask, sparking the beginning of a messy divorce. This was corroborated by TMZ, who obtained a copy of the divorce decree. The outlet reported that Oh and Payne were in contention over financial differences, in particular, "six money matters, including who gets what when it comes to pension and retirement funds." Per Extra, the couple's marriage was dissolved in 2006, even though they still hadn't resolved their finances. At that time, both parties needed to file separate tax returns.
Long gone are the days when Oh needed to rely on a partner for financial support. Following her divorce, the actress has gone from strength to strength, making history by becoming the first person of Asian descent to win multiple Golden Globes and starring as the titular character in "Killing Eve." She is also embracing new roles in an industry that prioritizes younger female actors. "I feel in great creative shape and grateful to work on projects that are challenging the unbelievable pressure of being a modern woman," Oh told The Cut in 2021.
Did Sandra Oh find love after Alexander Payne?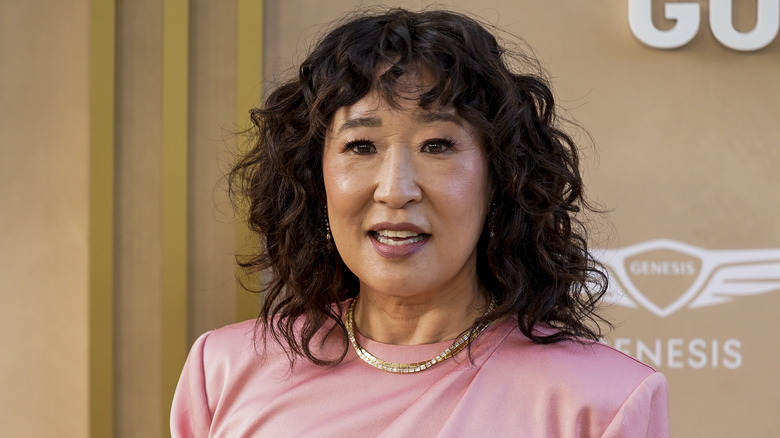 Presley Ann/Getty Images
Sandra Oh's marriage to Alexander Payne may have been short-lived, but she has (happily) been in fulfilling relationships since then. In 2018, the Daily Mail spotted her locking lips with her boyfriend, Lev Rukhin, in Rome, where she was filming Season 2 of "Killing Eve." Three years later, in 2021, a separate Daily Mail piece confirmed they were still together when Rukhin rushed to greet his girlfriend after she returned from filming the hit show. Just Jared also papped Rukhin and Oh grabbing dinner in London in 2021, noting that the couple has been linked since at least 2018. This tracks with a 2019 Marie Claire interview, in which the outlet confirmed that Oh was in "what appears to be a loving, committed relationship" before adding, "Oh is fiercely private, and her publicist would confirm only that she's had a boyfriend for a few years."
Oh has been a private person even before her career skyrocketed. When TMZ obtained a copy of her divorce papers, the "Grey's Anatomy" alum declined to comment, telling Marie Claire, "I don't listen to this stuff. I don't see it. I tell my people I don't want to know about it ... It can knock me off from being my authentic self." Translation: don't expect to see Oh and Rukhin making their red-carpet debut as a couple anytime soon.