The Truth About Sandra Oh's Ex-Husband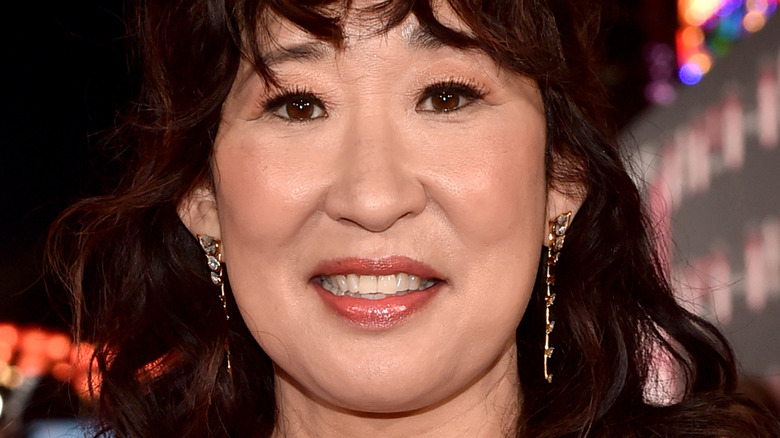 Alberto E. Rodriguez/Getty Images
Ever since Sandra Oh retired her scrubs and left "Grey's Anatomy," the world has watched her every move — at least professionally. Fans rejoiced when she won a Golden Globe for her role on "Killing Eve," and many tune in to every project she decides to dip her toes into, including Netflix's "The Chair" and her first foray into the horror genre, "Umma."
But, while we've all been privy to her professional life, not many are aware of what's going on in her personal life. Unlike her peers in the industry, she has notoriously kept her personal life extremely private, to the point that not a lot of people know that she's tied the knot in the past. In 2007, the actor told Marie Claire that she doesn't feed into rumors, nor will she ever divulge her personal affairs to the public. "I don't listen to this stuff. I don't see it," she told the outlet when asked about the rumors regarding her love life. "I tell my people I don't want to know about it, because while rationally you might know it's ridiculous, it can hurt your feelings. It can knock me off from being my authentic self."
But, even though Oh is strictly tight-lipped about her romances, what we do know is that she was once married to film director Alexander Payne.
Sandra Oh was briefly married to film director Alexander Payne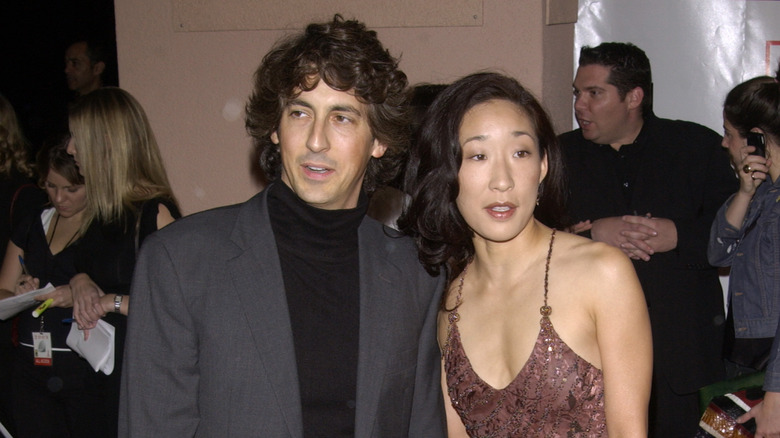 Featureflash Photo Agency/Shutterstock
If you take a quick scroll through Sandra Oh's Instagram, you won't find so much as a clue to who she's dating, or even if she's even dating anyone. But according to reports, she was once married to film director Alexander Payne. The two were together for five years and married for two, from 2003 to 2005. In an interview with The New York Times, the actor dished that she rejected Payne's advances at first because she was too focused on her career.
"[I'm] B-U-S-Y, in all capitals! I want it in the f****** record that Alexander Payne chased Sandra Oh for eight months and she would not go out with him because she was 'busy,'" she said at the time. "And by the way, the first thing you notice about Alexander Payne is that he is very handsome."
However, their marriage officially ended in December 2005. A rep for Oh told People that they "mutually decided to separate," and while they parted ways, "the couple will remain friends." Their divorce wasn't finalized until 2007 as the two still had to settle their finances.
Sandra Oh's ex Alexander Payne has since remarried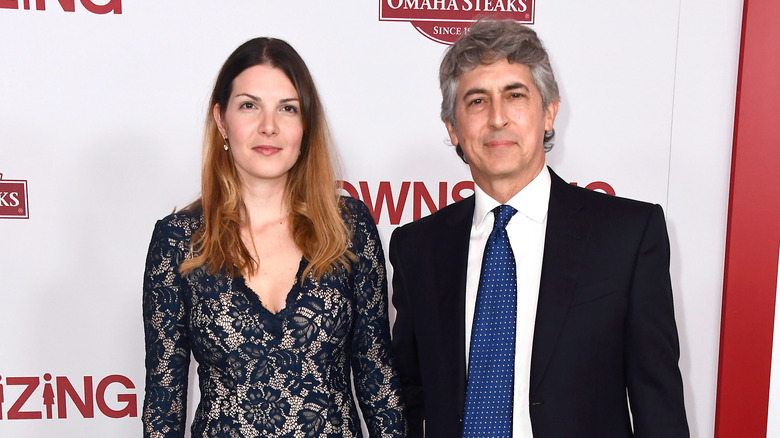 Frazer Harrison/Getty Images
Unlike Sandra Ohm who has been under the limelight for decades, Alexander Payne enjoys a more private life. But he is a celebrated filmmaker, having won two Oscars for Best Adapted Screenplay for "Sideways," in which Oh starred, and "The Descendants," which featured George Clooney and Shailene Woodley. Payne also received Best Director nominations for his work on "Election" and "Nebraska," according to his IMDb page.
Payne has since remarried, having tied the knot with a woman named Maria Kontos in 2015. Per Protothema, the two met in May 2014, when the director visited Aigio, Greece, which happens to be his birthplace. They wed a year later in a private ceremony, and in early 2022, he obtained Greek citizenship.
Meanwhile, Oh is reported to be dating photographer Lev Rukhin since 2016. While neither party has publicly confirmed their relationship, they have been spotted holding hands and getting cozy on multiple occasions. Oh also stated that she will always choose to keep her private life private. "If you choose to step into that persona, I think it's harder to get back to your base level to create from an authentic place," she told Vulture in 2018 of what being a celebrity means for her. "At least, it did for me."