Is Hallmark Star Ryan Paevey In A Relationship? A Look At His Love Life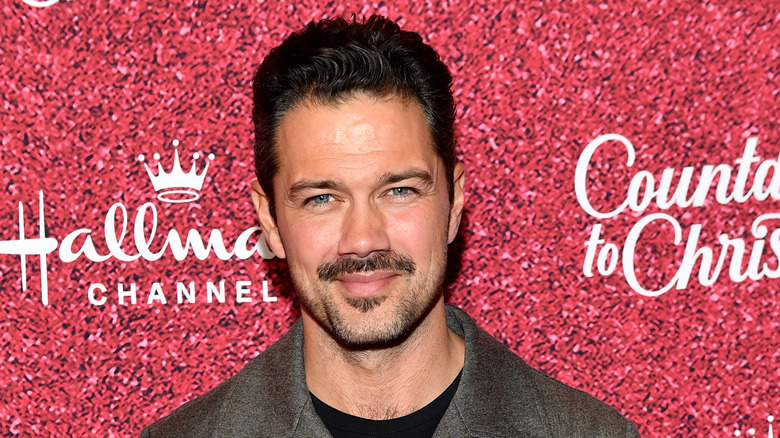 Noam Galai/Getty Images
Ryan Paevey has mostly been private about his love life while appearing in Hallmark romance films. Per Hallmark Channel, the actor is known for fan-favorite movies like "Unleashing Mr. Darcy," "Hope at Christmas," and "From Friend to Fiancé," among others. Paevey did an interview with host Paul Greene of "The Grass is Greener" podcast in March 2021, during which he spoke about the enjoyable moments he's gained from shooting these projects. "I've gotten to work with some really awesome people, and I've never had a negative experience working in the Hallmark universe," Paevey said. 
In August 2021, Paevey chatted with Culturess about his decision to stay focused on his career. "I like to work. I'm a workhorse by nature. That's just who I am. That's how I am," Paevey said. "I don't sit still very well. I gotta be doing stuff. So as long as my universe is constantly in motion, then I feel fulfilled." When it comes to who he may be dating, Paevey has not divulged much information over the years.
Ryan Paevey appears to be single
Ryan Paevey is reportedly not in a relationship. It was rumored in the past that Paevey was dating model Jessa Hinton for a time, per Who's Dated Who?, though this romance was never officially confirmed. Following a now-deleted post, Paevey wrote on Instagram in January 2015, "For the second time, a moment from my private life with someone I care about was removed from social media by bitterness." While tagging Hinton in this follow-up post, Paevey stated to his followers, "If you do not approve of my life or who I choose to surround myself with, kindly leave." Earlier in the month, Paevey linked a now-deleted Instagram photo of himself and Hinton via Twitter, saying, "I like this one. She's a keeper."
When he was a guest on "Extra" in 2018, Paevey was asked by reporter Renee Bargh when he may want to get married. In response, the Hallmark Channel star stated, "I have no idea. I'm missing 50% of that equation, but I'll keep you posted." Paevey then confirmed that he was single at the time and said, "I'm a workaholic. I don't even have a dog. I have a thriving houseplant." Though there have been no formal updates on his dating life, Paevey has opened up about the topic of marriage ceremonies.
Ryan Paevey knows how he'd handle his future wedding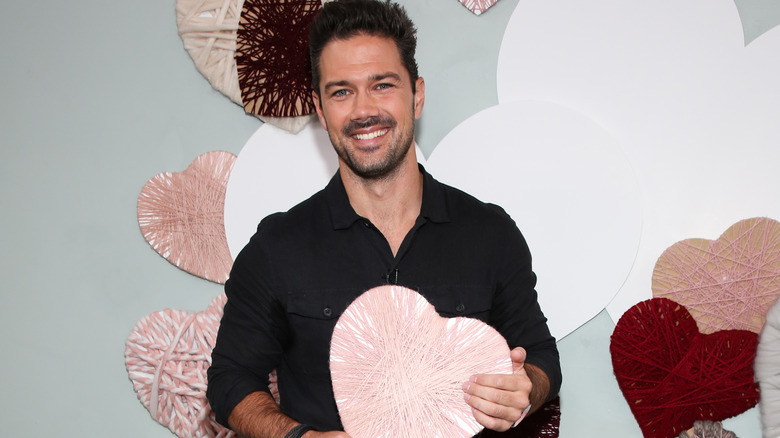 Paul Archuleta/Getty Images
Ryan Paevey has explored what his possible nuptials would consist of. In 2018, Paevey revealed how he would let his future wife lead with wedding planning during a Hallmark Channel interview. "...I imagine most of those [wedding] decisions will be to make her happy. What I want out of my wedding is, I want my wife to be happy. That's what I want,'" Paevey said. "I want our families to be there. I don't have any thoughts about specific things like venues, or what kind of suit I'm gonna wear, or what the cake is made out of." He concluded, "Whatever will make my wife happy is what I want." 
In regards to whom he'll be matched with for any future Hallmark movies, in 2021 Paevey told Entertainment Tonight that viewers are welcome to offer their input. "I'm going to leave that to the fans, honestly," Paevey said. "If there's a pairing that they want to see, let's run it up the flagpole and then see what the powers that be think." When he's not acting, Paevey runs Fortunate Wanderer, a brand he established that provides tees and hand-crafted jewelry. Paevey is also a nature lover and often posts photos of the outdoors on his social media page. In June 2023, the actor showed a photo with an upward view of trees in the forest on Instagram. "Hold still, breathe, and watch the world move around you..." Paevey said.