The Impressive Number Of Hallmark Movies Ryan Paevey Has Starred In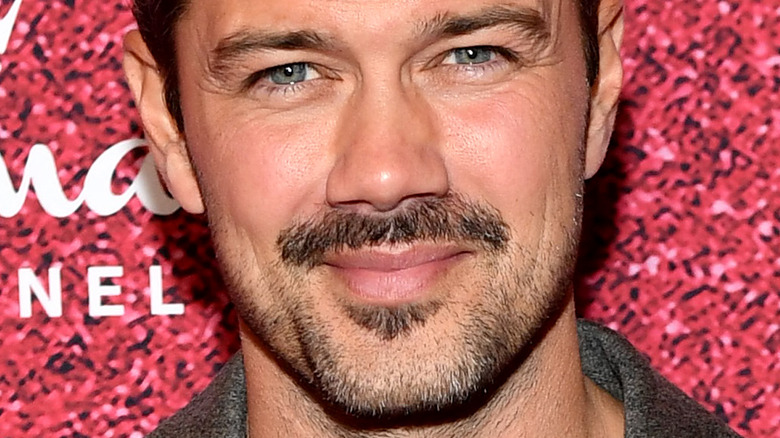 Noam Galai/Getty Images
Early in Ryan Paevey's career, he appeared in Robin Thicke's and Toni Braxton's music videos, per IMDb. However, his career picked up after landing the role of Nathan West on "General Hospital," where he stayed for five years before departing in 2018. Given Paevey's résumé, it'd be easy to classify him as a soap star. However, his recent work has put him on the path to becoming the King of Hallmark movies. And, while that may not be an official title, it certainly fits. Over the last decade, Paevey has become one of the most visible actors on Hallmark, appearing in a wide variety of films. 
One of Paevey's most popular Hallmark offerings has been "Unleashing Mr. Darcy," which first premiered in 2016. The film is a television adaptation of Teri Wilson's novel  — a contemporary retelling of "Pride and Prejudice — of the same name. Its 2018 follow-up, "Marrying Mr. Darcy," is also especially popular among Hallmark viewers. As for whether there will ever be a third "Darcy" film, Paevey seems hopeful, although "it's a question of if the powers-that-be want to do another one," shared the actor with TV Insider. "I know fans are pumped about the potential," he added.
Even so, Paevey has plenty of other Hallmark titles in his filmography to keep you entertained. 
Ryan Paevey has starred in 14 Hallmark Movies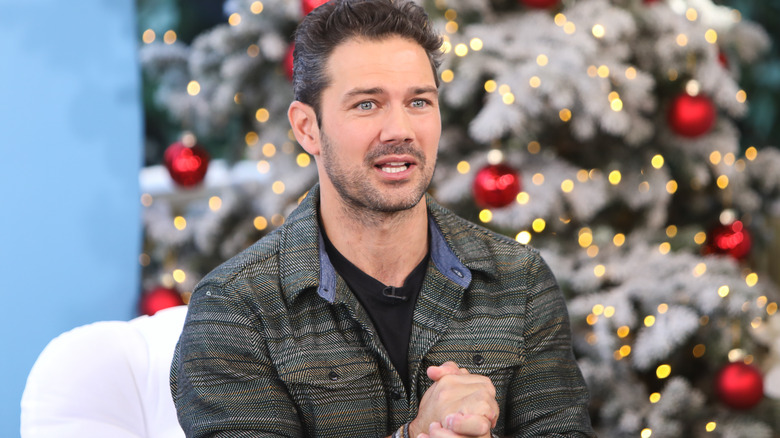 Paul Archuleta/Getty Images
As of 2021, Paevey had appeared in 12 Hallmark films, per QC Approved. However, Paevey's IMDb accounts for two new films, upping the total to 14. Paevey's first-ever Hallmark film was none other than 2016's "Unleashing Mr. Darcy." HIs next Hallmark offering, "Harvest Love," came out a year later, and featured another prominent face from the soap world: "Days of our Lives" star Jen Lilley. Next up was a string of films, including several Hallmark Christmas movies, including "Hope at Christmas" and "Christmas at the Plaza," "A Timeless Christmas," "Coyote Creek Christmas," and "A Fabled Holiday."
One of Paevey's most recent films is "A Little Daytime Drama." The film follows a soap writer and soap star (who also happen to be exes) as they try to revive their dying show, reuniting him with Lilley and allowing them to draw from their past as soap stars. "My dynamic with Jen is great because we worked together before," Paevey shared with Soap Opera Digest. "'Harvest Love' was super fun [and] this one's been super fun as well. Dynamic's a little different on this one but to be on a film set that's set on soaps is again, it's so crazy for me because there's so many parallels."
Paevey's other titles, aside from the aforementioned, include "Marrying Mr. Darcy," "Matching Hearts," "From Friend to Fiancé," "A Summer Romance," and "Two Tickets to Paradise."
Ryan Paevey seems to love working for Hallmark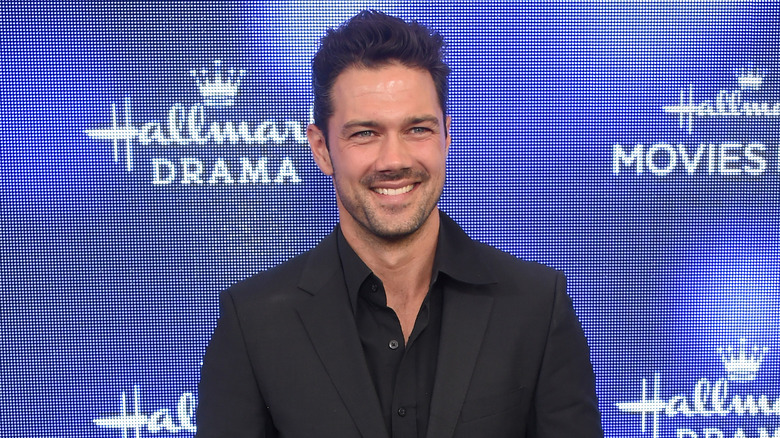 DFree/Shutterstock
Even though people love Hallmark for it's cheesy, romantic feel-good films, many actors feel like moving to the channel is a regression. However, Paevy doesn't feel that way. In fact, the Torrance, California native actually loves the content that Hallmark produces.
According to CinemaBlend, Paevey recently renewed his contract with Hallmark at a time when many of its actors (such as Candace Cameron Bure) are leaving for the competition, GAC Family. "It's rare you can find a place like Hallmark that will consistently serve feel-good stuff," Paevey shared with the publication. "We get the accusation that it's a little repetitive ... [But] the fundamental storylines and equations are starting to change. Becoming more inclusive, embracing a broader range of content and subject matter to be more reflective of real life."
While the details of Paevey's contract are unknown, it's safe to say he'll be gracing our screens for some time. And he may even get to do some cool stunts. While speaking to TV Insider, Paevey dished on the thing he's yet to do on the network. "Ride a motorcycle," said Paevey. "I'm a motorcycle fanatic. I have five bikes of my own. I love bikes." And even though he knows that lead actors doing their own stunts makes production "nervous," he'd still like to explore it. "Climbing, surfing, kayaking bikes, whatever. Throw me through a wall. Let's do some stunts. I'm your guy," Paevey added.