What We Know About Paul Reubens' Bitter Feud With Former Neighbor Adam Levine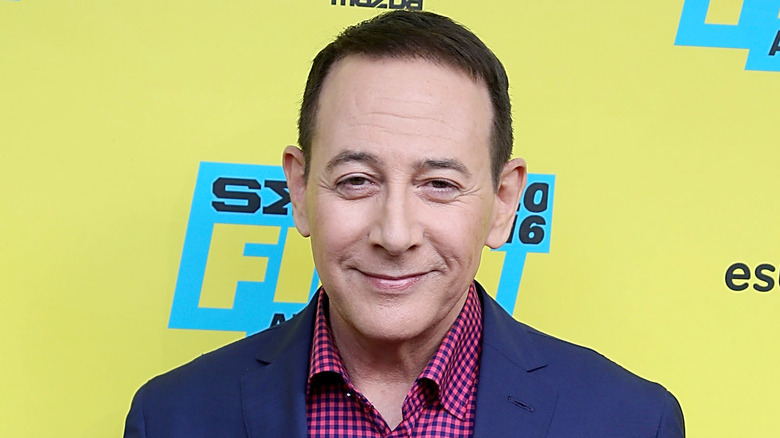 Gary Miller/Getty Images
In a bizarre crossover, Pee-wee Herman actor Paul Reubens and Maroon 5 frontman Adam Levine were rumored to have gotten into it as a result of a neighborly dispute. But what in the world do you even have to do to get Pee-wee Herman mad at you?
Before hitting it big as the beloved suit-clad goofball, Reubens moved from his hometown in Florida to Hollywood to work as an actor. There, he joined the Los Angeles-based comedy group The Groundlings, where he developed the foolish, yet fun-loving Herman persona. In the 1980s, the comedian introduced his best-known character to the world, spawning a series of television shows and movies, including the 1985 cult classic "Pee-Wee's Big Adventure" and the kids' show "Pee-Wee's Playhouse." 
With his sizable paychecks, the comedian purchased his Hollywood Hills home sometime in the 1990s. It was reportedly years later when the "She Will Be Loved" singer moved into Reubens' neighborhood that the two entered into a years-long feud.
Adam Levine's parties were reportedly too rowdy for Paul Reubens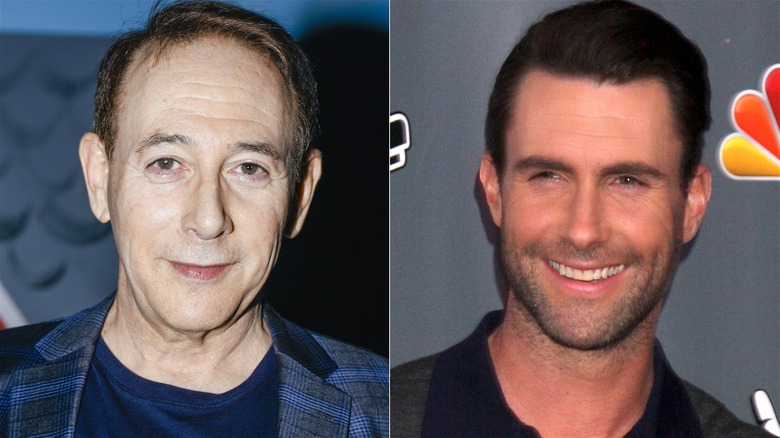 Kathy Hutchins/Shutterstock & Jeff Vespa/Getty
Paul Reubens was a resident of the Hollywood Hills for years before Adam Levine is claimed to have caused such a ruckus that it supposedly drove the comedian away. In 2018, Radar Online published a source's recounting of the reported ongoing feud between the two, which was caused by Levine's "late night parties ... with his buddies after band rehearsal back when he was single." The "Moves Like Jagger" singer once appeared in a 2012 issue of Architectural Digest, showing off his recently purchased and renovated home in the Hollywood Hills, which could be the period this source is referencing. Reubens reportedly lodged complaints with Levine's staff but the parties continued, so the actor up and moved.
"Paul had to move from his Hollywood Hills home because of the noise level coming from Adam's house next door," Radar Online's source claimed. "They've never made up and it's still awkward because they consciously avoid each other at events. They have mutual friends Judd Apatow, Joe Manganiello who are always pushing for a peace summit."
While it's unclear if this rumored feud truly happened, The Hollywood Reporter's 2020 interview with Reubens stated he had resided in his Hollywood abode for the past 35 years. As of 2022, Levine and his wife, Behati Prinsloo, purchased an over $50 million estate in Montecito, California. 
Paul Reubens showed his love for Los Angeles during his lifetime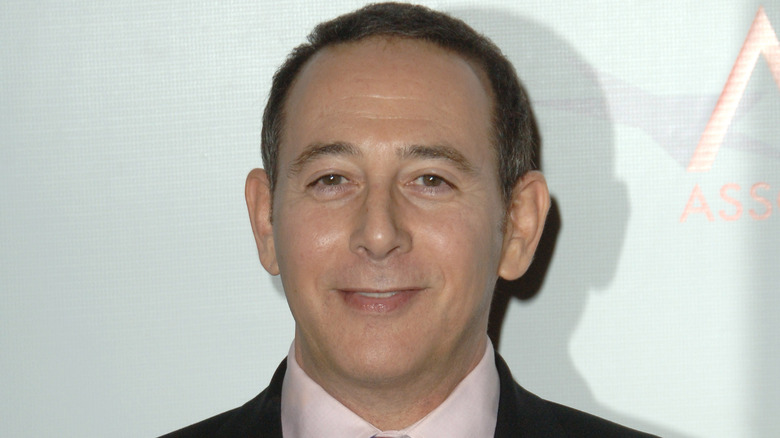 Jon Kopaloff/Getty Images
Although he grew up in Sarasota, Florida, Paul Reubens made Los Angeles his longtime home and certainly displayed a love for the city. In a 2010 interview with the New York Post, his "Mystery Men" director and friend, Kinka Usher, described Reuben's Hollywood home gatherings as "always fun" and drawing an "eclectic" group of people.
Giving a tour of his favorite spots in the city to Los Angeles Magazine in 2016, the comedian gushed about everything from the 24/7 Walgreens on Sunset Boulevard to the nature of Griffith Park. "The thing that people don't really know about me is that I'm super into nature," Reubens explained to the publication. "And one of the things I love about Los Angeles is that we have the largest city park in the world."
On July 31, Reubens' team announced the prolific comedian died at Cedars-Sinai Medical Center, a renowned hospital located near Beverly Hills.