Who Are All Of Donny Osmond's Siblings?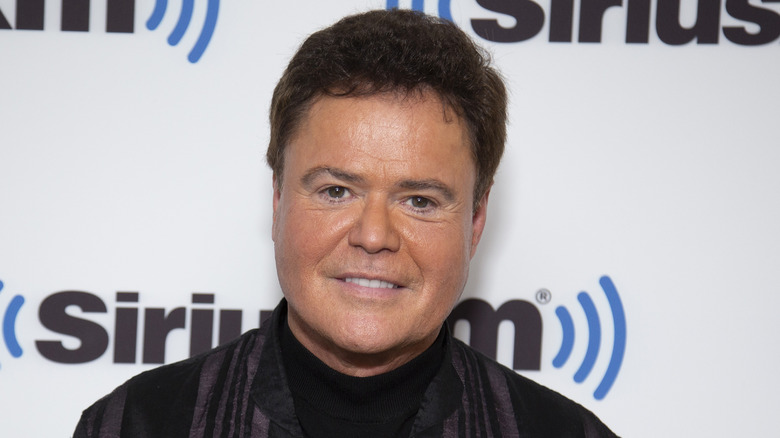 Santiago Felipe/Getty Images
Donny Osmond was one of the biggest teen heartthrobs of the 1970s, but he didn't start as a solo act. The "Puppy Love" singer, now 65, comes from one of the most famous musical families of all time, and they outnumbered the brothers Gibb from The Bee Gees and female siblings Sister Sledge — by a lot.
Donny is one of nine children born to Olive and George Osmond in Ogden, Utah. "I am the seventh of nine children, so when I arrived, there was already Virl, 12; Tom, 10; Alan, 8; Wayne, 6; Merrill, 4, and Jay, 2," Donny told The Guardian of his 1957 birth. "Marie and Jimmy came along after me."
But the family could have been a lot smaller had the Osmond parents listened to doctors' advice. "My two oldest brothers are deaf," Donny told Ability magazine in an interview. "My oldest brother was born 85 percent deaf and the next was born worse with almost total deafness. My parents were told by everyone, doctors included, to stop having kids." The singer joked that he was thankful that his parents decided to go as far as having seven kids, but let's face it, fans are also thankful all nine of them were born.
Donny Osmond and six of his siblings found success at a young age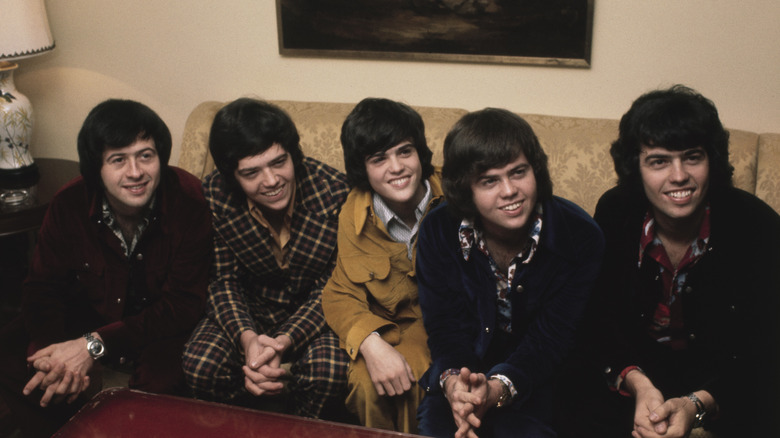 Keystone/Getty Images
Donny Osmond was a young boy when his older brothers Alan, Merrill, Wayne, and Jay formed a barbershop quartet known as The Osmond Brothers in the early 1960s. The family singing group was started as a way to earn money for expensive hearing aids for the eldest Osmond brothers, Virl and Tom. The brothers were talented enough to score a long-running stint as regulars on "The Andy Williams Show," and 5-year-old Donny charmed viewers when he joined in for a rendition of "Yes Sir, That's My Baby" in 1963. He solidified his status in the family group when he later performed a solo of "You Are My Sunshine" on Williams' show.
In 1967, youngest brother Jimmy joined the family group. The littlest Osmond also found solo success in Japan at age seven, with a version of "My Little Darling" that scored him a gold record, per Branson Tri Lakes News.
Eldest brother Virl didn't perform with his siblings due to his disability, but he was the official publicity photographer during his brothers' heyday, according to Closer Weekly. And while she wasn't an Osmond Brother, as a young teen, sister Marie became a country music queen with the release of her 1973 hit "Paper Roses."
Donny Osmond worked the most with his only sister, Marie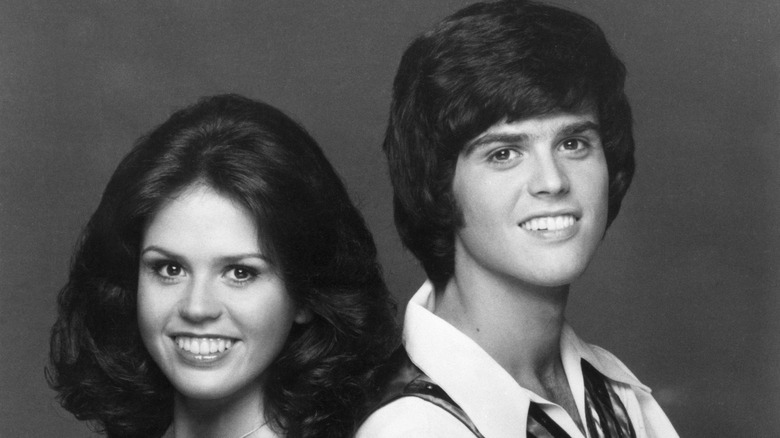 Bettmann/Getty Images
More than sixty years after the Osmond family's musical debut, Donny and Marie remain the most famous. Not only did they share the stage for a 1970s variety show, "Donny & Marie," but they co-hosted their own talk show in the late '90s. In the 2000s, both competed (separately) on "Dancing With the Stars," with Donny winning the mirrorball trophy in the celebrity ballroom competition in 2009. Donny and Marie also teamed up for an 11-year residency at the Flamingo Las Vegas, which wrapped in 2019.
Donny later speculated on his success with his sister Marie and why they were able to make magic on stage for more than 40 years. "There was something about the combination of Donny and Marie, and it wouldn't have worked had we not been siblings, in my opinion," he told ET in 2023. "But because we grew up together, we spent so much time together as siblings. ... There was something organic about that ...it was all natural."
As for Marie, she once reflected on her talented brothers, and when she was put in the awkward position of having to name the brother who she thinks has the most talent, she bypassed her singing partner Donny. "My brother Merrill is just, I mean he still has like this awesome voice," Marie said on "Watch What Happens Live" in 2019. "He's a rocker and he still sings fantastic, and of course, I think Donny is you know average," she joked. "They're all talented in their own way but... Merrill's voice is still unbelievable."