Are Donny And Marie Osmond Mormon?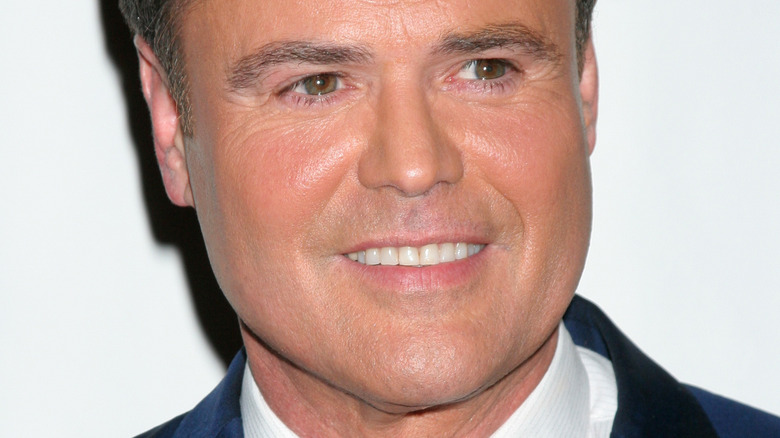 Kathy Hutchins/Shutterstock
Before there was NSYNC and 98 Degrees, The Osmonds were the new kids on the block. Well, actually, the Jackson 5 came before, as All Music points out. It was a year after them that The Osmonds hit the big time. Donny Osmond was the Michael Jackson of the brothers, singing lead. Initially, Alan, Merrill, Wayne, and Jay Osmond comprised the band. But superstardom came knocking after Donny jumped on stage.
Per This Day in Music, Jimmy Osmond joined the singing siblings next, and sister Marie Osmond occasionally performed. Donny, Jimmy, and Marie all had solo careers in addition to the band. As a group and individuals, they released around 200 albums between them. By comparison, the Jackson 5, combined with Michael's solo career, released 25 albums total. Although, as Express points out, one of them, Michael's "Thriller," remains the best-selling album ever — so take that, Osmonds!
Jimmy actually produced one of Michael's Asian tours. According to The Guardian, The Jackson's relationship was complicated, mainly thanks to their father/manager Joe Jackson and his well-documented anger management issues. So, it's no surprise Michael was curious about The Osmonds sibling dynamic. "We had some really wonderful chats, and he said, 'How do you keep your family together?'" Jimmy shared, via KLSM. Donny and Marie eventually paired up and took over the family's performing mantle. Religion has always played a major role in the brother and sister's wholesome image and harmonious relationship. The family hails from Utah, which begs the question: Are Donny and Marie Osmond Mormon?
Donny and Marie Osmond perform, not preach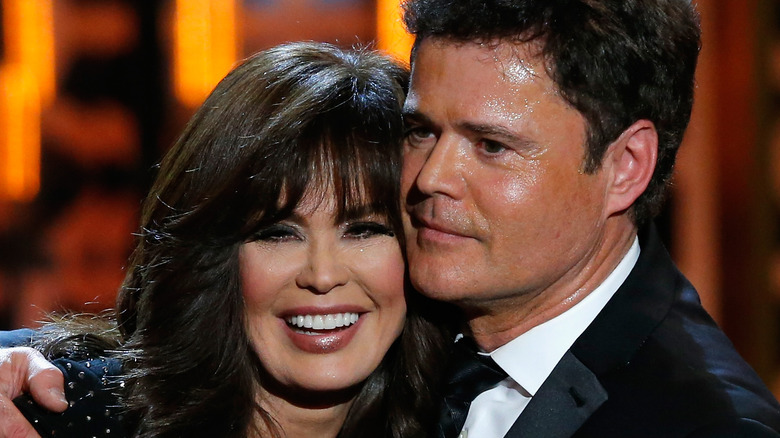 Joe Scarnici/Getty Images
Donny Osmond and his little sister Marie Osmond have been performing for more than 50 years. The pair became a breakout success following the end of the family band. They scored chart hits twice in one year with 1974's "Morning Side of the Mountain" and "I'm Leaving It All Up to You." That led to them hosting a popular variety show together a year later, per Biography.
Donny and Marie's strict Mormon upbringing resulted in the duo living as far as you can get from a sex, drugs, and rock 'n roll lifestyle. However, the pair keeps their Mormon beliefs to themselves, never incorporating any elements into performances. "Our show is not politically based; it's not religious-based. We don't preach to the audience," Donny explained to Fox News. "We entertain the audience. I think that's the difference between some entertainers and us."
Donny and Marie's parents, Olive and George Osmond, raised their nine children according to their religious beliefs and practices. The family was, and still is, members of the Mormon off-shoot Church of Jesus Christ of Latter-day Saints. According to Christianity.com, the group started at the beginning of the 19th century. They adhere to the Mormon doctrine and shun more extreme groups, such as those who believe in polygamy. Donny and his wife Deborah raise their three sons within the religion, despite their home being based in California now instead of Utah, according to the Los Angeles Times.
Not the end for Donny and Marie Osmond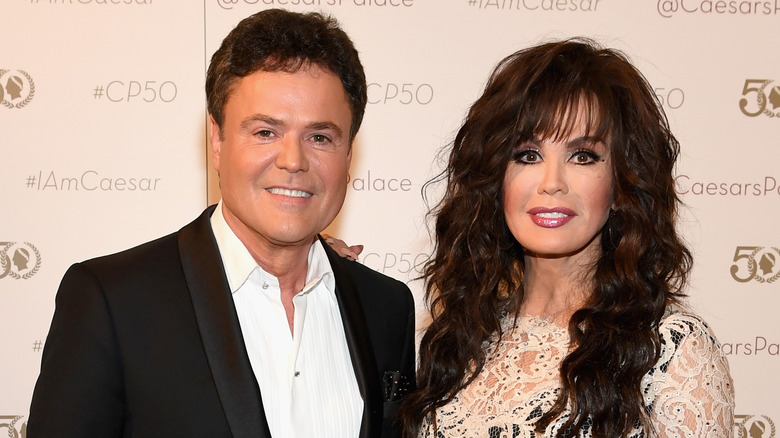 Denise Truscello/Getty Images
Unlike real estate, it's not all about location when it comes to religion. Donny Osmond said it doesn't matter where they live or if neighbors share their faith. "Mormonism plays a vital role in raising our children because we teach them the love of God and the reason we're here on this earth," he told the Los Angeles Times.
Putting location to the test, Donny's been in Sin City for more than a decade. He initially performed with his sister Marie Osmond, but has been going it alone since 2021, with a residency at Harrah's Las Vegas. "Osmond's return to stage is an exciting, energy-filled musical journey," the show's website promises. "Guests can expect a party as he performs his timeless hits and introduces brand new music in a completely reimagined song and dance celebration."
Donny and Marie announced the end of their 11-year-long joint residency at The Flamingo during an interview with "Good Morning America." Donny admitted it was a really tough decision to end the show, but the time had come to move on. He heaped praise on his sister for her professionalism and strength, while Marie admitted Donny had been "her rock" during a contentious divorce, bitter custody battle, and the tragic death of her son. However, they intend to stay just as close as ever despite not working together. "It's the end of the Donny and Marie show. It's not the end of Donny and Marie," Donny vowed.