Is Michael Buble Retiring From Music Following Son's Cancer Battle?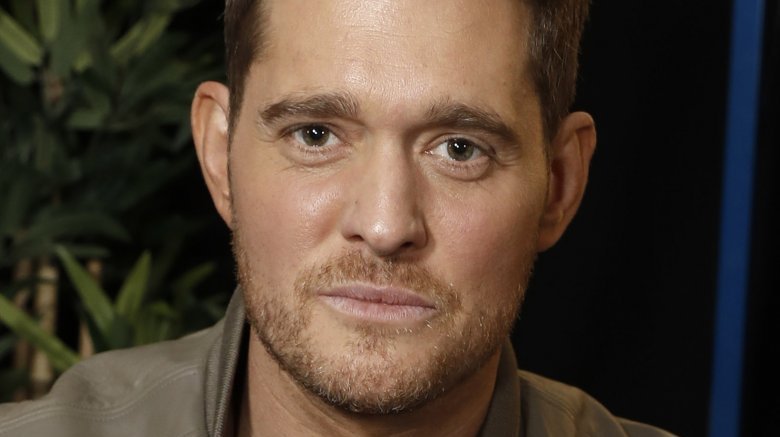 Getty Images
Is singer Michael Bublé leaving the music business?
During an interview with the Daily Mail on Saturday, Oct. 13, 2018, the Canadian crooner seemed to suggest that he was retiring from music following his 5-year-old son Noah's cancer battle.
As the "Love You Anymore" singer, whose new album, Love, will be released on Friday, Nov. 16, told the publication, "This is my last interview. I'm retiring from the business. I've made the perfect record and now I can leave at the very top."
Bublé and his wife, 31-year-old actress Luisana Lopilato, first announced that their eldest child had been diagnosed with liver cancer in November 2016. By the following April, Lopilato revealed that Noah, then 3, was thankfully cancer-free after undergoing chemotherapy treatment in the United States. For the proud parents, who are also mom and dad to 2-year-old son Elias and 2-month-old daughter Vida, the difficult experience was understandably life-changing. 
"My whole being's changed. My perception of life," Bublé, 43, told the Daily Mail, adding, "I don't know if I can even get through this conversation without crying."
The Grammy winner's alleged retirement reveal immediately made headlines and sparked speculation on social media. However, Bublé's adoring fans can luckily breathe a sigh of relief, as his rep has since denied these reports. "[He] is absolutely not retiring," the "Everything" hitmaker's rep told Us Weekly on Sunday, Oct. 14. Adding that Bublé "is not going anywhere," the rep went on to explain that he'd merely been "talking about the emotions he was feeling during his son's illness."
Indeed, the "Haven't Met You Yet" singer went on to tell the Daily Mail that throughout the ordeal, "I actually thought I'd never come back to the music business. I never fell out of love with music, I just needed to put it aside." However, it was his "debt of gratitude" toward the "millions of people all over the world who prayed for us and showed us compassion" that inspired the making of his upcoming 10th studio album. Bublé added, "Now I'm just singing the music I love. Maybe when you let go, maybe that's when it comes back to you. Like love."
We're glad to hear that Bublé plans on continuing to make music. However, he's not the only celeb to spark retirement rumors this year. As Nicki Swift previously reported, actress Selma Blair made headlines in March 2018 over conflicting statements on whether her former Sweetest Thing co-star Cameron Diaz had actually retired from acting.