Ariana Grande, Pete Davidson Reportedly Call It Quits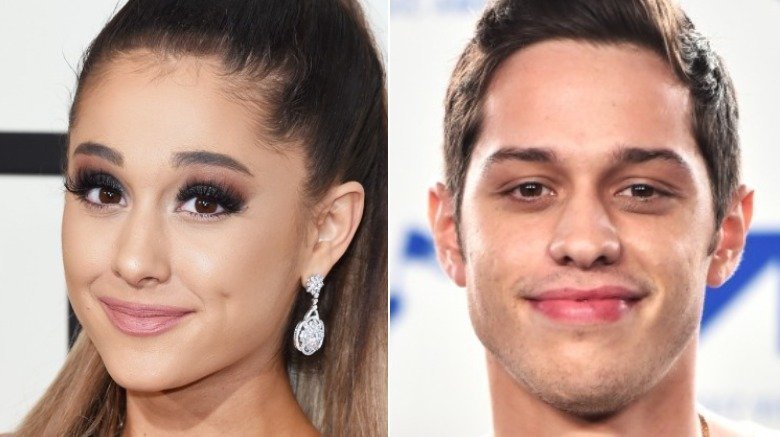 Getty Images
It's over between pop star Ariana Grande and Saturday Night Live star Pete Davidson.
On Sunday, Oct. 14, 2018, TMZ reported that the high-profile couple have mutually decided to split up and call off their engagement after five months of dating. 
According to sources cited by the gossip rag, the love is reportedly still there between the two, but "things are over romantically." The insider also alleged that both felt that "it simply was not the right time for their relationship to take off." 
Meanwhile, another source told People magazine, "It was way too much too soon. It's not shocking to anyone."
As Nicki Swift previously reported, Grande, 25, and Davidson, 24, shocked fans when they became engaged in June 2018 after only a few weeks of dating. Their whirlwind romance has since dominated headlines. 
A week before the former couple made their red carpet debut at the 2018 MTV Video Music Awards in late August, the "No Tears Left to Cry" singer revealed that she unknowingly predicted their engagement after first meeting on SNL in 2016. As Grande recalled during an appearance on The Tonight Show Starring Jimmy Fallon, she'd had the "biggest crush" on Davidson after the two collaborated on skits for the show in the writer's room, telling Fallon, "I jokingly said to my tour manager — I was like, 'I'm marrying him 100 percent.'" Her latest album, Sweetener, famously included a track named after the comedian.
Just before getting together, both had called it quits on their previous long-term relationships. In mid-May, Davidson confirmed his breakup with longtime girlfriend Cazzie David. Meanwhile, Grande split from her boyfriend of nearly two years, the late rapper Mac Miller, around the same time. 
Over the last few weeks, Davidson's continued to make headlines with his appearances on SNL. In addition to lightly poking fun at his quick engagement with Grande, he recently slammed rapper Kanye West over his impromptu pro-President Trump speech, which stirred controversy at the end of the show's 44th season premiere late last month. 
However, Grande recently decided to take some time away from the spotlight following her ex-boyfriend's untimely passing last month. On Sept. 7, Miller died of a suspected drug overdose at the age of 26. The "God is a Woman" singer, who later broke her silence on the loss, has also revealed that she's understandably still dealing with anxiety and PTSD stemming from the terrorist attack that took place at her concert in Manchester, England in May 2017.
At the time of this writing, Grande, Davidson, and their reps have yet to publicly comment on their reported breakup. The two celebs sadly wouldn't be the only celeb pairing to call off an engagement in recent months. Former pro wrestling couple John Cena and Nikki Bella canceled their wedding for a second time in late July 2018 — after initially ending their engagement in April.