Real Housewives Star Teresa Giudice Speaks Out Following Husband Joe's Deportation Ruling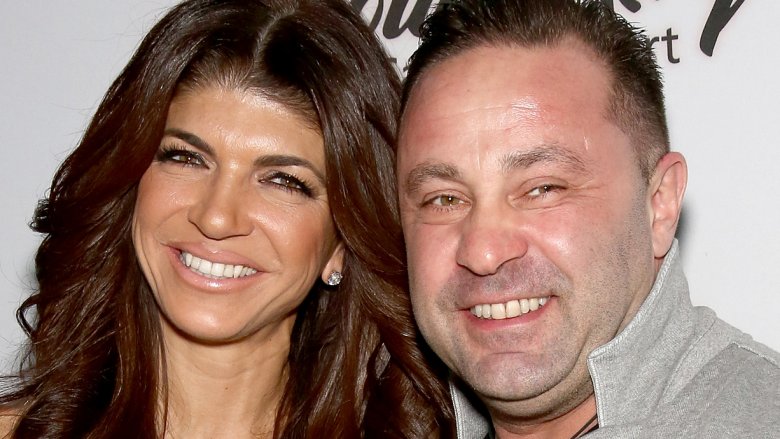 Getty Images
The Real Housewives of New Jersey's Teresa Giudice has finally spoken out about her husband Joe Giudice's potential deportation following his prison sentence.
On Sunday, Oct. 13, 2018, Teresa took to Instagram to share a photo of the Statue of Liberty covering its eyes and, presumably, weeping. In the caption, the 46-year-old posted a series of prayer hands emojis, likely as a reaction to the recent ruling that her husband would be deported after he did time behind bars. In a later Instagram post, she revealed that she was taking things "one day at a time," noting that she was visiting New Jersey's Rutgers University with her 17-year-old daughter, Gia.
For her part, Gia also commented on news that her father will likely be deported in a more direct way. Posting an old photo of herself with Joe, Gia wrote, "This is one of my favorite pictures of me and my dad." She continued, "My father is no threat to society he is one of the most warm hearted people I know, he would never harm a soul. He puts everyone else before himself. I know who my father is and I think many of you do too."
Gia added that her dad "did his time" and has "learned from his mistakes." She asked, "Isn't being in there supposed to make you realize your mistakes so you can become a better person?"
She noted that her family has big plans ahead of them when her father gets out of prison, but they need him to be with them in the United States for any of those plans to happen. "My father belongs with us and his entire family," she concluded. "My father came into this country when he was one years old, the United States is the only country he knows, spread the word #bringjoehome."
As Nicki Swift previously reported, Pennsylvania's York Immigration Court announced on Oct. 10, 2018, that Joe, 46, would be deported to his native Italy after her served his 41-month prison sentence for mail, wire, and bankruptcy fraud. He's expected to be released from prison on March 14, 2019.
While Teresa and Joe reportedly knew that there was a chance he could be deported following his time in prison, they hadn't truly considered it to be a real possibility, according to an Us Weekly source. Teresa allegedly thought the court "would make an exception for Joe since he has been in this country for so long."
Entertainment Tonight noted that Joe would have 30 days to appeal the court's decision. A source told the celebrity news outlet that Teresa, who'd previously done time for fraud and was released in December 2015, is optimistic that her husband — with whom she shares daughters Gia, Gabriella, Milania, and Audriana — will be able to win the appeal and stay in the United States.
If he doesn't win, Teresa and Joe's relationship could be in trouble — at least, according to Entertainment Tonight's insider. "If Joe doesn't win the appeal, his relationship with Teresa is in question," the source said.
However, while there could be some tough times ahead for the married couple, it's reportedly unlikely that Teresa would ever leave her man — even if he is deported to Italy in 2019. "Many of Teresa's closest friends wonder why she has stuck by Joe throughout this process," ET's source shared. "But she tells them she loves him and wants to ensure her children grow up with their father."
Since learning that Joe will be deported unless he wins an appeal, Teresa has reportedly been trying to stay "strong" for their daughters. "Teresa and Joe have no current plan in place for what to do next in their marriage, even though she is committed to finding a way to make this situation work for her family," a source told E! News. "She hates the idea of uprooting her children from their lives and leaving her elderly father who lives with her to move across the world."
If Joe does not win his appeal, he will reportedly be transferred into the custody of the United States' Immigration and Customs Enforcement (ICE) immediately after he is released from prison, as noted by E! News.