Bradley Cooper And Irina Shayk's Daughter's Name Has A Special Meaning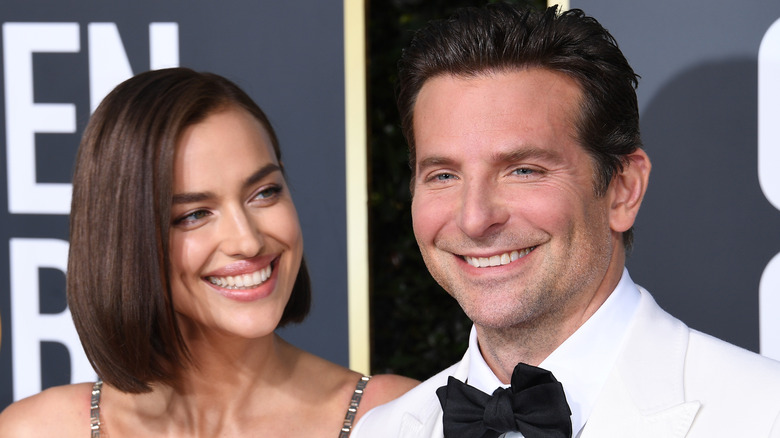 Daniele Venturelli/Getty Images
Bradley Cooper and Irina Shayk strived to keep their relationship away from the public eye. They were good at it, too. So much so that the Russian supermodel managed to rock lingerie in the 2016 Victoria's Secret Fashion Show at about six months pregnant and hide it even from those running the event. "No one suspected backstage, that's for sure! She looked as beautiful as ever," a source told People in November 2016. The news leaked just days later when an insider spilled the beans to People. "Looking back, some of her outfits were less revealing in the stomach and seeing the news after the show, it made sense."
Cooper and Shayk welcomed a daughter on March 21, 2017. Once again, the news came to light two weeks after the fact; when E! News learned they had named her Lea de Seine Shayk Cooper. The girl's unique name inspired plenty of hypotheses. Elle, for example, noted that Lea has Greek roots and means "bringer of good news." On the other hand, De Seine means "From Seine" in French, which could be a reference to the river that runs through Paris.
Indeed, the "Star Is Born" actor lived in France for six months and is known for his love for French, a language he speaks near fluently. But, given Cooper and Shayk's preference for privacy, the true meaning of their daughter's name remained within the realm of speculation until Shayk addressed it years after she gave birth.
Lea de Seine is named after a spy and the famous river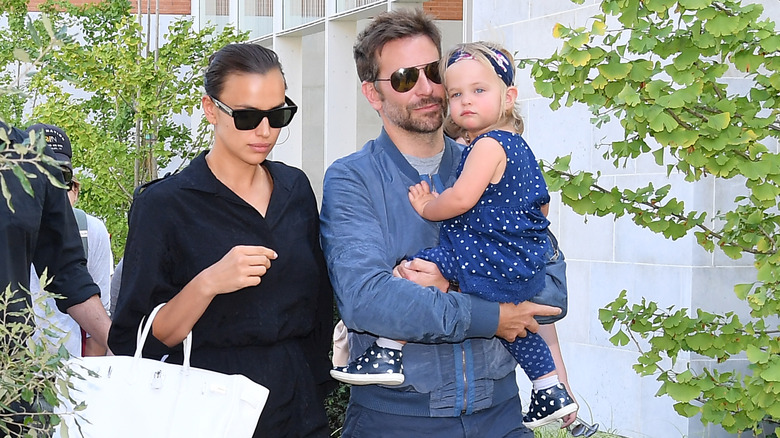 Photopix/Getty Images
With their daughter's name, Irina Shayk and Bradley Cooper honored her paternal grandmother, Galina. "My father's mother was one of the strongest women in my life," she told Harper's Bazaar in 2019, explaining it inspired their girl's first name, Lea. Galina, who died in in 2013, four years before Lea was born, was no ordinary babushka. Galina fought against the Nazis in World War II, acting as a spy for the Soviet Union's Red Army's intelligence branch under Joseph Stalin, according to the Daily Mail.
But Galina was also more than a war hero. She helped raise Shayk after her father — a coal miner — died from lung disease when she was 14. By then, both of her grandfathers had already died. "We never had men around," she said. Her upbringing motivated her to take the reins of her future. "It was really inspiring to grow up in a women's family because you learn so much from the strong women in your life," she said.
As for the other half of the name, those who guessed Shayk and Cooper paid homage to the French capital hit the nail on the head. "The second part is the Seine, like the river in Paris," Shayk said. Shayk didn't delve deeper into its significance, but Paris is where they made their debut as a couple in March 2016. Sounds like the City of Lights holds a special place in both of their hearts.
Bradley Cooper and Irina Shayk are great co-parents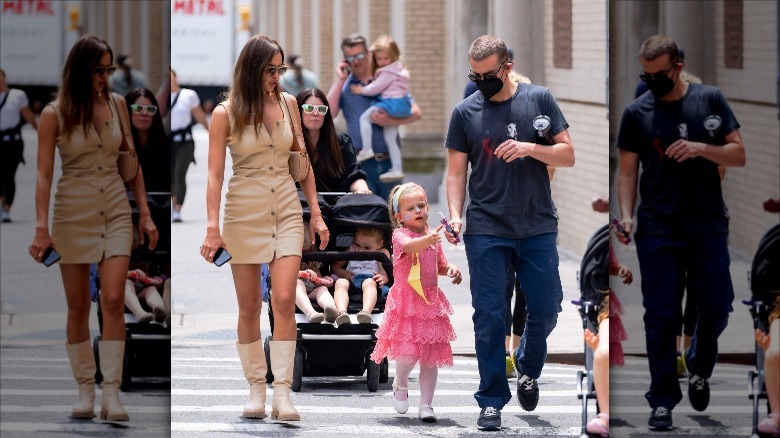 Gotham/Getty Images
Co-parenting is the reality of parents after they split — and some are better than others at it. Bradley Cooper and Irina Shayk, who broke up in June 2019, seem to be among the latter. In fact, Shayk doesn't even like the implications of the expression. "I never understood the term co-parenting," she told Elle in 2021. "When I'm with my daughter, I'm 100% a mother, and when she's with her dad, he's 100% her dad. Co-parenting is parenting."
Bradley and Cooper take their job of raising Lea de Seine so seriously that sometimes the media mistake it for a romantic relationship. In August 2022, Cooper and Shayk sparked relationship rumors after she posted photos to Instagram of them in the Bahamas. But they were apparently just giving us a lesson in co-parenting. "They are co-parenting and get along well for the sake of their daughter," a source told E! News. "They do things as a family and it's going well."
The photos may have led many to believe Cooper and Shayk were vacationing alone because Lea was nowhere to be seen. But Shayk never posts her daughter. The key to their parenting success is that they're aligned in their priorities. "Their co-parenting routine and schedule is going smoothly and they have respect for each other. ... They both want what's best for Lea, so it's easy for them to be a team in that regard," an insider told ET in 2021.