Actress Chloe Bennet, YouTuber Logan Paul Reportedly Split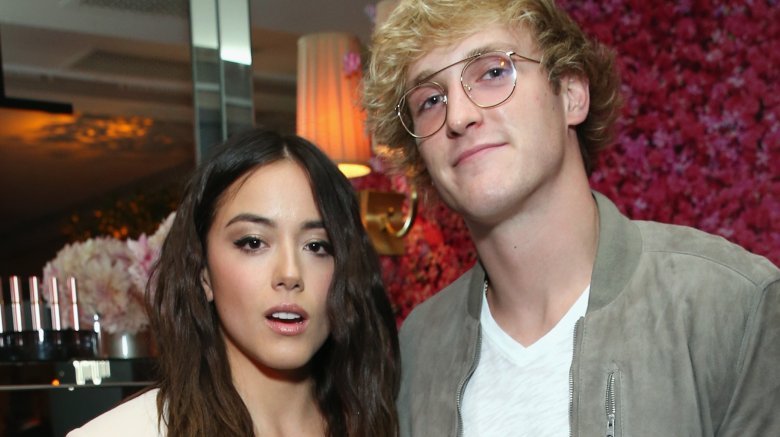 Getty Images
It's over between Agents of S.H.I.E.L.D. star Chloe Bennet and YouTube vlogger Logan Paul.
On Tuesday evening, Oct. 16, 2018, multiple media outlets broke the news that the two celebs have reportedly broken up after three months of dating.
According to Just Jared, Bennet, 26, and Paul, 23, reportedly split up sometime last month. As a source cited by Entertainment Tonight explained, "They very much care about each other but their lives are not compatible right now. They're taking time to just focus on themselves."
The former celeb pairing, who previously worked together on the shelved remake of the 1983 movie Valley Girl, were first romantically linked in mid-July 2018. As Nicki Swift previously reported, Bennet had revealed that she and Paul were dating after a round of flirty messages on social media sparked relationship rumors. "Cause he's kind, creative, funny, vibrantly curious about life, weird as f**k in all the best ways, a big dork, and he's one of my best friends," the TV star tweeted after a fan asked why she was dating the controversial YouTube star. She added, "It doesn't make sense to a lot of people, but it doesn't have too. He's changed my life for the better and I've done the same for him." 
For his part, Paul quipped on Twitter at the time, "Hold on one second now. I haven't confirmed anything. But. If I had the chance to date this so called 'Chloe' girl, I would be an extremely lucky young man."
Bennet, who previously opened up about facing racism in Hollywood, quickly became known for defending her man amid ongoing scandal stemming from a since-deleted YouTube video on his channel. In January 2018, Paul gained notoriety after one of his vlogs showed a dead body in Japan's Aokigahara forest, where many people go to take their own lives. The infamous internet star appeared to make light of the situation at certain points in the disturbing clip while laughing with his crew. Following major backlash, Paul released several public apologies. 
At the time of this writing, Bennet, Paul, and their reps have yet to publicly comment on what seems to be an amicable split. However, it sounds like another source is holding out hope for a reconciliation, recently telling Us Weekly, "They are broken up and not together right now, but there's been a lot of back and forth throughout their relationship. So when the dust settles, it's possible that they will get back together."
Bennet and Paul sadly aren't the only celeb pairing to call it quits in recent weeks. Pop star Ariana Grande and comedian Pete Davidson broke off their engagement over the weekend following their headline-making whirlwind romance. The former couple famously got engaged after dating for only a few weeks in June 2018.