Who Is Zach Bryan's New Girlfriend, Brianna Chickenfry?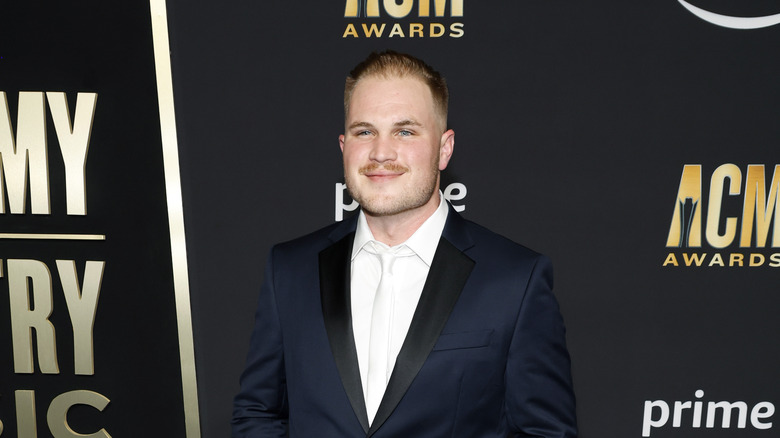 Jason Kempin/Getty Images
Country singer Zach Bryan has kept quite busy in the romantic department. Busier than most, actually. According to Us Weekly, Bryan has had a wife and two girlfriends since 2020. Before you cast judgment, the relationships didn't overlap. As the outlet laid out, Bryan was married to Rose Madden for a year before splitting in July 2021. The singer eventually moved on with Deb Peifer – who never got a ring or made it to fiancee or wifey status. However, Bryan did offer Peifer an informal breakup statement, which created a clear boundary for fans who'd been following the relationship. "For transparency and with respect I am letting everyone know Debra and me went our separate ways about a week and a half ago," Bryan tweeted in May 2023. "Things are mutual between us, we're leaving with plenty memories and good times. I beg so much that everyone respects her and my privacy through a hard time."
Bryan's fans temporarily honored his plea for privacy, instead opting to offer some thoughtful (yet obligatory) well wishes. But that probably won't last for much longer. The new woman in Bryan's life recently spilled all the tea on her podcast about their relationship and social media is already super invested in this new romance. So who is the lucky lady who Bryan has fallen for? That would be Brianna Chickenfry, whose real name is Brianna LaPaglia. We've compiled some facts about her that are much more interesting than her super unique name.
Brianna Chickenfry works for Barstool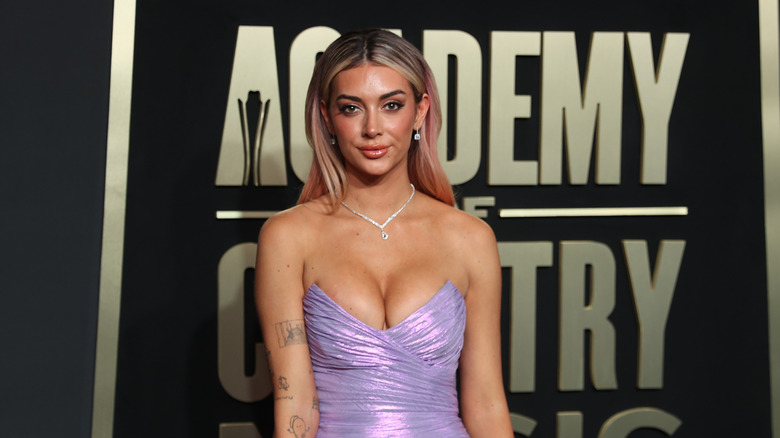 Omar Vega/Getty Images
Although Zach Bryan's music career has opened up his dating pool, it seems as if he's already found his person: Brianna LaPaglia, a Barstool Sports podcaster who works under the professional name Brianna Chickenfry. Why? Well, we'll fill you in one sec! According to the New York Post, LaPaglia landed a job with the sports company after they took a liking to her TikTok content. Her videos appealed to the average college student, revolving around relationship advice and party culture. Despite the company's immense social reach, Lapaglia wasn't scared to dive in head first. "I wasn't nervous going into it because I ­really didn't know what the hell [Barstool] was," shared the podcaster in 2021. Such a bold admission!  
Today, the TikTok star has been leading her podcast  — "Plan Bri Uncut" — for three years. Now back to ... Chickenfry of all names! Apparently, LaPaglia initially replaced her last name with Chickenfry as a joke. "Let's just do Brianna Chickenfry. Not thinking that would be my name now," she revealed about her thought process to the New York Post. It all worked out, though. Since 2020, LaPaglia has built a successful career under the irreverent moniker. She even used one of her episodes to announce her relationship with Zach Bryan. "I've been hanging out with a guy named Zach [Bryan]," LaPaglia recently revealed (via People). "It's fun, it's casual... just wanted to address it because the whole internet is freaking the f*** out and people are doing s***."
But she's also big on multiple platforms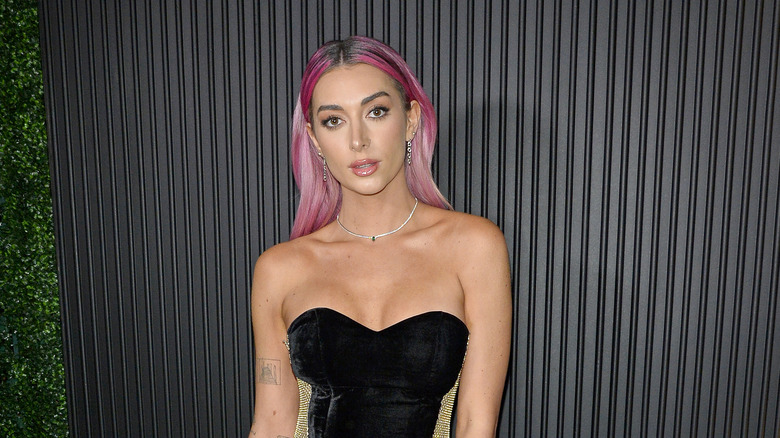 Jerod Harris/Getty Images
Brianna Chickenfry has found the secret to engaging audiences on every social media platform. Although TikTok and Barstool are LaPaglia's main streams of income, as she's also found great success on Instagram, Twitter, and YouTube. TikTok, where she has two million followers, is definitely her most popular platform. However, she's not doing too shabby on instagram, where 540,000 users decided to follow her day to day. Unfortunately, not everyone who encounters her content is a fan. In 2021, Mike Fahie posted a Change.org petition, calling for LaPaglia to be removed from Barstool Sports. Fahie claimed that LaPaglia made distasteful comments about two teenage boys who'd recently died from a car accident.
"The tragic death of a loved one is never easy and Brianna LaPaglia made the grievance process for Joey Birolini and Billy Hickey even harder for the loved ones of the deceased, the town of Pembroke, Massachusetts, and surrounding hockey community that they were adored by," wrote Fahie. "On her podcast 'Because we got high' that is associated with Barstool Sports she present[ed] disrespectful views in the aftermath of the tragic events which hurt many close to these amazing men in an already tough time." The petition linked to TB Daily News, which explained that LaPaglia had complained about outsiders who publicly mourned the deaths of Birolini and Hickey, despite not knowing them personally. Ultimately, LaPaglia denied that her comments were about the aforementioned victims. The petition only received 3,338 votes.