What Pat Sajak's Wife Lesly Brown Really Does For A Living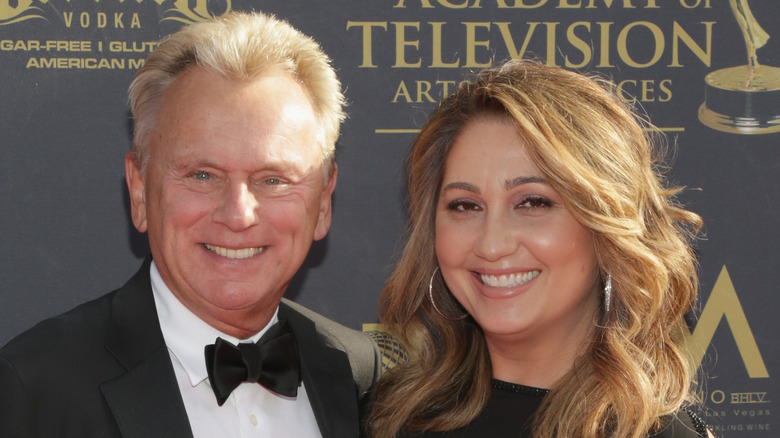 Jerritt Clark/Getty Images
Retired "Wheel of Fortune" host Pat Sajak and his wife, Lesly Brown, seem to have solved the puzzle to spell out a long-lasting marriage. The pair have been together for over three decades, so while Sajak has guided contestants as they spin the wheel since 1981, not many people know what Brown's role was behind the scenes.
After divorcing his first wife in 1986, the TV personality was first introduced to and became friends with Brown through their mutual friend at a restaurant opening in 1988. Despite Sajak and Brown's 19-year age difference, they fell for each other quickly and tied the knot a year later in 1989. The couple welcomed their son, Patrick Sajak, in 1990 and gave birth to their daughter, Maggie Sajak, in 1995.
Throughout Pat's decades-long reign as host, Brown occasionally appeared on "Wheel of Fortune" as a guest host or in support of her husband. With the news of Pat's retirement this year, let's take a look at what Brown has done for a living, both before and after she met the TV personality.
Lesly Brown was a model before starting her family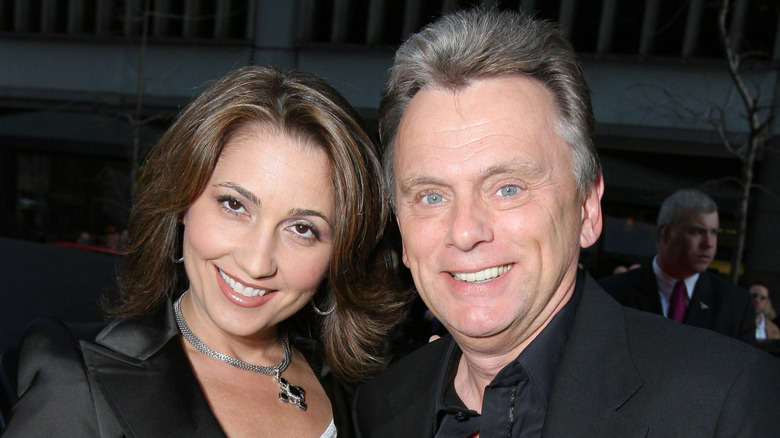 E. Charbonneau/Getty Images
Before she was introduced to her husband, Pat Sajak, Lesly Brown had an eclectic career. The former Miss Georgetown graduated from the University of Maryland and earned her degree in television production before working as a model. She posed for the cover of a 1988 issue of Playboy called "Women of Washington," in which she stated that her goal was to go to law school to become a lawyer.
"I decided to put [law school] off to pursue modeling while I was still young enough to do so," Brown explained to the Washington Post in 1989. "And this year, I'm getting married and I think I want to just get used to being a wife."
In an interview with People at their New Year's Eve wedding, Brown explained that she wanted to stay at their Los Angeles home and raise what Sajak calls a "little Sajakian." Considering "Wheel of Fortune" was cutting the host million-dollar checks — reportedly earning $15 million for his last season on the show — we're sure the family was more than well-off.
Maggie Sajak called mom Lesly Brown her 'best friend'
Pat Sajak and Lesly Brown raised two children who grew up to have great success. Their eldest, Patrick Sajak, graduated from medical school at the University of Maryland (his mother's alma mater!), which his dad proudly bragged about on a 2021 episode of "Wheel of Fortune." The host proudly gushed: "Lesly and I couldn't be prouder."
The couple's daughter, Maggie Sajak, works as the "Wheel of Fortune" Social Correspondent after earning her undergrad degree at Princeton University and post-grad at Columbia University. Maggie followed in her mother's footsteps by graduating from law school in May of this year. The multihyphenate posted a throwback photo in 2020 of her and Brown striking the same pose. "Always trying to be her mini-me, but who can blame me?!" Maggie captioned.
For International Women's Day this year, the law school graduate uploaded a tribute to her "strong and beautiful mother," thanking her for "inspiring [her] to be a better woman every day." On Brown's birthday in 2022, Maggie wrote on her Instagram, "Happiest of birthdays to my very best friend! (Oh and she also happens to be my mom)."