What's The Real Meaning Of Cruel Summer By Taylor Swift? Here's What We Think
Jamie Mccarthy/Getty Images
In the age of TikTok, it's no longer surprising when years or even decades-old songs skyrocket to the top of the charts. We've seen it happen with Fleetwood Mac's "Dreams" and Kate Bush's "Running Up That Hill," both tracks finding themselves resurfacing on the charts after years of dormancy. While it's not as old as the aforementioned hits, Taylor Swift's "Cruel Summer" track from her 2019 album "Lover" got the same treatment, blowing up on TikTok, re-entering radio circulation, and then climbing the Billboard Charts. Even Swift herself couldn't believe that it happened.
"The weirdest, most magical thing is happening. It's never happened to me in the whole time I've ever been doing this," she said in one of her Eras world tour stops. "'Cruel Summer' was on the 'Lover' album. That album came out four years ago. And I just need to let you know something: 'Cruel Summer,' that song was my pride and joy on that album." She went on to say that it was supposed to be launched as a single, but then COVID-19 happened. Fast forward to 2023, the song finally got the attention it deserved, prompting her label to make it a single as originally planned. "You guys have streamed 'Cruel Summer' so much right now in 2023 that it's like at the top. It's, like, rising on the streaming charts so crazy."
With "Cruel Summer" being everyone's 2023 summer anthem, you may be curious to find out what the song Swift considers near and dear to her might mean. Let's do a quick analysis, Swiftie-style, shall we?
Cruel Summer is all about the intricacies of summer romance
Unlike many Taylor Swift songs that usually have hidden meanings weaved between the lyrics, "Cruel Summer" is as straightforward as it can get. It's all about kickstarting a romance over the summer, only for her to fall hard for the other person without intending to, and then fighting to conceal her feelings to keep it going.
"Fever dream high in the quiet of the night / You know that I caught it / Bad, bad boy, shiny toy with a price / You know that I bought it," the first verse read, which may indicate Swift's excitement towards the prospect of a new relationship. She then suggests in the chorus that it may all be just physical, but it doesn't make it any less exhilarating: "It's new, the shape of your body / It's blue, the feeling I've got / And it's ooh, woah-oh / It's a cruel summer."
Then she realizes that she's in love but makes it her mission to sweep her feelings under the rug, especially since he might break things off if he found out. "I'm always waiting for you just to cut to the bone," she sings in the second pre-chorus, and in the bridge, she laments about growing tired of the secretive nature of their fling. "Said, 'I'm fine,' but it wasn't true / I don't wanna keep secrets just to keep you." But towards the end, she decided to confess anyway. "And I scream, 'For whatever it's worth / I love you,' ain't that the worst thing you ever heard?"
Is Cruel Summer about the beginning of Taylor Swift and Joe Alwyn's relationship?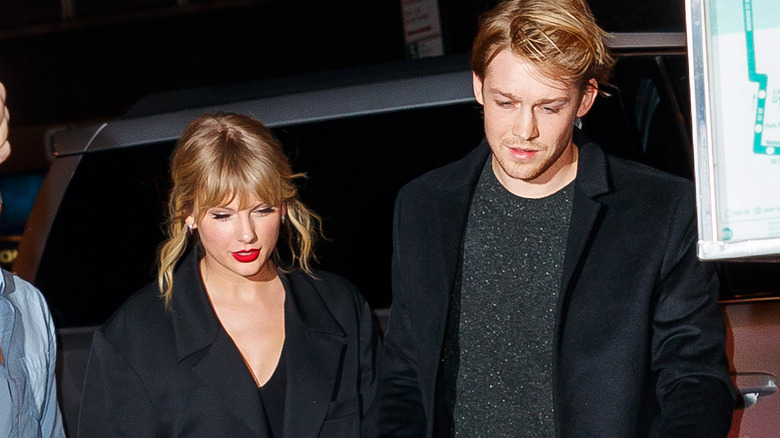 Jackson Lee/Getty Images
It may not be a reach to suggest that "Cruel Summer" tells the story of her relationship with Joe Alwyn. As we all know by now, Swift and Alwyn were incredibly private throughout their relationship that lasted over half a decade, with the two keeping it a secret in the beginning.
"I'm essentially based in London, hiding out trying to protect us from the nasty world that just wants to ruin things. We have been together and no one has found out for 3 months now," she wrote in one of her journal entries for "Lover," per Insider. It was dated January 2017, months after her short-lived romance with Tom Hiddleston. If this is indeed the case, "Cruel Summer" may be about Swift having a tryst with Alwyn towards the tail-end of summer 2016, only for the relationship to progress to something more serious. It looks like her confession worked, after all!
Swift was careful to spill any details about the song, but she did say in her "Lover" secret sessions that "Cruel Summer" is about a summer romance. She said that it's an ode to "how often times a summer romance can be layered with all these feelings of pining away and sometimes even secrecy. It deals with the idea of being in a relationship where there's some element of desperation and pain in it, where you're yearning for something that you don't quite have yet, it's just right there, and you just can't reach it."