Here's What Kendall Jenner Looks Like Without Makeup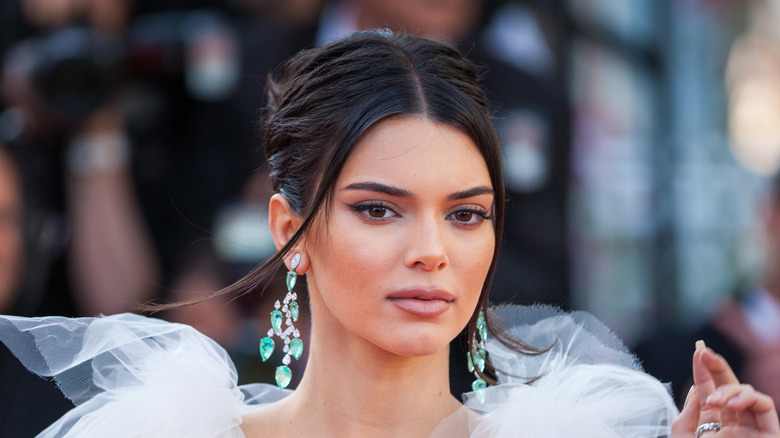 taniavolobueva/Shutterstock
Viewers have watched Kendall Jenner grow up before their eyes since she first appeared on "Keeping Up With the Kardashians" in 2007. Over the years and seasons of the reality series, Jenner revealed her aspirations to become a model and soon, she made her dreams come true. During an appearance on "The Tonight Show," she shared with Jimmy Fallon a letter she wrote to herself when she was 14 years old in hopes of manifesting a modeling career. "Dear me, I am on my freshmen retreat right now and it is really boring. But I met new people, so I guess that's good. I am modeling right now and I love it ... My goal in life is to become a big-time model and travel to really amazing places. I really hope it happens," Jenner read aloud.
Of course, the "Kardashians" star made it happen and she has since modeled for countless designers and is no stranger to wearing makeup. In fact, her various makeup looks often start trends and Jenner shares her beauty tips in videos where we get to see her bare-faced — and she proves that she doesn't need makeup to look glamorous.
Kendall Jenner breaks down her go-to makeup look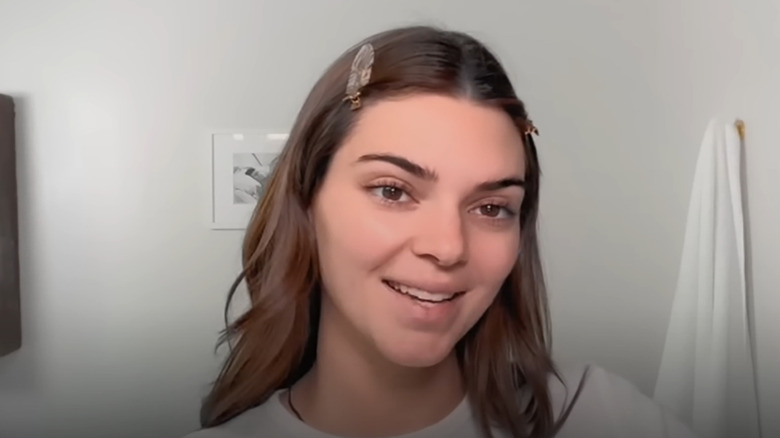 YouTube/ VOGUE India
While many makeup mavens love recreating Kendall Jenner's looks on social media, what better way to get her secrets than from the supermodel herself? In a video for Vogue India, Kendall showed off her lovely makeup-free face, before she went through the steps of her favorite bronzed look. Skincare is a must for the reality television star and she makes sure her skin is prepped with a face mist before applying moisturizer. "I'm always making sure that I have sunscreen on and that I'm never neglecting my skin when it comes to that," she shared.
When it comes to combating breakouts, it's not about what Kendall puts on her face. Rather, it's all about what goes in her body. "I was trying to figure out for so long why my skin was breaking out. Was it hormones, was it what I'm eating, am I allergic to something, am I using the wrong products?" she shared with Vogue. "I started thinking about my diet a lot and decided to cut out dairy — not entirely, I love cheese, so it's hard for me to cut out cheese and that honestly helped me so much," the model continued. In the video, Kendall gave a shout-out to her sister Kylie Jenner's lip mask from her beauty line and the makeup maven has contributed to the brand with her own unique style.
Kendall Jenner's makeup preferences inspire her sister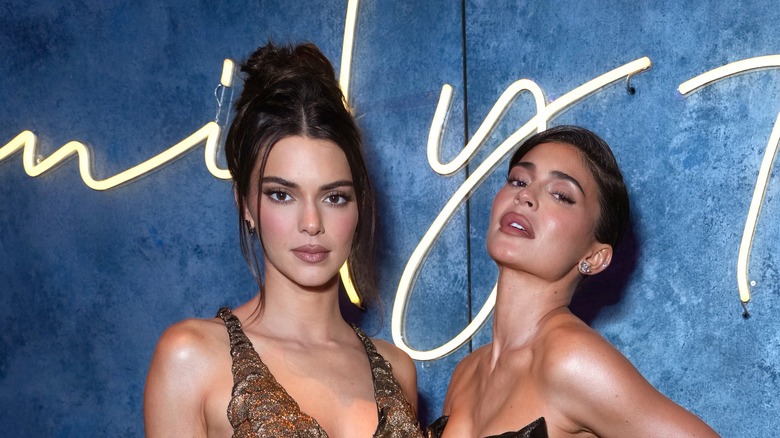 Kevin Mazur/vf23/Getty Images
Kendall Jenner has built an empire based on her looks and her sister Kylie Jenner is using it to further grow her brand, Kylie Cosmetics. The two first collaborated in 2020 and again in 2022 with products inspired by Kendall's favorite makeup looks. "I've always had a passion for beauty, and especially love products that I can use for a more natural look. Together, Kylie and I created an amazing collection filled with my go-to products," Kendall shared in a statement, per E! News. Kylie revealed that her sister prefers a "natural-looking smokey eye," which influenced her eyeshadow palette.
To keep with her fresh-faced preferences, Kendall's makeup artist, Mary Phillips, focused on the model's eyes for her 2023 Met Gala look. "The inspiration for Kendall's makeup was pulled from mod makeup with an emphasis on the eyes. Bold lashes complemented the upper and lower lash lines with a classic winged liner," Phillips told InStyle. As a makeup guru, Kendall had to put her stamp of approval on the final look. "One of the many best parts of working with Kendall is that she is so collaborative and creative. Her creativity and excitement inspire the glam team." Phillips declared.