Rob Kardashian's Daughter Dream Lives An Extremely Lavish Life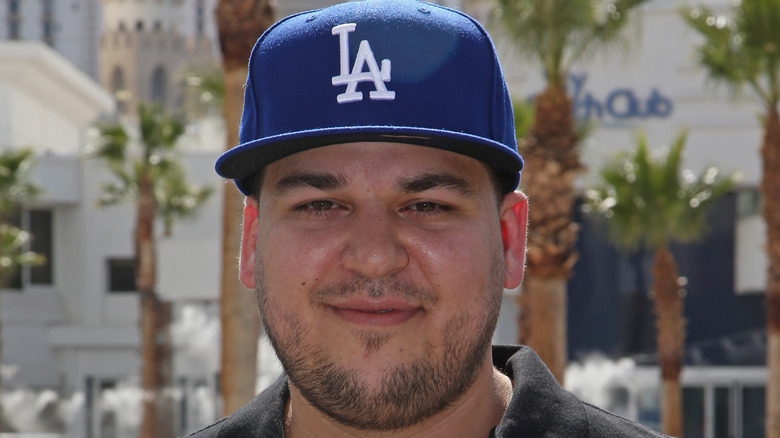 Gabe Ginsberg/Getty Images
If there is one family where you are guaranteed to live an extremely lavish lifestyle, it's the Kardashian family. From outrageous birthday parties to extravagant holidays, if you're part of "America's royal family," you're sure to have a comfortable life.
It's no surprise as each Kardashian and Jenner has their own passions and business that have amassed over 2 billion dollars together! And if there is one thing that the Kardashians are known for, it's that they love and would do anything for their family, especially their children. Although Rob Kardashian has been out of the spotlight for quite some time, it's no secret he adores his daughter, Dream Kardashian. Rob and his ex-girlfriend, Blac Chyna, welcomed Dream in November 2020, per People. Even though Chyna and the Kardashians haven't always got along, the one thing they all seem to come together for is Dream.
Kendall Jenner even revealed on "The Late Late Show with James Corden" in 2019 that out of all her siblings who are parents, Rob is the best. She said, "I'd say that Rob is No. 1. He's so good to his daughter!" Seeing as Dream is Rob's only child, not only does she receive all his attention, but she also gets everything she wants. Both of Dream's parents are well off, and they don't mind spending a buck or thousands on their daughter.
Dream goes to a high-end private school
Dream Kardashian is still pretty young, so she's not going out and buying thousand-dollar purses or million-dollar cars just yet. But that doesn't mean she isn't living a luxurious life. One thing that costs a pretty penny when it comes to Dream is her schooling.
In August 2022, Blac Chyna posted a photo of Dream on her first day of school. She wrote, "Dream's First day of Kindergarten. Proud mom moment." While many assumed that Dream would attend the same school as her other famous cousins, Kim Kardashian seemed to confirm this to be true. Kim told "Live! With Kelly and Ryan," "It's like, seven cousins all go to the same school. There's three in one class, one in another, two in another, two in another." Dream was also sporting the same uniform, a plaid skirt and navy blue polo, in the photo Chyna posted, which matches her cousin's school uniform outfits.
It's safe to say that Dream goes to the same prestigious private school her cousins do, and it's pretty expensive. According to the school's website, tuition for the 2023-2024 school year is around 35,000 dollars a year! Seeing as Dream will most likely go here up until 6th grade, this means that Chyna and Rob will be forking out over 200,000 dollars for her education! And that's if tuition stays the same over the next couple of years. We can only imagine the price will increase as she continues her education.
Every day is an extraordinary day for Dream Kardashian
Dream Kardashian is living a literal dream. The young Kardashian kid has a life unlike any other and every day is a remarkable day for her. For one, The Sun reports that Dream is living in a 7.5 million dollar home! Her dad, Rob Kardashian, is making sure his daughter will always want to spend time with him in their home which has as much space as anyone would need. Although we don't really see their home or Rob on "The Kardashians" it's clear that Dream is living her best life.
In season 3 of "The Kardashians," fans got a look into Dream's 6th birthday bash hosted by her aunt Khloe Kardashian. From arts and crafts stations to tons of goodies, Dream's butterfly-themed birthday had everything a six-year-old could wish for, per E! News. The Kardashians know how to throw a party, but it comes at a cost. According to SheKnows, the famous family is willing to spend thousands when it comes to their kids' birthdays. And since Dream's birthday was no different from her cousin's, her celebration was most likely in the thousands range as well.
And it's not just on birthdays that Dream is living this lavish lifestyle. According to The Sun, she has been on private jets, has had exclusive movie premieres, and has had plenty of trips to Disneyland. All of this costs a good amount of money, but it's clear that money isn't an issue for the Kardashian family.