Jennifer Garner And Ben Affleck's Daughter Seraphina Is Growing Up Fast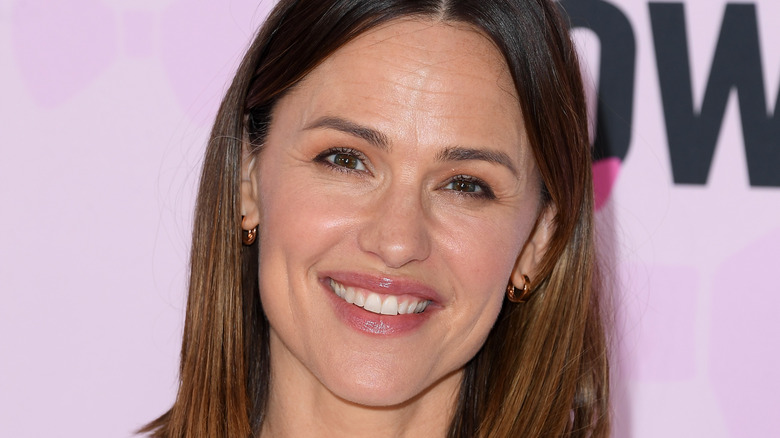 Steve Granitz/Getty Images
Pretty soon, Jennifer Garner and Ben Affleck's second child, Seraphina Affleck, will be "13 going on 30." Okay, maybe time won't fly as fast as it did in Garner's classic rom-com, but it seems like just yesterday the couple welcomed a young Seraphina into their lives.
Seraphina was born in January 2009 — the second of the three children the former couple welcomed together. Seeing as both parents are big-name actors, many wondered how the couple would handle not one, but two kids. But their friend and Garner's "Alias" co-star Bradley Cooper wasn't worried about Seraphina coming into their lives. Cooper shared, "She was a great leader for a TV show I did with her and she can literally do anything. So she can certainly run a family. She will have no problems having two kids." And the "Silver Linings Playbook" star wasn't wrong. Ben and Garner made parenting look easy.
From cheering on Seraphina during a race to taking them to the happiest place on Earth, the couple made raising children look like a breeze. Unfortunately, Ben and Garner called it quits in 2015 and finalized their divorce in 2018, per People. With the couple's breakup and the kids getting older, we have seen less and less of Seraphina, but they have been growing up fast.
Seraphina Affleck is a full-blown teenager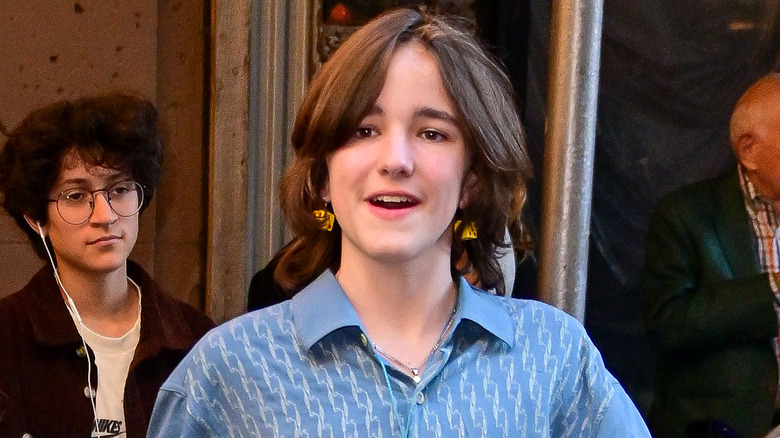 James Devaney/Getty Images
In January 2023, Seraphina Affleck turned 14 years old and they're embracing their teenage years. Despite their mom Jennifer Garner being one of the biggest names in Hollywood, the young teen isn't afraid to give her some slack. The "13 Going On 30" actor revealed on "The Tonight Show Starring Jimmy Fallon" in 2018 that her kids, Seraphina included, call her the "fun-killer" because she says no to everything. Garner had even shared a post on Instagram of a note a then 9-year-old Seraphina wrote to her. The note read, "When I grow up, I want to be a fun-killing mom, just like you!" A kid will tell you the truth no matter what, especially when they start getting closer to their teenage years.
But even though Seraphina may find their mom annoying at times, there is one person they have a special connection with in the Affleck family. According to InTouch Weekly, the young teen and their brother, Samuel Affleck, get along well. A source told the outlet, "He looks up to his older sisters and has a unique bond with Seraphina. The two of them spend hours playing together." Even though this was said several years ago, it seems like the two are still close. In July 2023, Seraphina had an outing with Garner, Samuel, and their older sister at brunch, per Hollywood Life. In one snapshot, the teenager embraced Samuel, showing the two are incredibly close.
Seraphina Affleck enjoys spending time with their blended family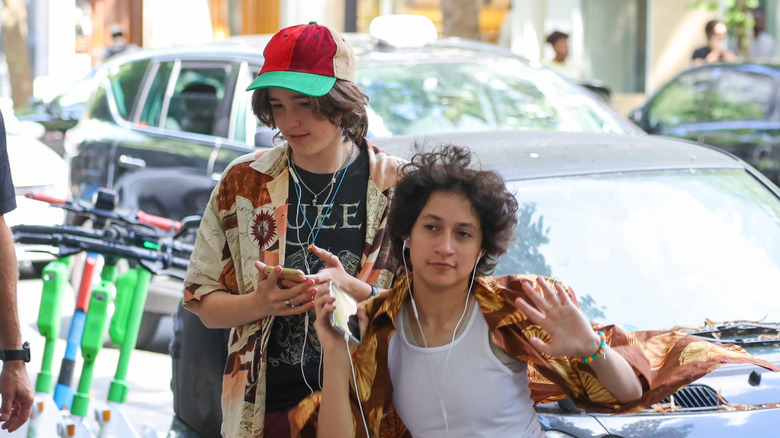 Pierre Suu/Getty Images
Seraphina Affleck may be a teenager, but they still enjoy spending time with family, especially now that it has gotten a little bit bigger. "Bennifer" became official when Ben Affleck and Jennifer Lopez tied the knot in 2022, per Insider. Not only did Seraphina get a new stepmom, but they also got two more siblings. Lopez's twins, Emme and Maximilian Muñiz, rounded out the Affleck family. While it can be tough to get families to blend, it seems as though Ben, Garner, and Lopez didn't have that problem. In May 2023, the "Alias" actor even took Seraphina and Lopez's kid, Emme, to Disneyland, per Page Six. The two teenagers are close in age and enjoyed every moment together at the happiest place on Earth.
When it comes to the kids, there's nothing that this blended family wouldn't do for one another. In May 2023, Lopez, Ben, Garner, and all the kids (minus Samuel Affleck) all gathered to support Seraphina at their performance at school, per Hola. Emme and Maximilian even brought their stepsibling a bouquet, which Seraphina was later photographed with. The young teen's sister, Violet Affleck, was even seen giving Lopez a big hug. So despite Ben and Garner's split, it's nice to see that the entire family can get along and enjoy some quality time together.