Serena Williams' Daughter Olympia Lives An Extremely Lavish Life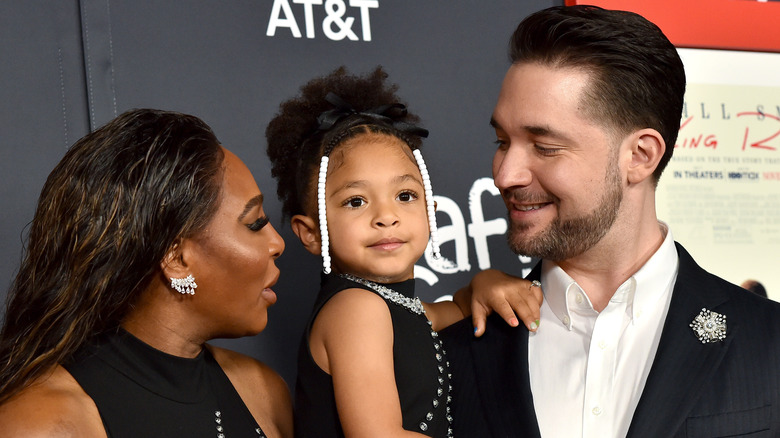 Axelle/bauer-griffin/Getty Images
As the daughter of a sporting icon and her multimillionaire entrepreneur husband, it's not exactly surprising that Olympia Ohanian leads a life most can only dream of. However, the details as to just how lavish her lifestyle is are eye-watering, to say the least. 
Born in September 2017, Alexis Olympia Ohanian Jr. (best known as Olympia) was introduced to the world in a video posted by her mother, Serena Williams' social media platforms — including her own subreddit. For the uninitiated, that would be the platform co-founded by Olympia's father, Alexis Ohanian. In the accompanying tweet by Alexis, the new father made a point of noting that their daughter already had a grand slam title under her belt. After all, Williams had won the 2017 Australian Open while pregnant. In other words, Olympia has been a big deal since before she was even born. 
In light of all that, and Olympia's parents' combined net worth — Williams is worth approximately $300 million, while her husband is worth half that — it's safe to say, she's always been destined for a pretty cushy childhood. However, this celebrity kid takes the very idea of lavishness to a whole new level. In fact, her investment portfolio comes with a series of zeroes behind it, and that's all while her age is in the single digits. 
She co-owns a golf club and a soccer franchise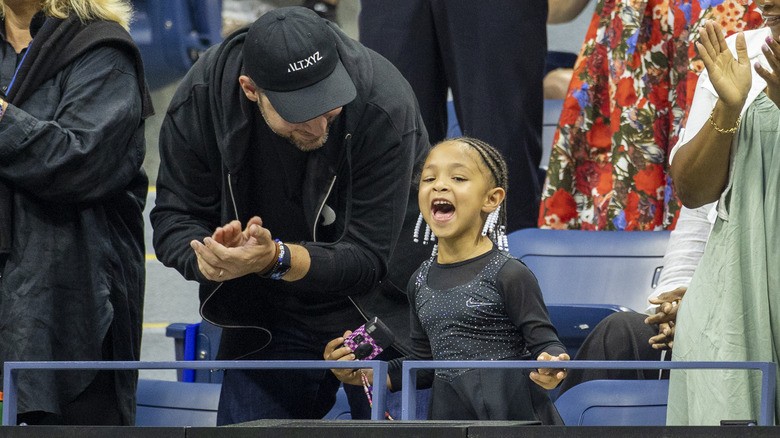 Tim Clayton - Corbis/Getty Images
Nearly a year after Serena Williams gave birth to her daughter, she shocked ESPN reporters by saying she would prefer it if Olympia Ohanian didn't pursue a career in tennis. However, even if she's not sure she'd want her to face the pressure of competing, Olympia is already guaranteed a career in the sporting world. She's actually co-owner of both a soccer franchise and a golf club. 
In July 2020, Olympia's social media team revealed via Twitter that she had become one of the co-owners of the Angel City soccer team. In a statement by Alexis Ohanian at the time, he revealed that investing in his daughter's name had been something he felt strongly about. "I'm personally investing on behalf of my family because creating more opportunities in women's sports is important to my wife and me, and we want to be a part of making a better future for our daughter," he said (via Harper's Bazaar). 
As for Olympia's golf club, Alexis took to Instagram in June 2023 to reveal that he and his daughter were officially co-owners of Los Angeles Golf Club. "Olympia is the youngest owner in professional sports (@weareangelcity) and is now the youngest 2-team owner in professional sports," he wrote. However, he added that she'll have to share the honor with her younger sister, due in late 2023. What's a sports club, shared between siblings?
... but she's also hit the jackpot with her attentive parents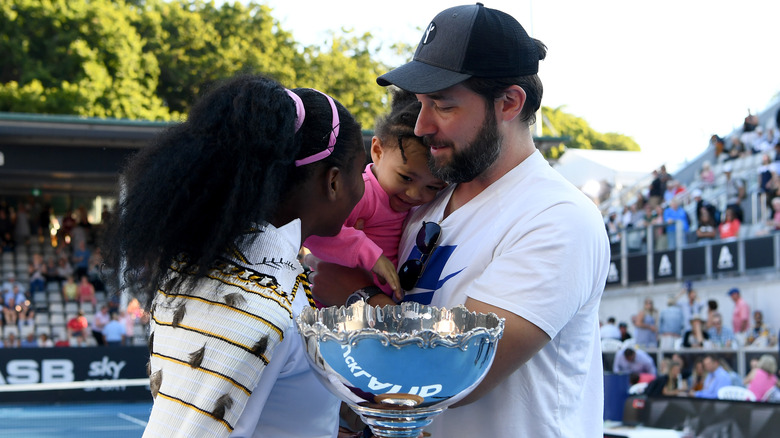 Hannah Peters/Getty Images
Olympia Ohanian may lead a lavish life, but there's more to it than owning sports clubs and having access to anything her heart desires. When it comes to the relationship she has with her parents, she's a baller in that department, too. 
In addition to sporting adorable mommy and me looks, attending art exhibitions , and featuring in a slew of YouTube videos together, Serena Williams has previously joked to Vogue that she and Olympia will be joined at the hip for the foreseeable future. "We're not spending a day apart until she's eighteen," she told the outlet. She may have some competition there, though. Alexis Ohanian is just as committed to being a hands-on parent, with dad-daughter Home Depot runs and date nights regularly on their schedules. However, time as a family is just as important to the couple. As Alexis revealed in an interview with Entrepreneur, getting home in time for dinner with both Olympia and Williams every night is a non-negotiable for him.
As Olympia gears up to become a big sister, it's safe to say her younger sibling will be living just as lavishly. Case in point: Williams revealed that she was pregnant at the 2023 Met Gala. That, and the fact that she already has half a sports team to her name. We're living vicariously through the Ohanian sisters!