The Bold And The Beautiful's Don Diamont Had Off-Screen Flings With Two Co-Stars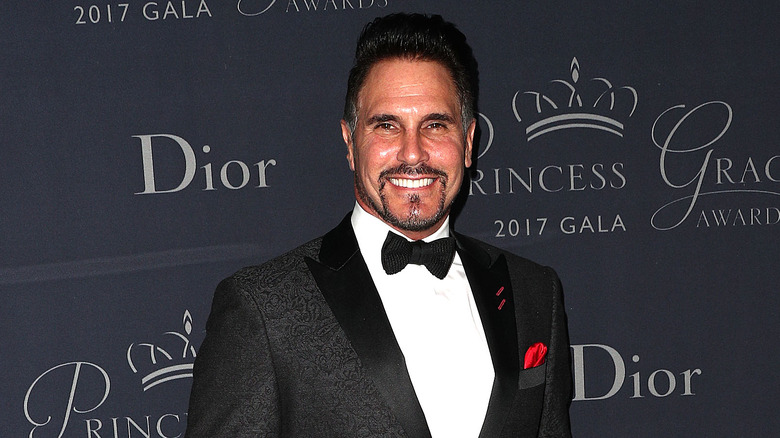 Frederick M. Brown/Getty Images
Don Diamont's soap opera career has been just as epic as Eric Braeden's, James Reynolds', and Susan Lucci's. To date, Diamont has appeared on "Days of Our Lives," "The Young and the Restless," and "The Bold and the Beautiful," making him one of the few soap stars to contribute to three legendary franchises. According to Soap Opera Digest, Diamont — now 60 years old — was barely legal when he joined "Days of Our Lives," allowing for a somewhat rickety start. "I was 21 and had no acting experience to speak of and Al Rabin [then-executive producer] pulled me off the set and in front of everybody, said, 'I can take an actor who is nervous. I can't take an actor without energy,'" he recalled. 
Fortunately, Diamont didn't allow a bad first day to scare him away from the genre, where he's excelled for decades. However, he's still been forced to act out some embarrassing scenes over the years. Soaps In Depth notes that Diamont particularly hated when the script demanded that he rap while proposing to Eileen Davidson's Ashley on "The Young and the Restless." 
The consummate professional still "jump[ed] in with both feet" though. On "Bold," Diamont's Bill Spencer has begun an affair with Shelia Carter, a disturbed woman who murdered her own father. Diamont hasn't just found love onscreen, however. Today, he's married and has seven kids. In the past, however, he enjoyed a couple of spicy flings with two of his co-stars — including Davidson.
Don Diamont was 'so special' to Gloria Loring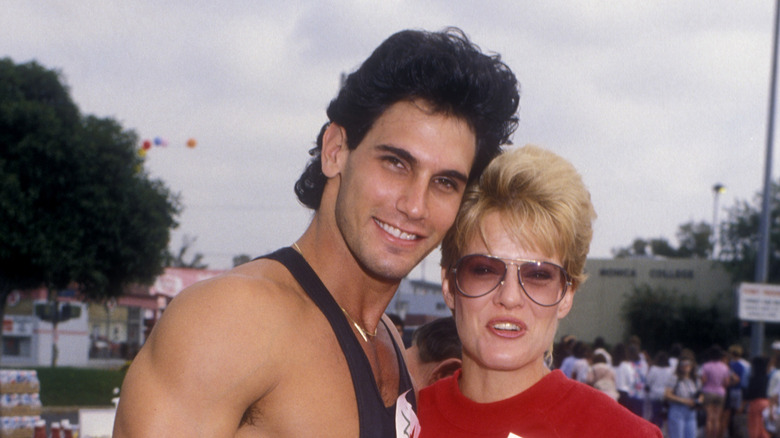 Barry King/Getty Images
Gloria Loring was Don Diamont's first colleague who crossed over into his real life. According to Who's Dated Who, the "Days of Our Lives" co-stars dated from 1985 until 1986. Diamont was 22, while Loring was 38. They started dating shortly after she separated from her ex-husband, the late Alan Thicke, per People. As mentioned in the TV Insider interview, Diamont reflected on his relationship with Loring in his memoir — five years after Loring wrote her own, entitled, "Coincidence is God's Way of Remaining Anonymous."
During a chat with Smashing Interviews, Loring shared some endearing memories from their past relationship, noting, "He was so special because he came into my life at a point where I was feeling quite emotionally fragile even though I was supposedly a star on television." She continued, "Donald came in and was so loving and so strict with my sons about how they spoke to me and how they treated me." 
Loring also revealed that, prior to meeting Diamont, her sons didn't really respect her. "That was an issue. Donald read them the riot act when he was in my home. He'd say, 'Excuse me, do you know who you're talking to?' They didn't like it, of course, because they'd think, 'Who are you?' But it did change things. It changed the way I saw myself." Loring also described Diamont as "a wonderful person."
Don Diamont didn't get along with Eileen Davidson at first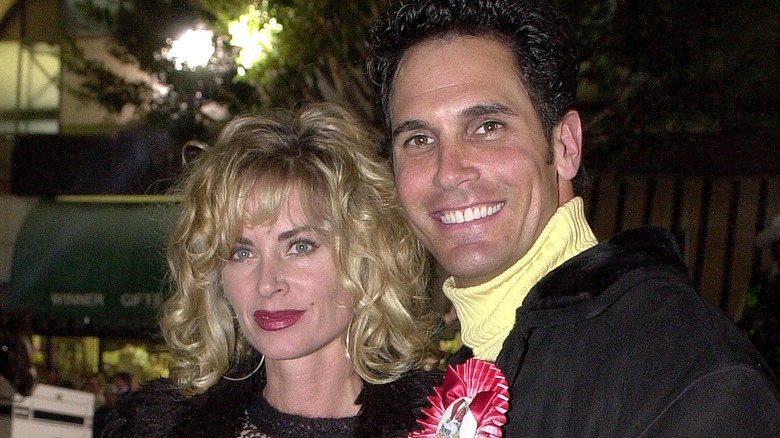 Getty Images/Getty Images
Shortly before Don Diamont said "I do" to Rachel Braun, his first wife, he dated Eileen Davidson, his "The Young and the Restless" co-star. However, they didn't hit things off at first. During a 1991 interview with The Sun Sentinel, Davidson discussed her departure from "Y&R" and shared how she really felt about Diamont. "I was having lunch with one of the makeup men on [Santa Barbara] and he mentioned the Abbotts hadn't heard from me in a long time," said Davidson. "I replied, 'Well, they can call me,' I was stunned when the person who called was Donald. When I was on 'Young and Restless' I really couldn't stand him." 
However, they eventually agreed to meet for dinner, "Then we'd spend lots of time talking on the phone when I was out of town. It just grew." The actors ended up dating for three years and, although things didn't work out, Diamont and Davidson remained friends and ultimately continued working together as an onscreen couple. 
In 2000, while still married to Braun, Davidson confirmed with Soap Opera Digest that his previous relationship with Davidson hadn't impacted their onscreen chemistry. "Eileen and I are friends, which we have been for years," he said. Diamont also included Davidson in his 2018 memoir, "My Seven Sons and How We Raised Each Other," describing her as "a bit aloof, with a biting sense of humor" (via TV Insider).