Simon Cowell Looks Nearly Unrecognizable In New Video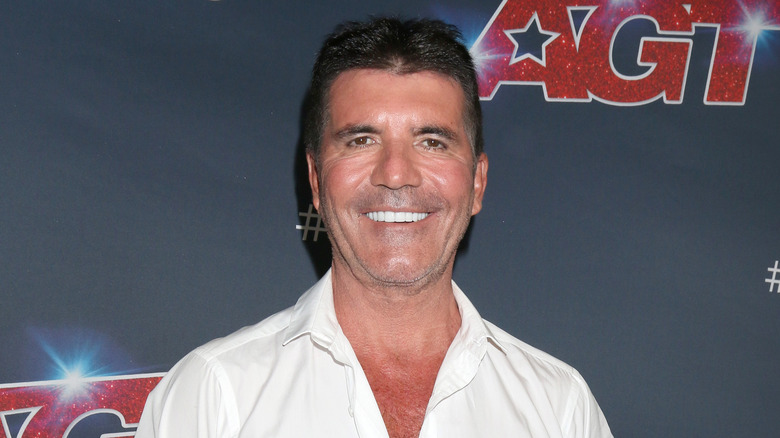 Kathy Hutchins/Shutterstock
Simon Cowell will be the first to admit to fretting over his appearance, but because the British music mogul's face is ubiquitous on TV, fans are going to notice if it changes drastically. In a 2007 interview with the Daily Mail, the "America's Got Talent" judge made a rare move for a male celeb by confessing to using Botox to combat wrinkles. "Vain? Yeah, I am. But to be honest with you, I can't think of one person who is on TV who isn't vain," he said in his defense.
But in 2015, Cowell told Mirror that he'd gone overboard with the Botox and was experimenting with other ways to hit the "X" buzzer on Father Time's tired old song and dance routine. "I also had a sheep placenta facial once, which was quite out there," he said. Then there was his Silhouette Soft Lift, a procedure that lifts sagging skin using specially designed thread the body will eventually absorb. "You don't just have to stuff your face with filler and Botox," he told The Sun in 2018. "It hurts like hell but it gets rid of sun damage and unplugs all the crap."
While Cowell told The Sun that he had all the filler removed from his face in 2022, a recent video has fans wondering if he's had more work done.
Simon Cowell was just trying to congratulate One Direction
In an Instagram video filmed outdoors, Simon Cowell celebrated One Direction's song "What Makes You Beautiful" reaching a major milestone: being streamed 1 billion times on Spotify. Cowell was one proud papa because the group was formed on his reality series, "The X Factor UK." But all many of his followers could focus on was his appearance. "Whatever he has done to his face I'm not liking it one bit," one person wrote. There were a number of commenters who seemed to think that Cowell would have been better off had he listened more closely to one of the lyrics from the beloved song he was paying tribute to: "Being the way that you are is enou-ou-ough." Another comment read, "Stop with the surgeries or whatever you're doing! Your face has changed so much."
When Cowell discussed his fondness for cosmetic procedures with The Sun in 2022, he said that overdoing it with the injectables left him looking "like something out a horror film," and his appearance had so drastically changed that he once failed to realize that he was looking at himself when he saw an older photo of his face.
As for Cowell's claim that he's now filler-free, his face may still look somewhat puffy and smooth because some filler is actually still there. Plastic surgeon Dr. Richard Westreich told The U.S. Sun that it can take years to completely dissolve the substance.