Where Is Casey Anthony's Lawyer, Jose Baez Now?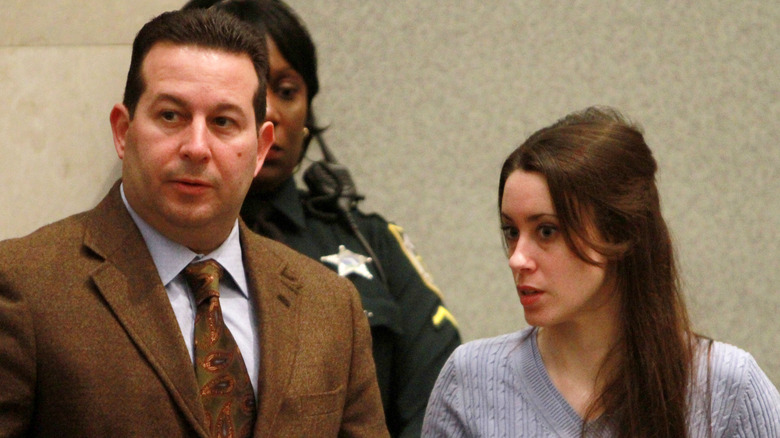 Pool/Getty Images
Floridian attorney Jose Baez made national headlines for his cutthroat courtroom tactics when defending client Casey Anthony. Nearly two decades later, the lawyer has continued his career's trend of representing high-profile defendants.
Most people first heard of Baez when he served as Anthony's defense attorney in 2011 for the case of the unsolved death of her two-year-old daughter, Caylee. The case gained national media attention, with the lawyer disseminating alternative theories about her death and alleged abuse in the courtroom that were then broadcast on national news. Every person in America had their own opinion on Anthony's guilt, but the jury eventually acquitted Anthony. The trial's judge later commended Baez and the defense team for "'littering the case with as much reasonable doubt as possible" and winning over the jury in a 2020 interview with The Sun.
Baez re-entered the national stage when he represented football player Aaron Hernandez during his double murder trial in 2017. The trial lawyer clinched a not-guilty verdict for his client, again citing his use of "reasonable doubt" in a post-trial interview with People.
With these types of notorious cases under his belt, Baez has certainly not shied away from taking on more headline-grabbing cases.
Jose Baez isn't concerned about the controversy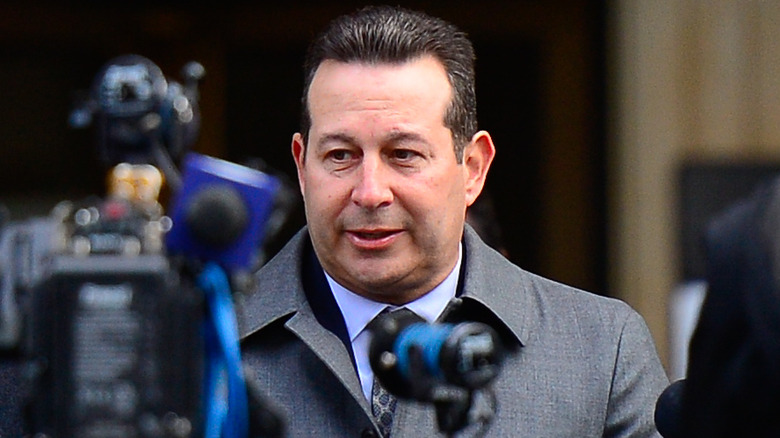 Raymond Hall/Getty Images
Serving as the CEO of his own Florida-based law firm — The Baez Law Firm — Jose Baez has remained a prominent criminal defense trial lawyer and continues to gain national media attention for his past and present cases. In 2019, Baez represented disgraced producer Harvey Weinstein in his sexual assault trial. After six months, the lawyer quit because Weinstein reportedly "[communicated] only through other lawyers and [failed] to abide by a fee agreement," per AP News. The former Hollywood powerhouse actually filed a lawsuit against Baez in 2021 requesting $1 million in returned legal fees.
Despite contentious public opinion on his acquittals, the prolific lawyer was named 2022's Criminal Defense Lawyer of the Year by The National Trial Lawyers Association. Even decades later, Baez's cases have been fodder for discussion, such as when radio host Megyn Kelly blasted him during their December 2022 interview saying she "didn't believe [Baez] for one second" during the Casey Anthony trial. There were even rumors that the lawyer was going to represent the late suspect in the Gabby Petitio murder, boyfriend Brian Laundrie if he was taken to trial, per TMZ.
According to his website, Baez wears the unofficial title of "'the most hated lawyer in America" as a "badge of honor." He explained to Esquire in 2017, "I believe in second chances. I do what I do now because I don't think people should necessarily have to suffer for the rest of their life for one mistake."
Tory Lanez called on Jose Baez to bolster his appeal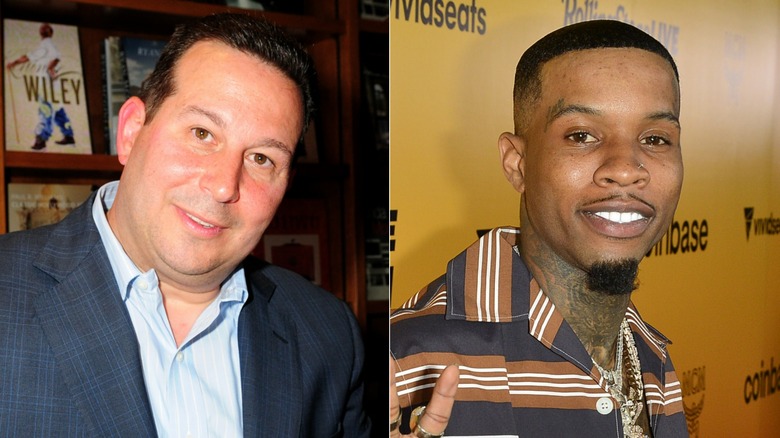 Vallery Jean & Jerod Harris/Getty
Who you gonna call when you're in legal trouble? For rapper Tory Lanez, the answer was top defense attorney Jose Baez. The "Say It" rapper's trial began back in December 2022 after he was charged with three felonies related to a 2020 argument with Megan The Stallion that allegedly ended with Lanez shooting her in the foot.
The rapper's legal team added Baez to the case in January of this year, and the Floridian lawyer claimed to TMZ that he could prove there were "procedural errors" within the investigation and court trial. In a March interview with People, Baez specifically claimed that the court should not have allowed Lanez's gun tattoo to be shown to the jury as evidence as it is "creative expression." Baez also posited that the prosecutors' use of the rapper's lyrics was "[racializing] the proceedings" when he spoke to Law & Crime in April.
Although Lanez's lawyers attempted to prove that there were grounds to call for a whole new trial, the judge ultimately denied the motion in May. On August 8, the jury found the rapper guilty and Lanez was sentenced to 10 years in prison. In response, Baez called the decade-long prison stint "incredibly harsh" and "extreme," and the team plans to appeal the sentencing.