What Happened To Jack After Below Deck Med?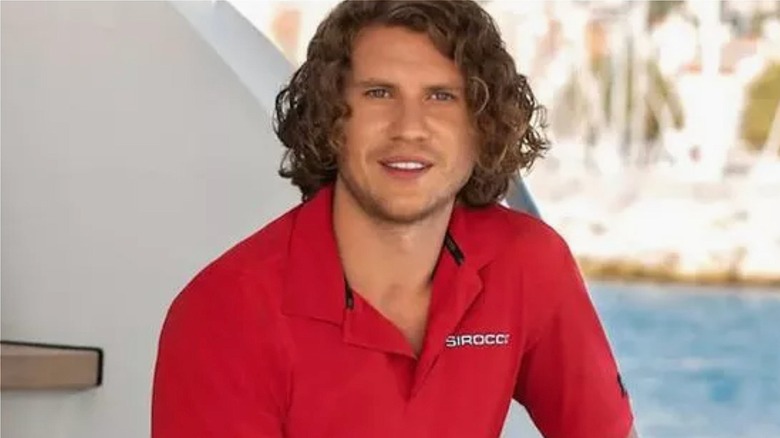 Bravo TV
"Below Deck Mediterranean" makes for the perfect reality TV with its drama, intrigue, backstabbing, and bedhopping. It's like "Vanderpump Rules" but less fake and with more sun, sand, and sex. So, it's little surprise that it was an instant smash hit when it first aired in 2016. Jack Stirrup joined the cast of "Below Deck Med" in Season Four. Per Bravo, the deckhand wasted no time getting hot and heavy with the Sirocco crew before sailing off into the sunset and seemingly into oblivion. So whatever happened to Jack after Below Deck Med?
"A free-spirited Brit, born and raised in Liverpool, Jack spent time working in the Merchant Navy as an engineer and brought those skills to the exciting world of yachting," his show bio reads. "With his crazy curls, year-round tan, and smooth accent, it is easy to see why Jack is quite the ladies' man." Initially, Jack's lothario skills were wasted on chief stew Aesha Scott. But he tried, tried again, and Jack eventually won her around.
They spent the season jumping into each other's bunks at every opportunity before Aesha eventually moved into Jack's cabin. And it was on—until, like many a whirlwind boatmance, the fling fizzled out. Aesha and Jack's relationship came to an abrupt end after they docked. Page Six reports that he hot-hoofed it off into the sunset and into the arms of his ex, Kelly Hidge. And, just like that, it was over. So, what happened to Jack Stirrup after Below Deck Med?
Moving on from Below Deck Med
Jack Stirrup left chief stew Aesha Scott totally hanging once the good yacht Sirocco hit dry land. He was straight onto pastures, new — well, old, actually. After Season 4 of "Below Deck Mediterranean," Jack was done with reality TV. Still, he wasn't done with his ex-girlfriend, Kelly Hidge, far from it. The two immediately reignited their romance and even became three in April 2020.
Per Bravo TV, Hidge shared the happy news of her pregnancy in October 2019. "Here I am, ready to take on the world with my growing little human and amazing boyfriend by my side...who I couldn't have done it without," Hidge captioned an Instagram pic of her burgeoning baby bump and Jack. The photo has since been deleted, but Bravo Daily Dish posted a copy along with congrats to the happy couple: "Jack Stirrup welcomed a baby boy with his girlfriend last week! We first learned of her pregnancy back in October via Instagram."
Bravo TV reported that the couple named their bundle of joy Phoenix Sidney Stirrup. The new parents shared a photo of the bouncing boy in an Instagram post, which has also since been deleted — as has Jack's entire Instagram feed. According to Showbiz Cheetsheet, the deckhand habitually vanishes from social media. He did the same after splitting from Aesha, and pics of Hidge began popping up. So, does Jack's recent Instagram disappearance mean it's over with Hidge, too?
Where is he now?
Jack Stirrup has vanished from social media, news reports, and Kelly Hidge's life. There's been no mention of him since he welcomed his son in April 2020. Jack's been scrubbed from Hidge's Instagram and replaced with a new boo. Hidge's mystery man first cropped up in June 2022. "Glastonbury," she captioned a pic of them hugging. "I feel so grateful for this man, my little one, and all my close ones that continue to put a smile on my face," she wrote alongside a photo of them on January 1.
Meanwhile, Hidge began posting cryptic messages eight months after she gave birth. ​​"Dear 2020....time for you to go home," she captioned a photo of her looking glum. "Life is tough darling, but so are you," she captioned another pic of her alone, prompting questions from followers. "Where's your baby daddy?" one wrote. "Where is Jack?" asked another. 
That's the million-dollar question. Where is Jack? He appears to have sailed off into the ether. Well, Bravo did warn that he's a ladies' man. And his track record with women isn't exactly stellar. Jack did cheat on Aesha Scott with Hidge. "To be honest, when I got home, I just thought it was a bit of a forced situation, and it wasn't reality," he said on the "Below Deck Med After Show," about splitting up with Aesha, as fellow deckhand Travis Michalzik gave some serious side-eye. "I thought about it all and called it a day," he continued.