Kyle Richards' Feud With Jeff Lewis Explained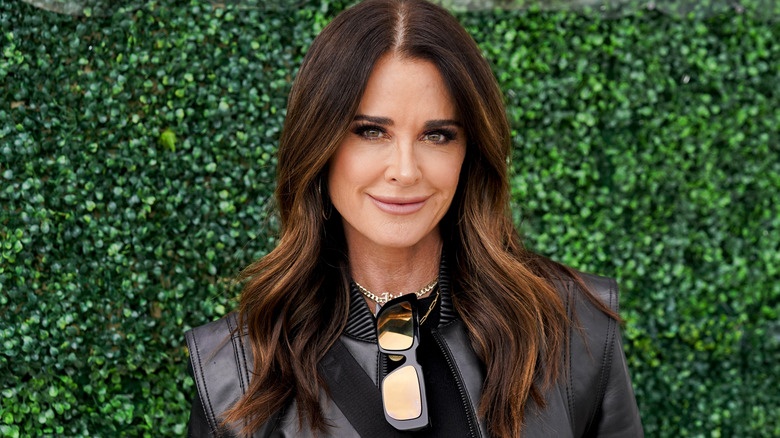 Presley Ann/Getty Images
We may receive a commission on purchases made from links.
Kyle Richards and Jeff Lewis got into a bit of a feud after Lewis made an off-hand remark about the "Real Housewives of Beverly Hills" star on an episode of "Watch What Happens Live." Richards has been in the news quite a bit lately, with all kinds of rumors about her life circulating on the internet. For example, the reality star has dropped a few pounds and really toned up her body, leaving some people convinced that she's been using the weight loss drug called Ozempic. The drug, called semaglutide in its generic form, is generally used for people with Type 2 diabetes and causes weight loss due to users' loss of appetite. There have also been rumors that Richards has been having an affair with her friend, Morgan Wade. Of course, these rumors only kicked into high gear after People magazine reported that Richards and her husband, Mauricio Umansky, had separated. 
On the August 8 episode of "Watch What Happens Live," Lewis told host Andy Cohen, "Kyle and I are friends, and ... she didn't tell me she's a lesbian on Ozempic," according to Page Six. Lewis made the remark with a straight face and even got a chuckle out of Cohen, who had to cover his face and look away to contain himself. It was only a matter of time before Lewis' comments made headlines, however, and Richards responded.
Jeff Lewis said Kyle Richards wouldn't text him back following his comment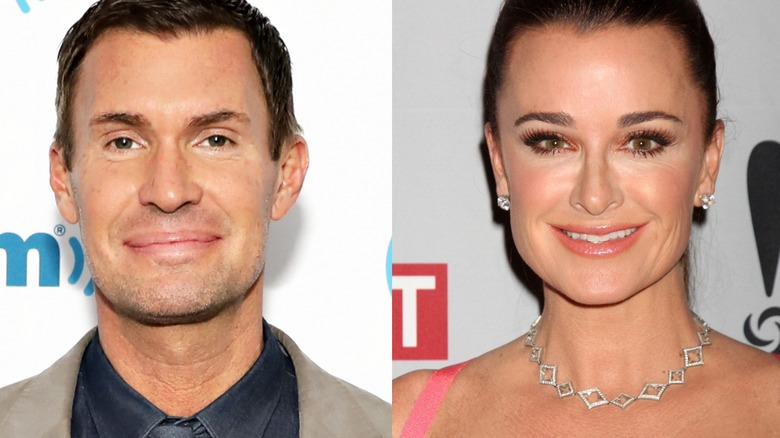 Kathy Hutchins/Shutterstock & undefined & Cindy Ord/Getty
Jeff Lewis quickly learned that his comment offended Kyle Richards, and despite his attempts to reach out to her, she wouldn't text him back. TMZ caught up with the SiriusXM radio host who explained that he texted Richards the morning after his appearance on "Watch What Happens Live," but she didn't respond. "She's a friend of mine. I was totally joking. I was poking fun at the absurdity of all the rumors going around," he told the outlet. He echoed these comments in an interview with Page Six. "I never expected anyone to take this seriously and have apologized publicly and privately. If I could say one thing to Kyle; please text me back," he said. He then made a public plea, asking Richards to "please text [him] back."
Lewis and Richards have been friends for many years and she has even appeared on his radio show. It could be for this very reason that Richards was bothered by Lewis' comment. The mom of four stayed mum on the situation as a whole, perhaps trying not to draw more attention to herself, but eventually, she shared her feelings on Lewis' comment — and she revealed why she refused to text him back.
Kyle Richards responded to Jeff Lewis' comments during an Amazon Live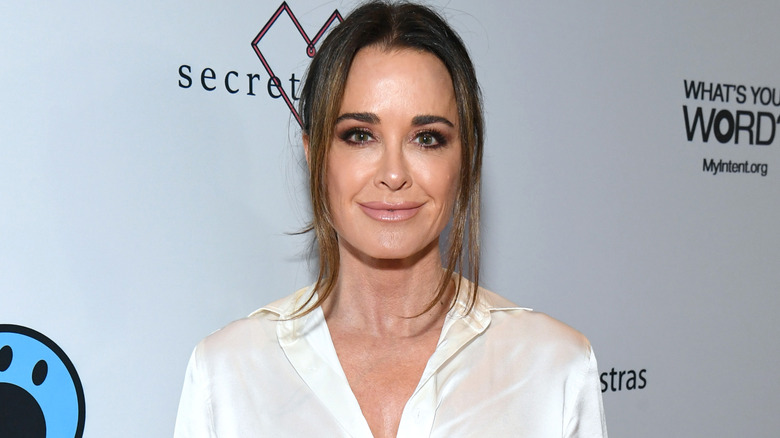 Jon Kopaloff/Getty Images
Kyle Richards broke her silence on Jeff Lewis' comments during an Amazon Live. "I'm not not talking to Jeff Lewis, I just don't feel like responding to Jeff Lewis right now, to be honest with you," she said in response to someone who asked her why she wasn't talking to him. "I'm just tired of it. I'm at my wit's end with all of the stories about me out there and I just want everyone to be quiet," she continued, adding, "It's hard enough with people saying things about me and you just expect your friends not to ... I kind of felt, like, yesterday with friends like that, who needs enemies?"
Richards has been on the defense about the rumors surrounding her life for months. Not only has Richards vehemently denied using Ozempic, but she and her husband Mauricio Umansky released a joint statement on Instagram in which they made it clear that although they'd had a tough year in the marriage, there wasn't any "wrongdoing on anyone's part" and they aren't considering a divorce. Richards and Umansky have been married for 27 years and share three daughters together. Richards has a fourth daughter from a previous relationship.
Morgan Wade released the music video for 'Fall In Love With Me' starring Kyle Richards
As Jeff Lewis tried to contact Kyle Richards in hopes of getting her to accept his apology, she was focused on other things — like helping promote Morgan Wade's new music video. Richards starred in the video as Wade's love interest as the two women played the role of neighbors who fantasized about each other. 
The goal, apparently, was to have some fun with (and capitalize on) the romance rumors. "We made this really sweet video and it's nice to be able to bring light to a same-sex relationship in country music. I'm not mad about that. I've met a lot of people that are excited about that and I'm like, 'If we can make something good out of a gossipy situation, I'm gonna do it,'" Wade told E! News.
The video was released at the height of rumors surrounding Richards' relationship with Wade — and right after Lewis' "lesbian on Ozempic" comment. Nevertheless, Richards has been showing her support for Wade on Instagram and has let everyone, including Lewis, think whatever they want. Lewis wasn't about to give up, however, so he tried a different tactic.
Jeff Lewis sent Kyle Richards an orchid & she posted about it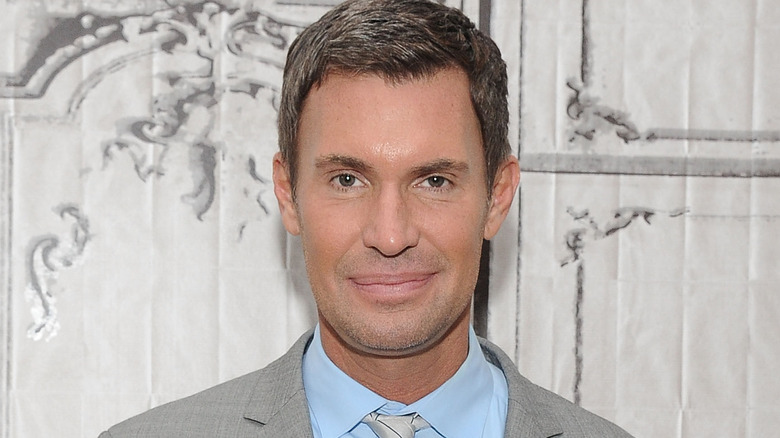 Daniel Zuchnik/Getty Images
Jeff Lewis decided to send a sort of peace offering to Kyle Richards, having a beautiful orchid delivered to her. Richards couldn't help but share a photo of the pretty plant on her Instagram Stories, leading just about everyone to believe that she's forgiven Lewis and that she's ready to move forward. "Thank you @JLJeffLewis," Richards captioned the photo, adding the prayer hand emoji and a red heart emoji. Dozens of fans reacted to the gift on Reddit. "I'm very annoyed with Kyle right now but I would forgive just about anything for that beautiful orchid arrangement," one Redditor wrote. "That arrangement is lovely. Jeff Lewis has great taste," another Reddit comment read.
Richards didn't provide any details about the floral arrangement, such as whether it was meant as an "I'm sorry" or a "congratulations," but it appears as though the reality television star appreciated the gesture and that their feud was officially squashed. There's one thing that Richards is still not accepting into her life, however, as evidenced by her August 13 Instagram Story.
Kyle Richards posted about mental health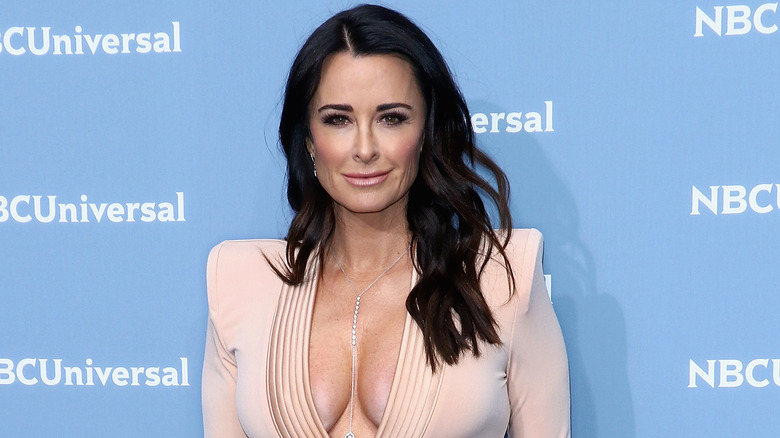 Jim Spellman/Getty Images
Kyle Richards and Jeff Lewis may have squashed their beef, but that doesn't mean that the "Real Housewives" star's troubles are over. 
All eyes are still on Richards — and Morgan Wade — as it seems their steamy music video did nothing to keep people from thinking they are an item. And while some could argue that Richards is now inviting this criticism into her life, she's made another statement on social media. "Not dealing with people who repeatedly trigger your mental health is top-tier self-care," read a quote that Richards shared. 
It's clear that Richards has a lot going on in her life, and many of those things have been made public because of her role on reality television. And as she continues to navigate these unchartered waters, we're certain that there will be plenty of people who will get on her bad side, not unlike Lewis. We just hope that any future feuds are just as short-lived.