That's NOT Hot! Paris Hilton's Out Of Touch Hawaiian Vacation Has Critics Raging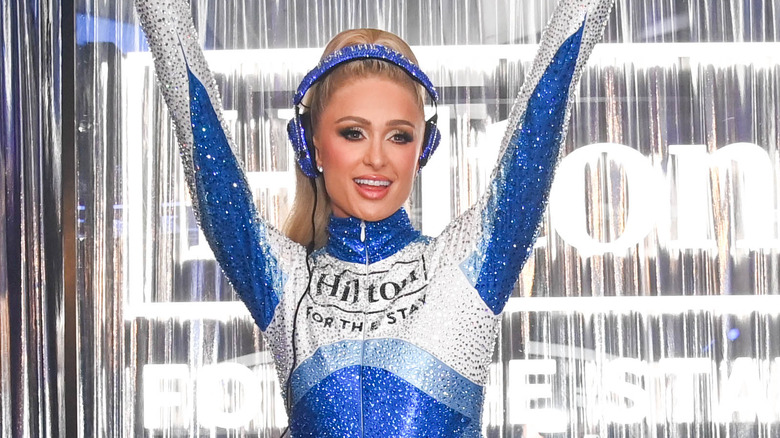 David M. Benett/Getty Images
Paris Hilton did not heed the sage advice of Hawaiian native Jason Momoa. In an Instagram video, the "Aquaman" star begged tourists not to come to Maui after wildfires devastated the island. As of this writing, nearly 100 people have died in the fires, and thousands of others have been left homeless. A day after Momoa filmed his video, Hilton was spotted enjoying an idyllic day at the beach just 30 miles away from the town that was hit hardest by one of the blazes.
The Daily Mail published photos of Hilton and her family at a Wailea beach resort. In one image, she was wading in the waves and holding her son, Phoenix, while her husband, Carter Reum, leaned in for a kiss. In another, Hilton flashed a big smile while carrying Phoenix and a yellow duck float. The optics were not great, which is probably why a source reached out to the Daily Mail to say that Hilton wasn't completely ignoring the death and destruction during her relaxing family vacay. "She has been gathering supplies and taking them to shelters," the insider said. But apparently, what made Hilton decide to stop getting papped on the beach was learning that one of her own family members was in need of aid. "Her uncle's restaurant in Lahaina burned down," a source told Fox News. Unfortunately for Hilton, the damage had already been done, and she became the social media pariah du jour.
Paris Hilton's other sunny summer vacation location
On social media, there were so many dark jokes about Paris Hilton being drawn to the burning island like a moth because of her famous catchphrase. "Paris Hilton heard about the Maui wildfire devastation and said 'That's hot,'" one person tweeted. Another critic wasn't buying the attempt to spin the narrative by painting Hilton as someone who just wanted to do whatever she could to help Maui residents, including her uncle. "BS ~ She doesn't care about anyone but herself," read another tweet. "Get a clue honey and go home," another person advised the DJ. "(Her publicist should request combat pay!)."
It's unclear whether Hilton is still currently in Maui, but she's been sharing videos and photos that might be meant to distract her fans from her controversial trip. An August 13 Instagram video includes the caption "Summer in Greece" in large letters, so no one will mistake the glittering blue water she's seen floating in for that of the Maui shore. She's also shown hosing herself down on a yacht. She's wearing the same pink bikini in an August 8 post and the same shoreline is visible in the background, so her trip to Greece seemingly occurred before she jetted off to Maui.
While Hilton's behavior may be questionable, the Fox News source said, "She has been traveling to Maui since she was born. She has many friends and family there, and it's a second home for her."