What's The Real Meaning Of Paint The Town Red By Doja Cat? Here's What We Think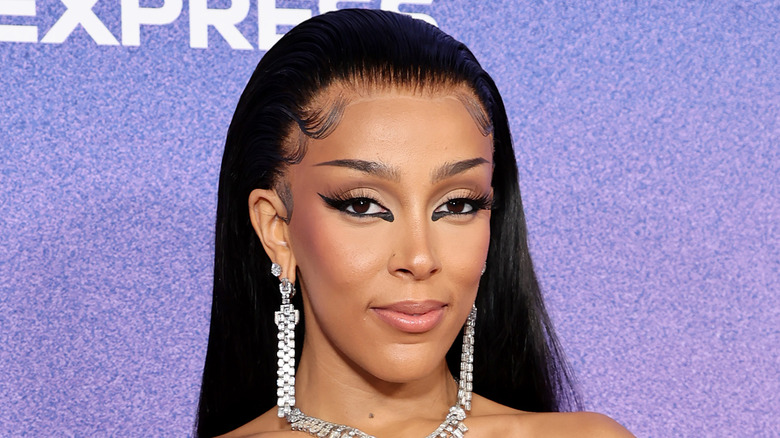 Amy Sussman/Getty Images
Ever since she exploded into the music industry, Doja Cat has been painting the town red. The musician skyrocketed to fame after her hit song, "Say So," went viral during the height of the pandemic, per All Music. The release of her 2021 album, "Planet Her," solidified her as a bonafide pop star with hits like "Kiss Me More" and "Need to Know." From performing at the most well-known stages, including Coachella and SNL, to winning her first-ever Grammy, it really is Doja's world, and we're just living in it.
Fans have patiently waited for the musician's 4th studio album, and Doja has teased fans on what they can expect from the new project. She shared with Harper's Bazaar, "This new album is more introspective, but I'm not leaning so hard into that to where it becomes boring. So I want to give stories and bops. It's a nice mixture of both." Doja has hinted that this fourth album will focus on the musician's rap skill, but don't worry, she's not completely abandoning the pop sound that people know and love.
Doja has since released her first two lead singles off the album, and they are certified hits. Her second lead single, "Paint the Town Red," has, especially gripped listeners and has sparked new dances on social media as people continue to jam out to the track. But besides being a hit, the song tells a story, and we're here to fill you in on what that story is.
Doja Cat exudes confidence in 'Paint the Town Red'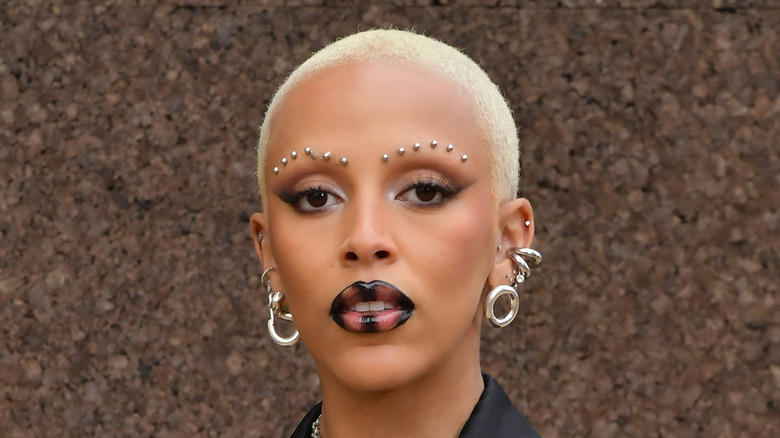 Dominique Charriau/Getty Images
Doja Cat is in her confident era, and it shows with her new single, "Paint the Town Red." The saying, "Paint the Town Red," already means going out and having a good time, and the musician did that with this song. The track's central focus is that Doja will continue to do whatever she wants no matter what people think. The song starts with the main chorus, where the rapper sings, "B****, I said what I said/ I'd rather be famous instead / I let all that get to my head / I don't care, I paint the town red." Doja has been no stranger to controversy, from saying her pop albums were "cash grabs" and criticizing her fans, but she has no intention of taking anything back.
In her second verse, the Grammy-winning musician exudes confidence. She sings, "I don't need a big feature or a new sidekick / I don't need a new fan 'cause my boo like it /I don't need to wear a wig to make you like it." These lyrics show all the criticism she has received throughout her entire career, but even with people trying to tear her down, she just keeps doing what she loves. The song shows that Doja will continue to be the artistic person she is, whether people like it or not. 
'Paint the Town Red' leans into darker aesthetic
As Doja Cat prepares for her upcoming fourth studio album, she has leaned into a completely different aesthetic than she has done in the past. With darker themes and a more demonic style, the musician has been fully embracing this new look. In "Paint the Town Red," the rapper even addresses the fact that she has been labeled a "devil" because of her new aesthetic. Instead of being offended, Doja is taking the title with pride in the song. She sings, "Mm, she the devil / She a bad lil' b****, she a rebel / She put her foot to the pedal / It'll take a whole lot for me to settle." At one point in the track, Doja even calls herself a "demon lord," poking fun at those people who think she is actually the devil.
Clearly, the musician is not opposed to taking on these absurd titles haters throw at her, and it shows in the music video for the track. From riding a green-looking devil to looking like one herself, Doja is willing to do the extreme in the music video. The Grammy-winning musician is honing in on this darker aesthetic for her upcoming album, and while the new look and visuals may not be for everyone, Doja does not seem to care and continues to do what she wants.