Britney Spears & Sam Asghari's Instagram Behavior Pre-Split Speaks Volumes Now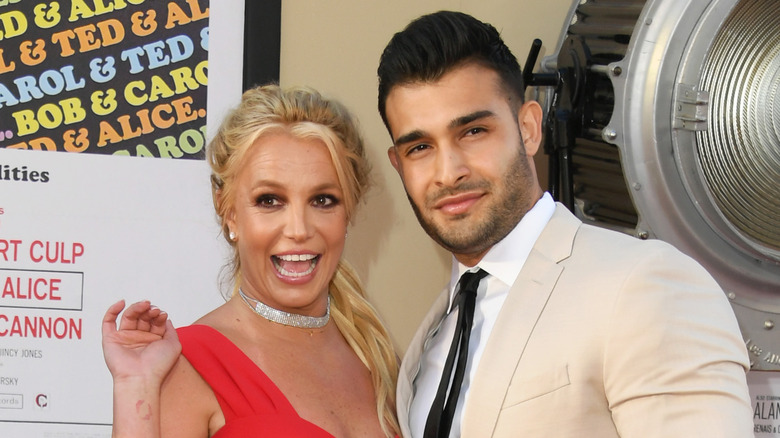 Jon Kopaloff/Getty Images
They say that the third time's the charm, but it doesn't appear to be true for Britney Spears. TMZ reports that the "Oops! ... I Did It Again" singer's third marriage to Sam Asghari is slowly falling apart.
Spears was smitten with the model ever since they met during a video shoot in 2016, and she took the leap of faith to call him. She told AMP 103.7 (via Hola), "I was like 'He was really cute. This guy was really cute!' so then I called him. He is just a really fun, funny person." The two hit it off and were by each other's side for years before Asghari decided to get down on one knee. In September 2021, Spears shared the news of her engagement on social media with a video of her and her fiancé showing off her gorgeous ring. The pop singer shared, "I can't f***ing believe it!" Less than a year later, Spears and Asghari tied the knot in a beautiful ceremony in California, per People. After everything Spears has been through, fans were ecstatic to see she was finally happy.
Unfortunately, Spears and Asghari's relationship has taken a turn for the worst. TMZ reports the couple have been at odds for months, with the latest argument involving cheating allegations toward the "Toxic" singer. A source told the outlet, "It's only a matter of time before Sam files for divorce." Their crumbling marriage has shocked many, but some tell-tale signs in their social media seemed to point toward the inevitable split.
Britney Spears didn't wear her wedding ring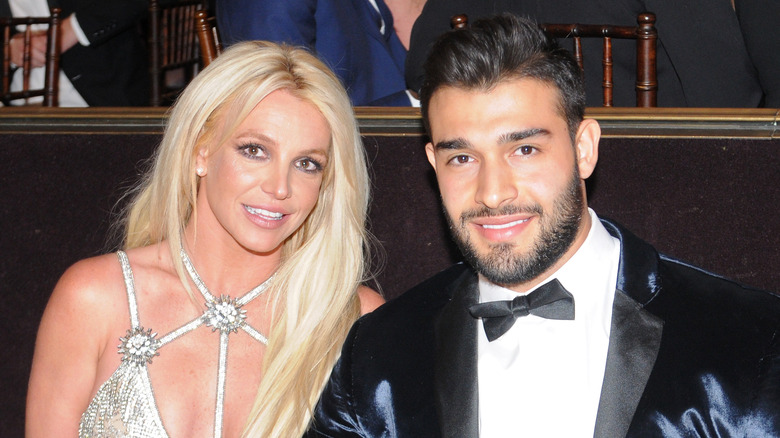 Vivien Killilea/Getty Images
In today's day and age, there seem to be two major signs on social media that show a couple in Hollywood is splitting. For one, they no longer wear their wedding rings. Second, they don't post their significant other or wipe them completely from their feed. Well, Britney Spears and Sam Asghari did both.
TMZ reports the couple is heading toward a divorce, but some fans might have been ahead of the curve if they took a look at their social media. Asghari, who would post the "Gimme More" singer every now and then, hasn't shared a photo of the two since Valentine's Day. This seemed like a major red flag that the couple was facing some bumps in the road, especially because the couple's first wedding anniversary passed with not a single post from Asghari.
If the model's Instagram wasn't a sign the couple's relationship was falling apart, then Spears' feed definitely was. Just over a week ago, the "Toxic" singer shared a photo of herself sporting her wedding ring. However, in the past couple of days, Spears has shared several posts of herself without the meaningful piece of jewelry. In one of those Instagram posts, the musician even revealed that she was angry, she wrote, "Ok so I was a little pissed this day!!!" Perhaps she was mad at her hubby, Asghari. Regardless, the posts both Spears and Asghari have shared recently indicate their relationship was on the rocks for a while.