Look At Khloé Kardashian's Close Relationship With Her Niece Dream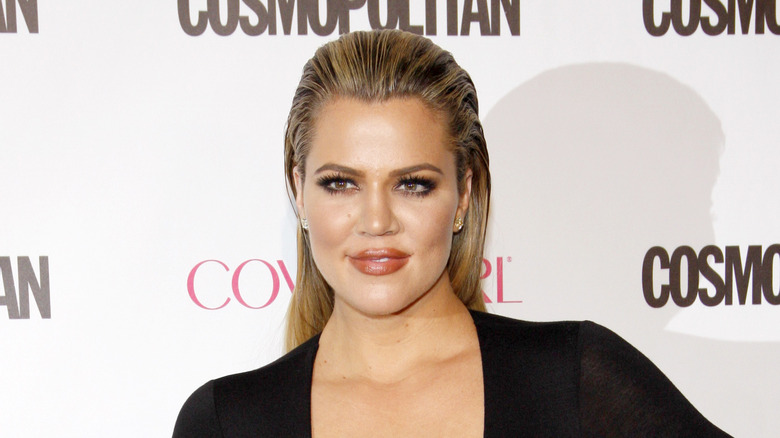 Tinseltown/Shutterstock
It's hard to keep up with the Kardashian's ever-growing brood but if there's one thing to say about them, they're a tight family. Khloé Kardashian first became an aunt when her oldest sister Kourtney had Mason Disick in 2009. Now, as a mother of two and an aunt to 10 nieces and nephews, Khloé certainly has a lot of experience with kids. "Khloé is incredible. She's the best mom loving and nurturing and supportive and caring. She's firm and she's funny. If you have Khloé for your auntie, you're probably the luckiest little kid in the universe," her mother Kris Jenner shared on an episode of "The Kardashians" (via the Daily Mail).
While Khloé is close to all her siblings' kids, she's particularly close with Rob Kardashian's daughter Dream, whom he shares with Blac Chyna. Dream and Khloé's daughter, True, are close in age and frequently hang out together. "True and Dream are best friends and love being together and that's the main reason why Khloé's with them so much. Aunt Khloé loves to be good to Dream and is always happy to take her. They're very close," a source told People. So close in fact, that Khloé did whatever she could to be there when Dream was born.
Khloé Kardashian was present during Dream's birth
We all know that the Kardashians are a super tight-knit family, and Khloé Kardashian did not want to miss the birth of her brother Rob Kardashian's first child with Blac Chyna. When Dream was born in November 2016, the co-founder of Good American did everything she could to be there. "My new niece is absolutely stunning!!! So thankful I was able to land in time to witness this miracle happen! Praise God!" she tweeted. A grateful Rob replied, "love you Khlo money!! Thank u for doing that 4 hour drive and crazy flight to make it here. love u soooooo much."
Khloé often shares loving pics of her niece on Instagram. "Let's Dream in the clouds," she captioned, holding a young Dream on her lap, surrounded by smoke. In 2020, she shared a pic of her posing next to the toddler. "Dreamy Dream," she wrote. In a July birthday pic with her grandmother MJ, Khloé is seen posing side-by-side with the 89-year-old while wearing a necklace with the words "Dream." It seems Khloé and Dream are so tight, the reality star considers Rob's daughter as her own, which got her into some hot water with fans.
Khloé Kardashian considers herself a third parent to Dream
Khloé Kardashian will go above and beyond for all of her nieces and nephews. In an episode of "The Kardashians," Khloé threw Dream a 6th birthday party and stated that she was "more than an aunt," per E! News. Scott Disick told her, "I just can't believe that you're basically somewhat of a co-parent to Dream," while Khloé answered that she felt like a "third parent." In a confessional, she told the cameras, "Dream is like one of my babies too, just like all the rest of them."
Khloé's comment about being Dream's third parent caused a stir amongst fans who thought she was overstepping her boundaries as an aunt and choosing Dream as her favorite. "It saddens me to see clickbait headlines that are taken out of context or twisted to be something it's not," she shared on her Instagram Stories (via People). Khloé went on to state, "I love ALL of my nieces and nephews more than I can express. Dream and I are particularly close. My brother and I are extremely close. I am with Dream all the time because I'm with my brother all of the time," and added that it "takes a village to raise a child."