Did Lyle Lovett Get Married Again After His Split From Julia Roberts?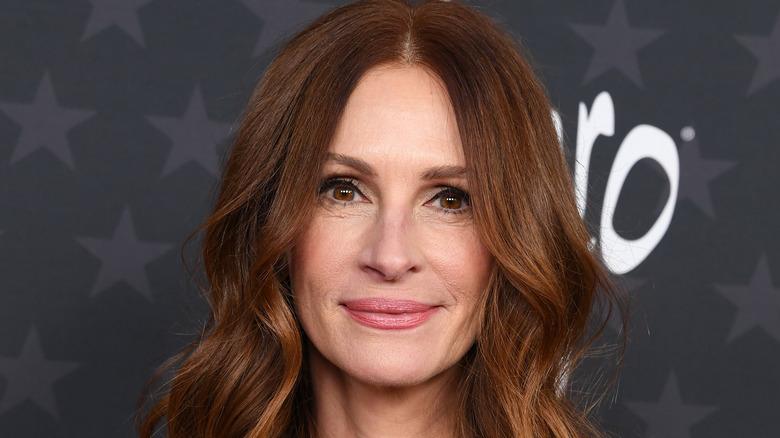 Steve Granitz/Getty Images
Julia Roberts has only had two true loves in her life, and no, they haven't been Richard Gere or Dermot Mulroney, although many rom-com lovers would probably adore that. In reality, the "Pretty Woman" actor has kept her love life pretty lowkey. Since 2002, she has been married to her husband, Daniel Moder, but before Moder, Roberts had walked down the aisle with singer-songwriter, Lyle Lovett, per Strictly Weddings.
Roberts revealed to Barbara Walters that she met Lovett in the early 90s through mutual friends and was instantly smitten with the "If I Had a Boat" singer. The couple's relationship moved fast, and in 1993, just a year after the first meeting, they tied the knot, per People. Although it seemed sudden, Roberts had her reasoning for marrying Lovett so quickly. She said, "It just seemed like the smartest way to do it so that it could be ours as opposed to everybody's." Living in the public eye didn't allow the two to have a normal engagement because there were all these prying eyes on them, so they just decided to jump the gun.
Unfortunately, in 1995, Roberts and Lovett announced their separation, per InStyle. They shared, "We remain close and in great support of one another." After their divorce, Roberts moved on, but did Lovett? We're here to fill you in on all the juicy details on the singer's love life after his marriage to the "Runaway Bride" actor.
Lyle Lovett has been with his wife for over 2 decades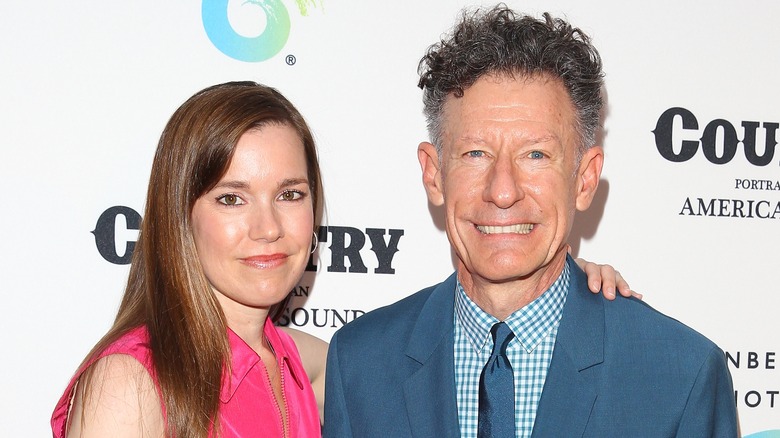 Jb Lacroix/Getty Images
Like Julia Roberts, Lyle Lovett needed to give marriage one more go to find his soulmate. According to The Sun, Lyle Lovett met his future wife, April Kimbel, in 1997, just two years after he divorced the "Steel Magnolias" actor. Kimbel and Lovett crossed paths at Texas A&M after the musician gave a presentation about "ethics in journalism," per The New Yorker. Six years after the two first met, Lovett popped the question to Kimbel.
Unlike his relationship with Roberts, Lovett and Kimbel were in no rush to get married. In fact, the "Private Conversation" singer might have dragged his feet a little too much. It took the couple 14 years after getting engaged to officially tie the knot, per The Sun. 2017 was a big year for the pair, not only did they get married, but they also welcomed a set of twins.
As the years have gone on, Kimbel and Lovett have continued to be extremely private about their personal life. But, every now and then the musician does give fans a glimpse of his family life. In May 2020, Lovett explained to People how family always feels like home. He shared, "First, home is family...Home is keeping my family's place as intact as I can. And teaching my children about this place and their place in the family." So despite having to go through a divorce, it seemed like Lovett and Roberts' split only led to better things — for both of them.
Julia Roberts never felt like her marriage to Lyle Lovett was a mistake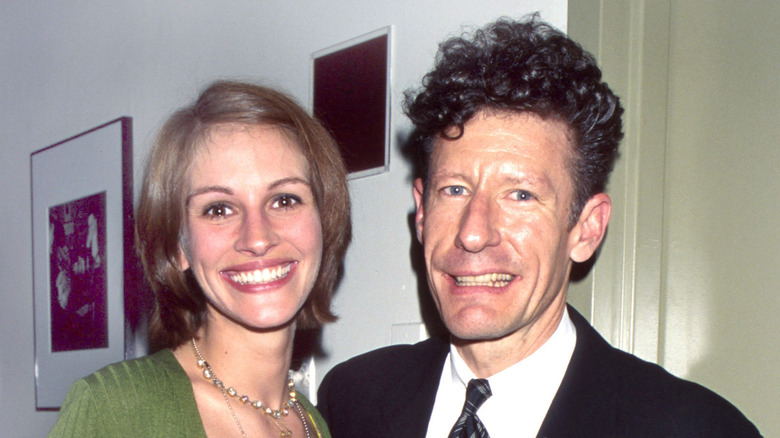 Kmazur/Getty Images
There have been some messy divorces among Hollywood couples, but Julia Roberts and Lyle Lovett weren't one of them. Their busy lifestyles were speculated to be the reason why the two split, but even after they called it quits, there was never any hatred toward one another. While many wouldn't want to dwell on the past, the "Pretty Woman" actor always had a sense of appreciation for her marriage to the musician.
According to People, Roberts told New York's Daily News that her marriage to Lovett was not a mistake. She said, "Mistake, no. Miscalculation, yes." The actor had plenty of fond memories with Lovett that she wouldn't have taken back. She shared, "We have this great shared experience that never had any nasty moments. What we had doesn't come close to the mistake category."
Even after their split, Roberts was just as baffled as everyone else was as to why it didn't work out with Lovett if they were great friends. She shared with the Los Angeles Times, "You'd think people who could be that nice to each other would probably be a couple, but it just sort of wasn't the way it intended to be. We found our little niche and then overstepped it a little bit." While their marriage might not have been in the stars, it's nice to see the two had been able to remain friends.