This Might Be Why Julia Roberts And Lyle Lovett Got Divorced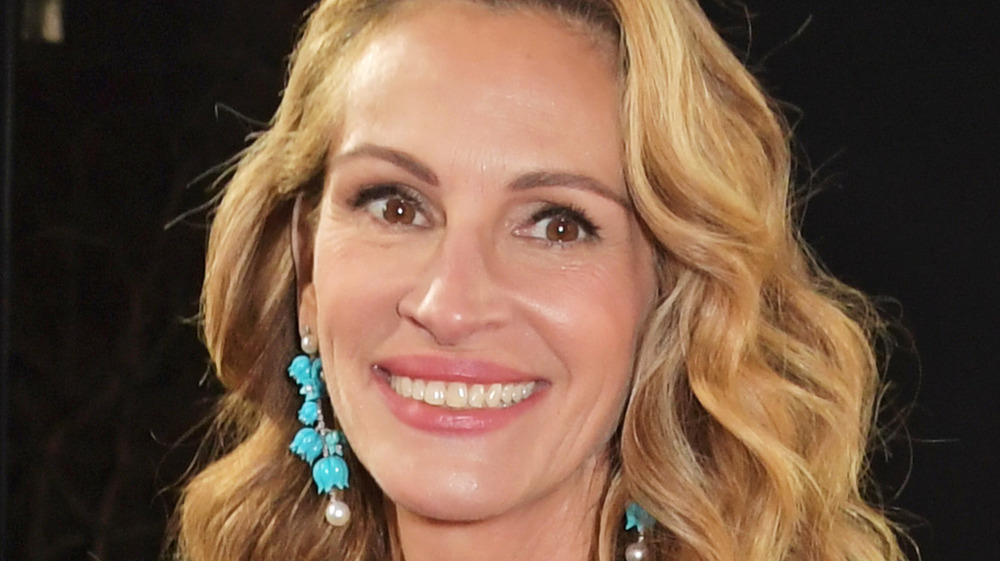 David M. Benett/Getty Images
It's hard not to love America's sweetheart Julia Roberts, so we can understand why Grammy-winning musician Lyle Lovett wanted to marry her after only a few weeks of dating. According to InStyle, the unlikely pair was introduced by mutual friends in 1992 before they appeared together in the film The Player that same year. Roberts had reportedly been a fan of the singer before they met.
However, the twosome did not begin dating until June 1993 and, in true Hollywood fashion, wasted no time getting married later that month. The couple squeezed their nuptials in between Lovett's tour schedule and Roberts' break from shooting The Pelican Brief. At the time, the Pretty Woman star said (via People), "He makes me so happy. He's so good to me." Lovett seconded that emotion, telling a crowd that he was playing for later that night (via InStyle), "Welcome to the happiest day of my life," as he brought Roberts on stage.
When Roberts returned to The Pelican Brief's set, the celebrations continued. People reports that the cast and crew wore shirts that read "Welcome Back, Mrs. Lovett" on the front, and "He's A Lovely Boy...But You Really Must Do Something About His Hair" on the back, as a nod to Lovett's trademark hairdo. Roberts later defended Lovett's locks in conversation with Barbara Walters in 1993, saying, "I do like his hair" and that it's "not as big as everyone makes it out to be." With that said, it was clear that Roberts was smitten, so what could have gone wrong?
Julia Roberts and Lyle Lovett spent too much time apart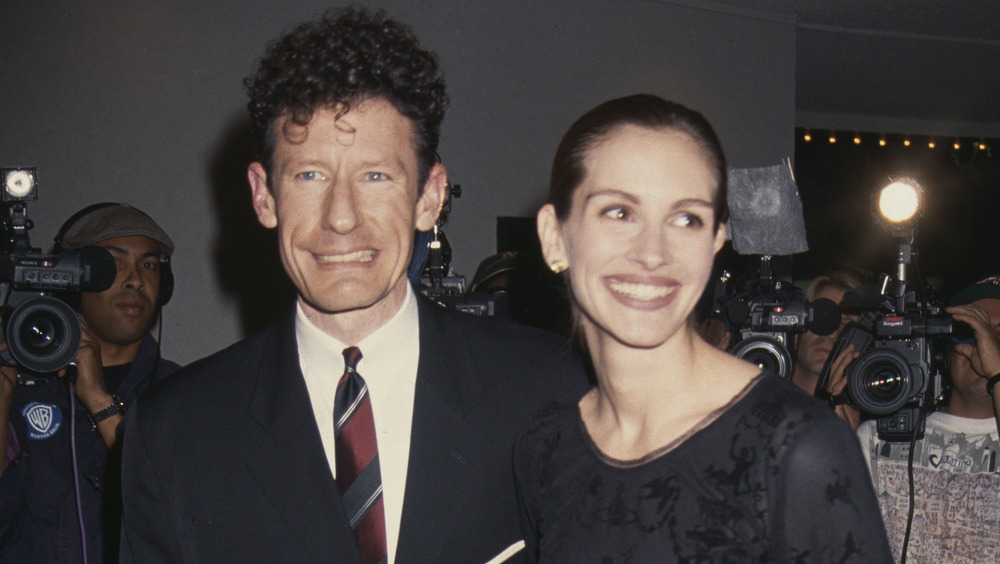 Michael Ochs Archives/Getty Images
The marriage between Wonder star Julia Roberts and "Cowboy Man" singer Lyle Lovett sadly did not last and, in 1995, the two split after almost two years together. This did not come as a surprise to many since there were frequent rumors surrounding the couple who were rarely seen together, such as the "scandal" of Roberts seen dancing with co-star Ethan Hawke.
That, coupled with the fact that the pair still owned separate homes — Roberts' in New York and Lovett's in Texas — made it appear that their marriage was in trouble. Lovett admitted their unusual circumstances, telling People in 1993, "We've never gone more than a week without seeing each other since we got married, but before that we'd never spent more than seven days together" (via Mirror UK). 
While the two were unable to spend much time together, they did not end on bad terms. Roberts told the Los Angeles Times later that year, "It's actually ridiculously amicable. You'd think people who could be that nice to each other would probably be a couple, but it just sort of wasn't the way it was intended to be." Even years later, in 1999, the Eat Pray Love star defended their short-lived marriage to the New York Daily News, saying it was "never a mistake. Too many great things came out of it." Lovett went on to date April Kimble and Roberts married husband Danny Moder in 2002. Yet Lovett and Roberts will always have a "great shared experience" neither appears to regret.