What's Wrong With Tori Spelling? Actor's Cryptic Hospital Pic Sparks More Questions Than Answers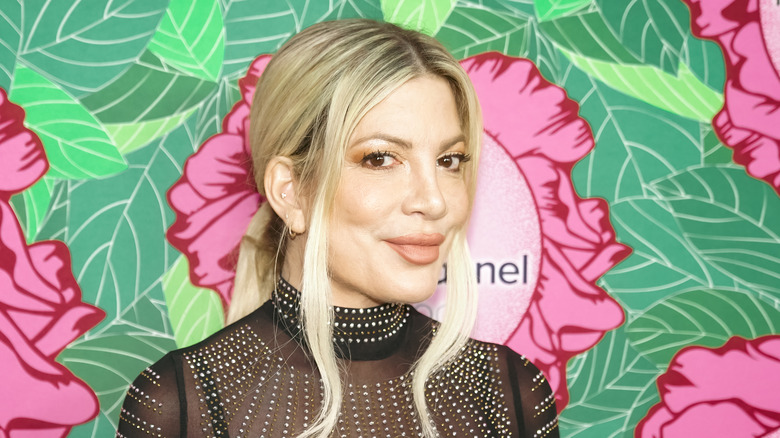 Andrew J Cunningham/Getty Images
Tori Spelling recently sparked concern over her well-being after posting a startling photo from a hospital bed. Spelling is in the middle of a messy split from her estranged husband, Dean McDermott. And though the couple's roller-coaster relationship has always attracted strong opinions — especially concerning Spelling's odd approach to finances – the spouses are now, more than ever, under the watchful eye of the public. Over the Summer, Spelling's financial status was called into question after it was reported that she and her children were living in a motel.
In July, Radar reported that the unnamed motel cost the mother-of-five $100 a night. However, some fans speculated that Spelling didn't opt to lodge in the budget-friendly dwellings out of financial desperation but because of a mold-induced health crisis that ran them from their home. According to ET, Spelling and her kids transitioned into living in an RV in August due to a mix of both issues. "Tori has been struggling monetarily speaking," shared an insider. "The mold situation is real, but it has been difficult for her to find a place to stay during it because her financial situation is not great. Tori is doing her best to make things work and take care of her kids." The outlet also referenced Spelling's May 10 Instagram post, where she bemoaned the continued effects mold exposure was having on her and her kids.
Unfortunately, Spelling is again dealing with health issues.
Tori Spelling has been hospitalized for an unknown reason
Tori Spelling is having a rough Summer. On August 20, Spelling posted a photo of herself hooked up to an IV, revealing that she was in the hospital. "4th day here and I'm missing my kiddos so much," Spelling shared via her Instagram Stories. "Grateful and so proud of my strong, brave, resident and kind to the core children who remain positive no matter what comes my way," she added. Tori didn't share what led to her hospital stay, but it's already taken her out of commission for four days. Hopefully, she'll make a speedy recovery. 
Fortunately, Tori may have some positive news waiting for her once she gets discharged. According to InTouch, Tori is hoping to ease her rumored financial strain by putting herself in the running for an upcoming season of "Dancing With The Stars." "She's talking about getting fit enough to be on 'Dancing With the Stars,'" shared a source. "She's desperate to do something to earn her way and is calling all her contacts in the business." If that doesn't work out, Tori may be able to look to her mother, Candy Spelling, for help. According to a source who spoke with People, Candy "has given Tori assurances that her and her kids would absolutely be taken care of and there should be no financial insecurity moving forward."