One Detail About Ron DeSantis' Wedding Is Extremely Ironic Now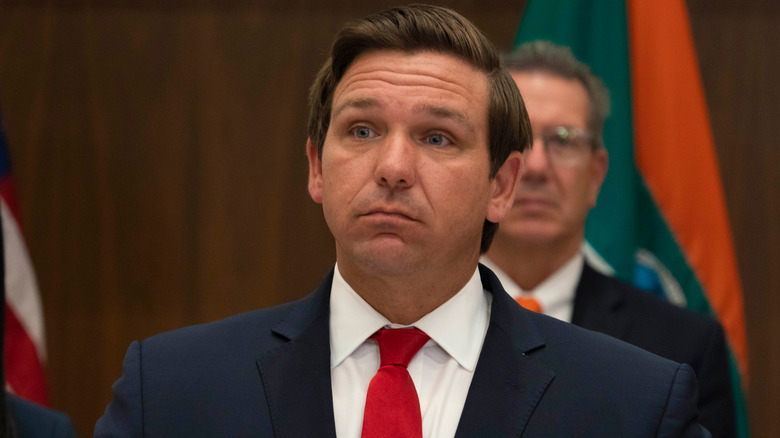 Hunter Crenian/Shutterstock
Ron DeSantis threw his cap into the GOP presidential candidate ring in May. "I'm running for president to lead our Great American Comeback," he tweeted. "Righting the ship requires restoring sanity to our society, normalcy to our communities, and integrity to our institutions," he continued. Given DeSantis' sketchy side, many may question his commitment to integrity, especially considering the famous U.S. institution battling a bitter legal war with him. The same institution where, ironically, DeSantis held his wedding.
Politicians are renowned for flip-flopping, double standards, and willingness to play fast and loose with the truth. Once the Republican presidential hopefuls take the stage at the first 2024 GOP debate, we'll likely see a lot of all three. And we'll definitely see a lot of bluster, testosterone, and name-calling. Still, DeSantis must be thanking his lucky stars that he won't be facing off against Donald Trump, who's confirmed he's skipping the first round, per BBC.
Trump and DeSantis' relationship is, well, complicated. The Independent reports that they started out as gushing admirers who couldn't sing each other's praises highly enough. However, that changed after Trump began to resent DeSantis' popularity among his MAGA base. "He's got no personality," Trump sniped to The Messenger. Still, DeSantis isn't in politics to make friends, which is just as well, given former-GOP senator David Jolly deemed him "uniquely unlikeable" in an interview with MSNBC (via Newsweek). The policymaker is big on contrarianism, though, and one detail about Ron DeSantis' wedding proves he does irony extremely well.
DeSantis v. Disney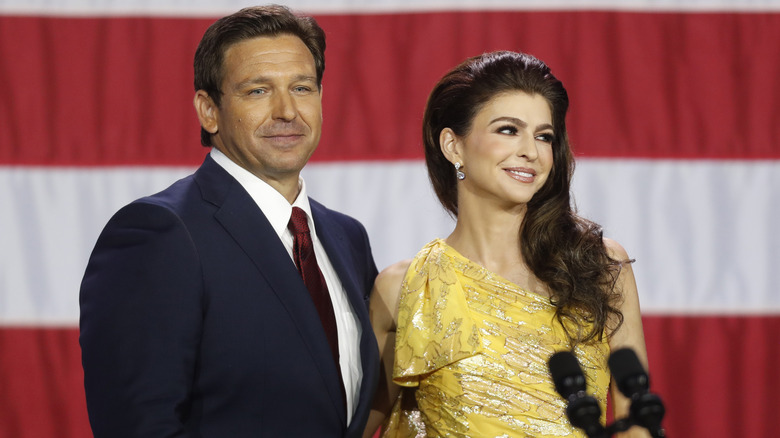 Octavio Jones/Getty Images
According to Insider, Ron and Casey DeSantis dated for three years before marrying in 2009. Their nuptials were a fairytale event of grand proportions, with Cinderella, a castle, and a picturesque lagoon taking center stage. However, one detail about the DeSantis wedding is extremely ironic now — it was held at the Grand Floridian's wedding pavilion... in Disney World.
Fast forward more than a decade, and Ron and Disney are at war. Per Politico, the battle began after the Florida governor signed the Parental Rights in Education Act, aka the "Don't Say, Gay" bill, in March 2022. The policy bars educators from mentioning anything about sexual orientation and gender identity to students in kindergarten through to third grade.
The Washington Post reports that Disney denounced the anti-LGBTQ+ legislation leading Ron to revoke the special tax privileges for Reedy Creek, where Disney World is based. Reedy Creek residents hit back with a lawsuit in May 2022, accusing Ron of political retaliation. In February 2023, Republicans voted for Reedy Creek to be renamed the Central Florida Tourism Oversight District and ruled that all its board members be appointed by Ron. However, Reedy Creek officials signed power over to Disney before they could implement the plan. Ron steamed ahead regardless. He appointed a board filled with loyal conservatives and financial donors, declared that the Reedy Creek-Disney power move wasn't legally binding, and announced further penalties against the "woke corporation." Disney sued. Ron's specially appointed board countersued. Well, so much for the happiest place on earth.
Fun-free zone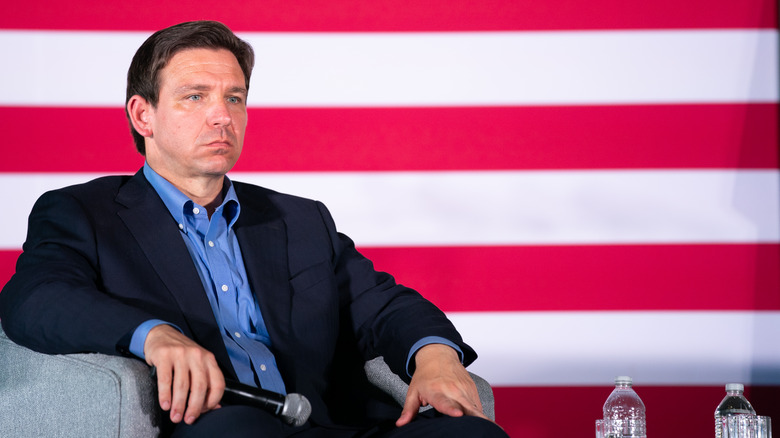 Sean Rayford/Getty Images
Ron DeSantis has often shown a lack of awareness regarding irony. The king of anti-wokeness claimed to CNN's Jake Tapper that "people who rail against 'wokeness' can't even define it." Still, even Ron recognized the irony of his wedding. "[Given what we] ended up doing as governor and some of the face-offs that we had with some major institutions in Florida, it's kind of ironic," Ron told SiriusXM Patriot radio (via Insider) about his big Disney World wedding day.
Meanwhile, Casey DeSantis claimed it was her parents' idea to hold the wedding at Disney World. She did praise the theme park's services, though. "One of the other great things was the fact that they did a lot of the planning for you," she said. "So it was I could just show up sort of thing. And it was really a lot of fun."
The concept of "fun" is defined differently by people. For some, hanging out with Mickey Mouse and Goofy is the very essence of Disney World fun. But Ron has an alternative interpretation. In his book, "The Courage To Be Free," Ron shared that he stipulated the wedding be a Mickey-free zone. "My only condition was that no Disney characters could be part of our wedding," he wrote in a chapter titled "The Magic Kingdom of Woke Corporatism" (via The Hill). "I wanted our special day to look and feel like a traditional wedding. I didn't want Mickey Mouse or Donald Duck in our wedding photos."