The Real Reason Donald Trump Resents Ron DeSantis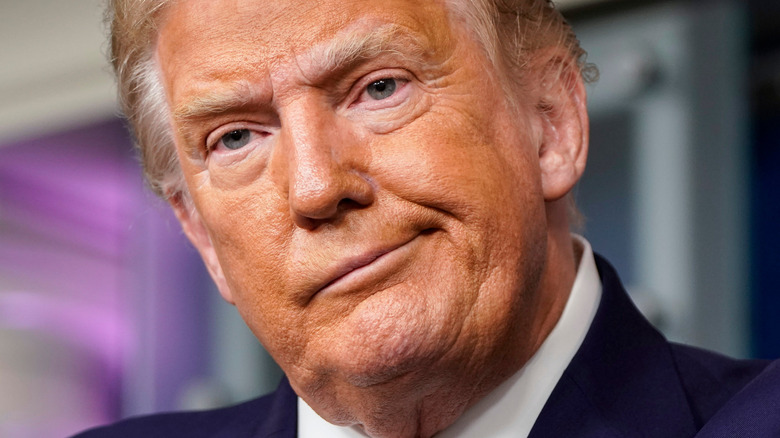 Naresh777/Shutterstock
Florida might not be big enough for both former president Donald Trump and Gov. Ron DeSantis. The two men favored to be the 2024 GOP presidential nominee both currently reside in the important swing state, and it's looking like they both have their eye on the White House.
As two of the most prominent members of the Republican party, you would think the two men would be allies. However, a dark battle could be brewing in the Sunshine State. In June, the Washington Examiner reported that DeSantis begged Trump not to hold a rally in Sarasota, Florida in the wake of the tragic Champlain Towers South condo collapse, which killed 98 people. "The base loves the president. But they equally love Ron. It's a showdown going on right now," a source said. A spokesperson for DeSantis later told 10 Tampa Bay that the governor had made no such request.
One potential sign of bad blood between the two men came at the rally, where Trump failed to mention DeSantis at all (via Fox News). As for voters, they seem somewhat torn between the two rumored rivals. In June, DeSantis bested Trump in a Western Conservative Summit straw poll with 74% of the vote to the former president's 71. However, it was Trump, not DeSantis, who finished 1% ahead of President Joe Biden in a more recent Emerson College poll, per Newsweek. Still, there's been chatter that Trump might feel a bit threatened by the governor.
Could Donald Trump and Ron DeSantis work together to win the 2024 presidential race?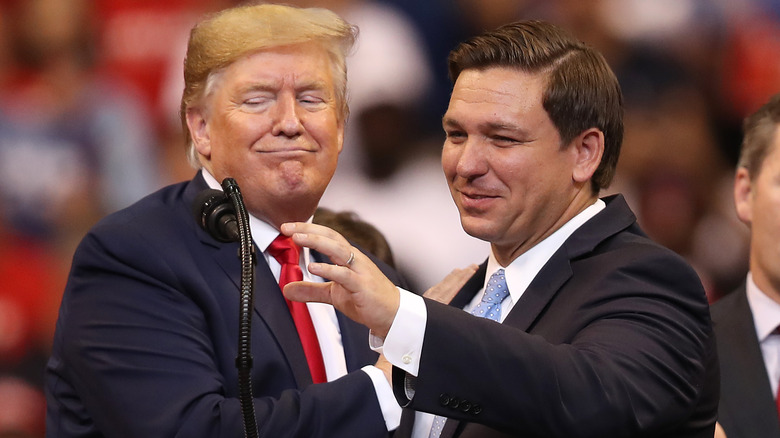 Joe Raedle/Getty Images
One of Donald Trump's alleged issues with his rival is how much the Republican base seems to love him. "Trump f**king hates DeSantis. He just resents his popularity," an insider told Vanity Fair. According to the outlet, Trump may also feel like Ron DeSantis hasn't properly sworn fealty to him after Trump supported DeSantis in Florida's gubernatorial race. "I was the first one to endorse him when he came out as a Congressman that a lot of people didn't know," Trump said during an interview on "Varney & Co." (via Florida Politics). "My endorsement helped him tremendously."
Trump may be scheming to use DeSantis' popularity to his own advantage. Former Trump adviser Sam Nunberg predicted that Trump will offer DeSantis a spot on the bottom of the GOP presidential ticket, thus preventing an ugly showdown between the two. However, the governor has to focus on winning reelection first, and he's in a tough spot. According to a Morning Consult Poll conducted in August, DeSantis' approval rating dropped 14 points from July as the COVID-19 pandemic continued to ravage his state. Meanwhile, some Republican donors are reticent about spending money on Trump's potential presidential bid, according to CNBC. "Big money, sophisticated people are just losing interest in this s**t show," one political adviser said. We'll just have to wait and see if Trump and DeSantis decide that teaming up is the best way to overcome their troubles.