How Caitlyn Jenner Feels About Her Daughter Kylie's Ex Travis Scott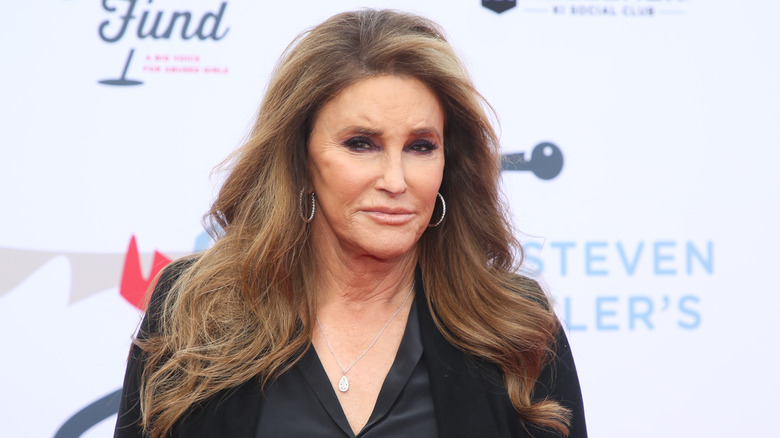 Phillip Faraone/Getty Images
Kylie Jenner is currently single (we think), although she's reportedly enjoying her time with actor Timothée Chalamet after splitting from Travis Scott. Kylie's relationship with Scott may have seen its fair share of ups and downs over the years, but Scott is the father of her two babies, and the KarJenners have always rallied around him. "[Kylie's] family wants [Kylie and Travis] to be together," a source told People in 2019 when the couple had initially broken up. "Travis might not be perfect, but he's a great partner and dad. Everyone would be upset if Kylie can't figure things out with Travis." In 2020, Kris Jenner posted a sweet tribute to Scott on Instagram, writing, "You are an incredible Father, brother, son and friend and I love the way you love all of us!!" She sweetly added, "I love you."
Since Caitlyn Jenner publicly came out as a transgender woman, Kylie's relationship with her dad has changed — but the pair remain close, and Caitlyn continues to weigh in on Kylie's life. This includes her romantic life, too. In 2020, Caitlyn sat down with "Good Morning Britain" to share that she'd met Kylie and Scott's baby boy, Aire Webster. "The family is growing! Kylie had her little boy. It was announced the other day. ... They're great," the reality star shared. Caitlyn has previously been a fan of the "Astroworld" rapper, but she may have changed her tune about Scott since he and Kylie split.
Caitlyn Jenner has mixed feelings about Travis Scott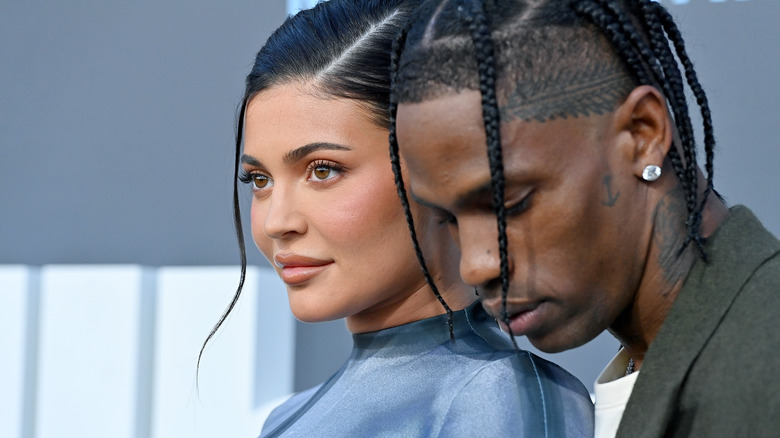 Axelle/bauer-griffin/Getty Images
In 2019, Caitlyn Jenner threw her support behind Kylie Jenner and Travis Scott when the couple attended the Grammys together. "We love and support you Travis and Kylie! You're so talented," Caitlyn tweeted. Kylie was on hand at the event to cheer on Scott, who was nominated in three categories, although he didn't win. In 2022, the Olympian reaffirmed her love for Kylie's partner, telling Daily News, "I like Travis. First of all, he treats Kylie very well and he's a good dad to little Stormi. Stormi loves him."
Despite this public show of support, Caitlyn's feelings about Travis appear to be mixed. Caitlyn was reportedly "shocked" and "disappointed" to learn that Kylie was expecting back in 2017 when she and Scott were newly dating. "She thinks Kylie is way too young to have a baby, and that she should have waited until she was in a long-term committed relationship," a source told HollywoodLife (via the Daily Mail). And when asked point-blank to choose whether she got along better with Devin Booker — her daughter Kendall Jenner's then-boyfriend — or Scott, Caitlyn chose Booker. "Devin Booker, I have more in common with because of athletics, and he seems to be a very nice guy," Caitlyn said, referring to her time as an Olympian. She went on to say that she hadn't had a "heavy conversation" with Scott; rather, she merely saw him "here and there."
Caitlyn Jenner is close with Kylie and supports her decisions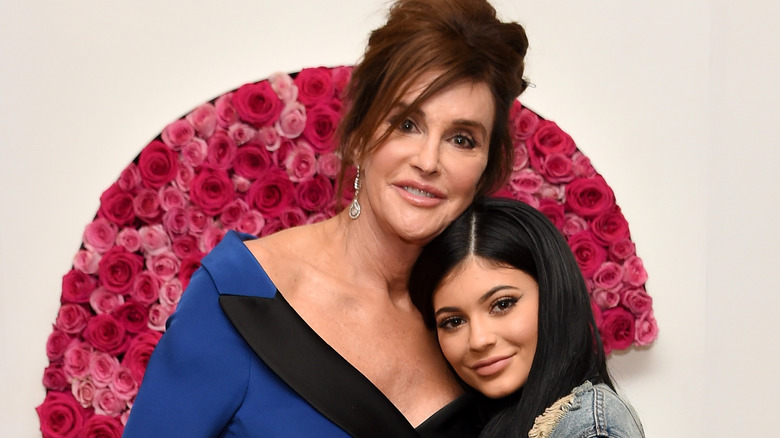 Nicholas Hunt/Getty Images
Currently, Kylie Jenner is thought to be spending time with Timothée Chalamet, but Caitlyn Jenner hasn't weighed in with her thoughts on that romance. This could be because Kylie hasn't publicly confirmed Kylothée is a thing, and Caitlyn is taking her cues from her daughter. Regardless of how Caitlyn feels about her daughter dating post-Travis Scott, we can bet she is supportive of Kylie. Despite their busy schedules, Kylie's dad has previously spoken about their tight bond, telling People in 2021 that, while she gets along with both Kylie and Kendall Jenner, "Kylie and I just seem to be closer most of the time." She added, "Kylie's more of an open book." Odds are, the beauty mogul is talking to her dad about her boyfriends, at least a little!
Caitlyn has also praised Kylie's parenting skills. In 2019, the reality star told Us Weekly, "Little Stormi is a wonderful little kid, [and Kylie] is a wonderful mom. She's totally dedicated to her." Undoubtedly, Caitlyn appreciates how Kylie and Scott have mastered the art of co-parenting. According to ET, Kylie and Scott are currently "doing their best to respect one another" and "get along and make their kids a priority," even as they are off "doing their own things." When it comes to Kylie's next public relationship, it's safe to assume Caitlyn will be concerned with how Kylie's future partner fits into this modern parenting equation.