What We Know About Ron DeSantis' 3 Kids With His Wife Casey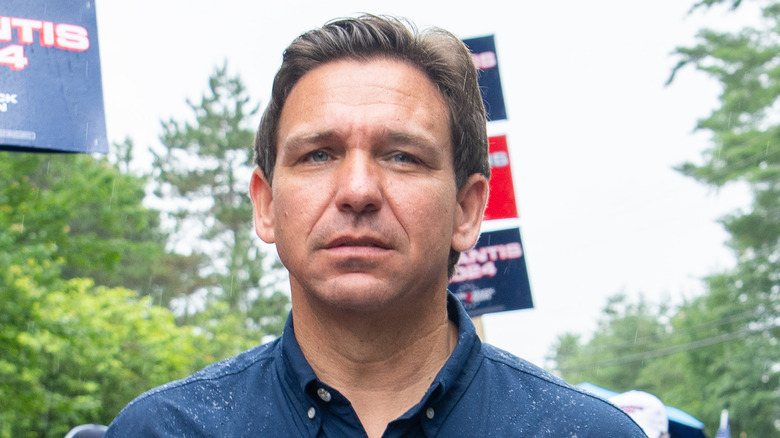 Bloomberg/Getty Images
Ron DeSantis announced that he was running for president in May and wasted no time launching his campaign. The controversial Florida governor has proven divisive during his career and has made enemies in high places. Still, as the US public has confirmed, you can never rule anybody out regarding the race to the White House. So, brace yourselves because, love him or loathe him, Ron and his clan could be the next first family. But what do we know about Ron's three kids and his wife, Casey DeSantis?
The presidential hopeful started his campaign by taking to Twitter. However, per AP News, the move seriously backfired, as the accompanying video that Ron posted wasn't up to scratch, causing it to crash persistently, adding credence to the growing criticism that he isn't up to the USA's top job. Detractors point to Ron's sketchy side, including his war against Disney, who ironically hosted Ron's wedding to Cindy.
The New York Times reports that Ron's BFF-turned-foe, Donald Trump slammed his now-rival over the fiery feud. "DeSanctus is being absolutely destroyed by Disney," he opined on Truth Social. Other GOP members agree, accusing him of political retaliation. Then, there's the C problem. Ron was forced to clap back after Casey was mocked for being "America's Karen" by the media. "My wife is an incredibly strong first lady of Florida, a fantastic mother, and a great wife," he insisted to Fox Business. So, what do we know about Ron DeSantis' 3 kids with his wife, Casey?
Budding politicians
Insider reports that Ron and Cindy DeSantis married at Disney World in 2009. The couple said "I do" at the Grand Floridian's wedding pavilion, which overlooks Cinderella's castle. Their fairytale union resulted in their three kids, son Mason, 4, and daughters Madison, 5, and Mamie DeSantis, 3. Despite the offspring all still being preschoolers, they're already playing an integral role in their dad's presidential campaign.
In fact, Madison and Mason have been political tools for DeSantis since they were in diapers. Casey and the kids, along with Ron's now adversary, Donald Trump, were front and center in his 2018 Florida governor campaign video. "Everybody knows my husband is endorsed by President Trump," Casey says in the clip that definitely hasn't aged well. "But he's also an amazing dad."
Well, amazing is subjective. "Ron loves playing with the kids," she continues as her husband indoctrinates their bambinos in Trumpist ideology. The loving dad teaches little Madison to "build the wall." He narrates "The Art of the Deal" to a thrilled baby Mason. Later, he educates Madison on the art of political sloganeering. "Make America great again," Ron reads from a placard, pointing at the words. "Bigly, so good," he says, standing over Mason, clad in a red MAGA romper, squirming in his crib. "Truth must be our foundation. [In Florida] we chose facts over fear, education over indoctrination," Ron claims in his presidential campaign video, seemingly without even a hint of irony.
Campaign trail stalwarts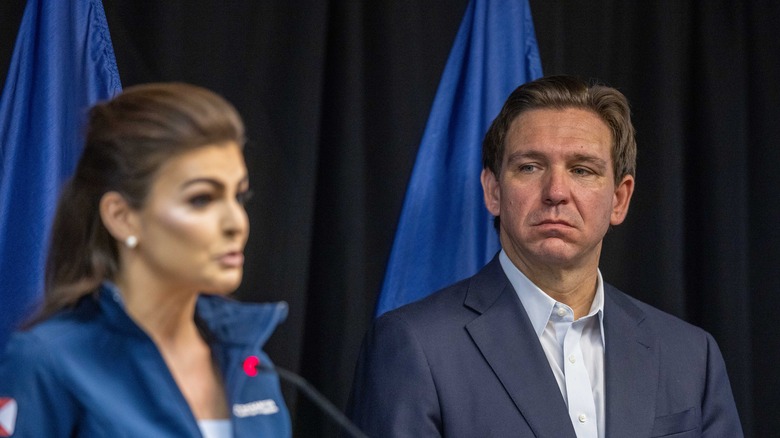 Scott Eisen/Getty Images
KCCI notes that in contrast to his GOP competitors, Ron DeSantis' 2024 presidential campaign is "a family affair." As he clocks up "miles on the campaign trail," he's taking the whole crew along for the fun and festivities. "Almost every time DeSantis walks on the stage, his wife and kids are close behind," the news broadcaster says. "We do one stop, and I put [one of the kids] on my shoulders one time," Ron explains as Casey DeSantis grins next to him on stage, holding Mamie DeSantis in her arms. "Now every time we [get off the tour bus], every time, the kid's got to go on the shoulders."
"We're playing catch over by the corn, and my son says to me, 'Daddy, is this heaven?'" Ron tells an audience in the Hawkeye state as Casey stands next to him, grinning and nodding. "I said, 'No, son, it's Iowa.'" Which is flattering or shading, depending on your take.
Meanwhile, Ron's even been utilizing his kids to strengthen his political punches. "My kids are 6, 5, and 3. So, they ain't going to be bringing any cocaine into the White House when I'm president," he tells another crowd, referencing the Secret Service investigation that was launched after a baggie of coke was found in a public area inside the "Executive Mansion." The Biden family was staying at Camp David at the time of discovery, and the inquiry has since been dropped due to lack of evidence, per BBC.