Do Jenna Ortega And Catherine Zeta-Jones Get Along In Real Life?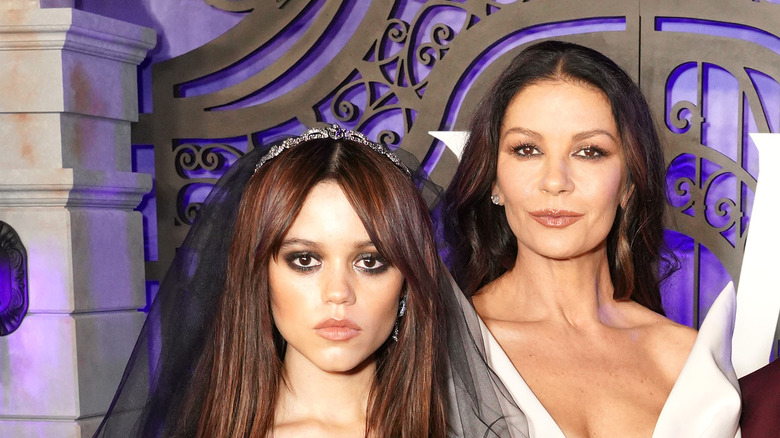 Presley Ann/Getty Images
"Wednesday" is full of complicated relationships, including the one between Wednesday Addams and Morticia Addams, played by Jenna Ortega and Catherine Zeta-Jones respectively. In the Netflix series, the mother-daughter duo fails to see eye-to-eye and Wednesday tells Morticia she's nothing like the popular former student of Nevermore. Their strained relationship is one of the underlying drivers of Wednesday's storyline. Co-creator Alfred Gough told Vanity Fair, "The relationship that kind of hangs over the season is really Wednesday's relationship with Morticia. How do you step out of the shadow of a mother as glamorous as Morticia?"
Ortega herself shared with Netflix, "Adding those layers of insecurity or those lived-in qualities that make a teenager a teenager is really interesting. Especially with a character that we've never gotten the opportunity to know well enough, because she's always been the one-liner, off to the side with a funny punchline. To actually have real frustration and uncertainty was really interesting to play and discover." Despite their bickering characters, Ortega and Zeta-Jones have nothing but love for each other off-screen and have a true, real-life friendship.
Jenna Ortega was nervous meeting Catherine Zeta-Jones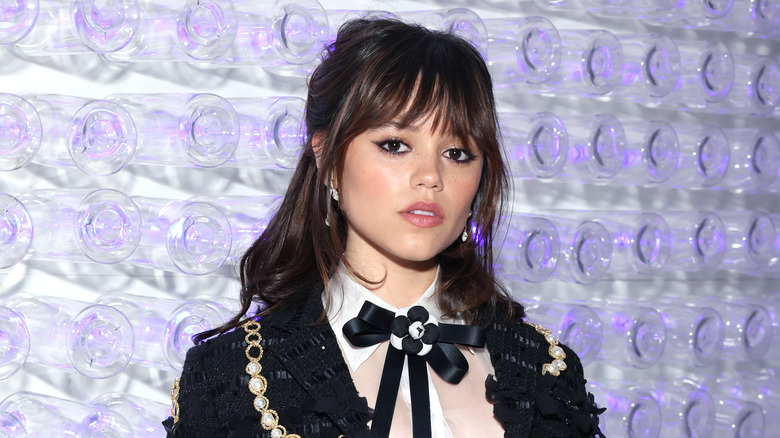 Cindy Ord/mg23/Getty Images
Although Jenna Ortega's resume is pretty impressive for a young actor, working alongside Oscar-winner Catherine Zeta-Jones was initially a bit nerve-wracking for the "You" star. "Catherine Zeta-Jones is incredible. I felt so lucky to work with her, honestly. She's so cool. She's so normal. And someone with a resume like hers, and a talent like hers, I was a bit nervous. She's a big name," Ortega gushed to Netflix (via Express). She went on to share how much she admires Zeta-Jones and praised her professionalism on set. "I was very, very impressed by her. I would love to work with her again," the "Wednesday" star declared.
Zeta-Jones also had nothing but kind words to say about Ortega's work ethic. "I've gotten to work with a lot of young women over the years, and she is profoundly special in the way she is on the set — her professionalism, her joy of acting. In this show, she has the hardest schedule of any actor I've ever known," she stated, per BT. The "Chicago" actor added, "She's in literally every scene, and she comes prepared with ideas, she's creative, and she's fun. It really is a dream. Now I get why Tim said Jenna's special. She really is." While working under Burton might have been intimidating as well, Zeta-Jones shared how impressed she was with Ortega for staying true to her "Wednesday" character.
Catherine Zeta-Jones applauded Jenna Ortega for standing up for her role in Wednesday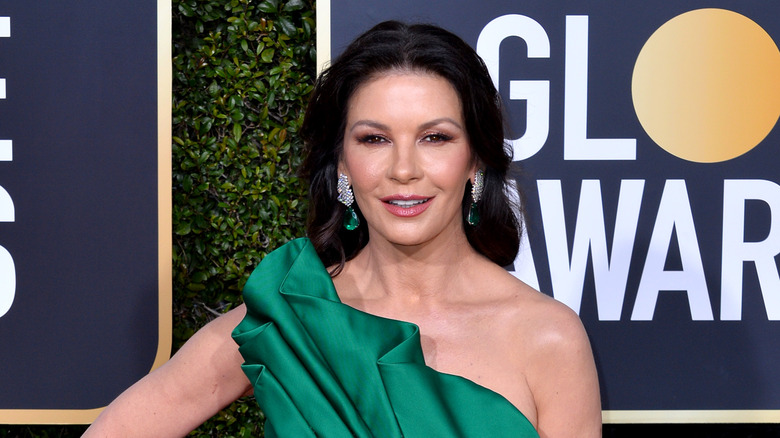 Featureflash Photo Agency/Shutterstock
Jenna Ortega became fiercely protective over her role in "Wednesday," so much that she admitted to being "unprofessional on set" during an appearance on Dax Shephard's "Armchair Expert" podcast. "I don't think I've ever had to put my foot down more on a set in a way that I had to on 'Wednesday.' Everything that Wednesday does, everything I had to play, did not make sense for her character at all," Ortega stated, revealing that she changed her lines to suit her character. Catherine Zeta-Jones thought Ortega's dedication to "Wednesday" was admirable and told the New York Times, "She was not intimidated by Tim [Burton]. He's this great director, but she'd question him — 'I'll do it that way, but can we also try it this way?' — and that'd be the take they took."
Ortega revealed on "Today" that some of her favorite scenes in "Wednesday" were with Zeta-Jones. "I feel like her humor is so underrated ... she just has great instincts," she shared. Despite having many leading roles under her belt, Zeta-Jones is happy to have the spotlight on Ortega and humbly stated to InStyle, "It's really Wednesday's story. I'm hoping that they continue with Wednesday's story forever, so I can grow old playing Morticia. I mean, nothing would make me more happy than to be 80 years old and still playing Morticia."