John Travolta And Kelly Preston's Son Ben Is Growing Up Fast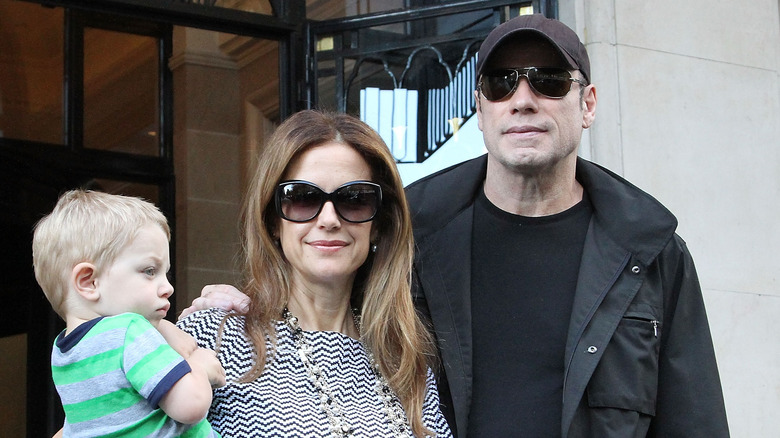 Marc Piasecki/Getty Images
After suffering the tragic loss of their 16-year-old son Jett while on vacation in the Bahamas in 2009, John Travolta and Kelly Preston announced the happy news that they were expecting. "It's impossible to keep a secret, especially one as wonderful as this. We want to be the first to share this great news with everyone that we are expecting a new addition to our family," the couple announced (via CNN).
On November 23, 2010, Travolta and Preston welcomed their son, Benjamin. "John, Kelly and their daughter Ella Bleu are ecstatic and very happy about the newest member of the family. Both mother and baby are healthy and doing beautifully," the family shared in a statement, per People. Travolta and Preston described having Ben as "nothing less than a miracle" and the "Pulp Fiction" actor told People (via ABC News), "He's given the house a renewed spirit and purpose. He's brought us a new beginning, and his presence has brought joy to all the people who have wanted the best for us." Sadly, Preston died in 2020 from breast cancer. At the time, Ben was just 9 years old, but as a young tween now, he's taking after his mom and dad's good looks.
Ben Travolta is jet-setting around the world with his dad
Being a kid of famous actors has its perks! John Travolta shared an Instagram video montage of him enjoying a summer trip to Japan with his two kids, Ella and Ben. Travolta's son is seen looking awestruck with an owl perched on his arm and clapping while on a high-speed train about to take off. Ben, who will be 13 years old in November, bears a striking resemblance to Travolta while sharing his late mother's fair hair.
Although Ben is almost a teen, he's not too old to enjoy Easter gift baskets and hunting for eggs, as seen in Travolta's video. "Hope everyone had a wonderful Easter!!" the actor wrote. Travolta gave his son a 12th birthday shout-out on November 23 by sharing a pic of Ben cuddled up with their dog. "Happy birthday my Ben! From your Dad, Ella and Peanut!! We love you so much!!" Travolta gushed. While getting used to life without his mom had to have been an adjustment for Ben, her death had him thinking about a serious topic way beyond his years.
John Travolta had a serious talk about life and death with his son Ben
Losing a parent is never easy but John Travolta's son Ben was not yet 10 years old when his mother, Kelly Preston, died. As E! News reported, during an appearance on Kevin Hart's talk show, "Hart to Heart," Travolta revealed that Ben had a fear of losing him after his mom's death. "He said to me once, he said, 'Because Mom passed away, I'm afraid you're going to.' And I said, 'Well, it's a very different thing.' And then I went through the differences about my longevity and her limited life," the "Michael" actor shared. He continued, "But you know, Ben, you always love the truth and I'm going to tell you the truth about life. Nobody knows when they're going to go or when they're going to stay," pointing out that his first son Jett and his wife Preston died "too young." Travolta's wise advice to Ben was to live his life as long as possible, the best that he can.
It seems as if Ben is living his life fearlessly and is promising to be an action star just like his dad. In May 2022, a proud Travolta shared a video of Ben swinging from a bar onto a wooden block, several feet away. "New best for Ben," Travolta boasted. Many fans compared the young kid to Spider-Man and perhaps we'll see Ben on the big screen in the future.