Gary Busey's Daughter Alectra Is All Grown Up And Lives A Normal Life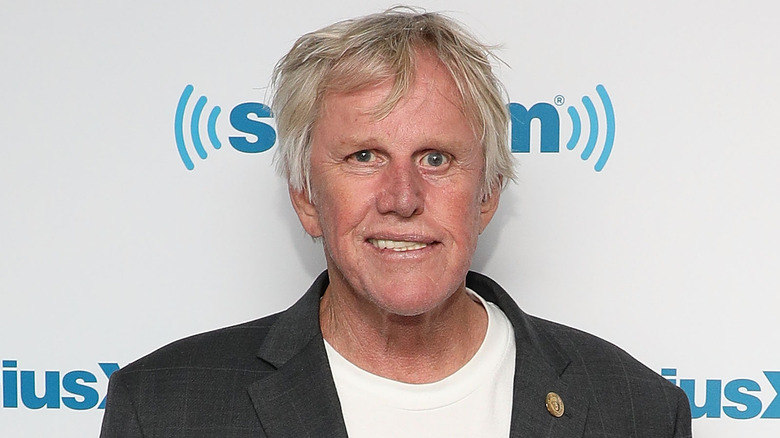 Taylor Hill/Getty Images
Gary Busey may have lost all of his money, but we're sure he still has a wealth of that outlandish behavior that we've come to expect. Despite Leslie Jordan once spitting on him, the actor is generally known for his fun-loving spirit, and it seems it passed on to his daughter, Alectra Busey.
Gary has had three children with three different women, per ABTC. Alectra is Gary's second child, whom he had with his ex-wife and actor, Tracy Hutchinson. The couple welcomed Alectra in 1993, more than 20 years after the "Lethal Weapon" actor welcomed his first son. The actor revealed to the Wall Street Journal that there are some major differences when it comes to raising a son versus a daughter. He said, "Each has their own inherited set of systems. Girls have the ability to wrap the father around their little finger. Boys are just, Ahhh. Still again, that feminine spirit has to be cherished and embraced and loved." Gary said it himself — Alectra definitely has her father wrapped around her finger.
In July 2023, Gary shared a photo of him and his daughter in honor of her birthday. He wrote, "Happy Birthday to my daughter Alectra. You are so beautiful inside and out." Even though time has flown by, Alectra will always be Gary's little girl. In reality, however, she has grown into a full-blown adult with a normal life despite how well-known her father is.
Alectra Busey became a photographer
Gary Busey may have given his daughter, Alectra Busey, some of his creative genes. Alectra didn't go into acting but took on photography. It's unclear when she started to shoot professionally, but her photography Facebook page dates back to 2011.
Alectra has been pretty busy with her work. She has photographed different tours and has done various creative shoots. At the beginning of her career, the photographer was overjoyed to see her work displayed on different products. In April 2015, she took to social media to share her excitement about seeing her photographs of the band IWrestledABearOnce on more than just her camera lens. She said, "It's really awesome seeing pictures I took of @iwrestledabearonce on posters, websites, & album stuff! Call me lame but I'm stoked."
From being a beginner photographer to becoming a professional photographer, Alectra has worked hard for her business. In July 2023, the photographer shared a video of the lengths she would go to get the perfect shot as she struggled in the rocky waters of Lake Tahoe. She shared, "BTS from a sunrise shoot I did in Lake Tahoe recently ....Final images are absolutely stunning... the process of getting them tho was a different story....With that being said the pain I went through ... 100% worth it." Although she's more than 10 years into her photography business, she doesn't plan on stopping anytime soon.
Alectra Busey is close with her family
Alectra Busey may not see her family every day, but that doesn't mean she isn't close to them. Of course, she has an extra special relationship with her famous father, Gary Busey. In September 2018, the photographer showed her support for the "Lethal Weapon" actor's book release on Instagram. She wrote, "@thegarybusey book BUSEYISMS is now on the shelves in every Barnes & Nobles! Go get yourself a copy."
Gary isn't the only Busey that has gotten special attention from Alectra. She and her older cousin, Michael Busey, frequently hang out with one another, but the looks of her Instagram. Her cousin has even been the muse for some of her photos during her time on "The Did You Die" tour. She gave him a special shoutout online, writing, "I owe @mikebuseyshow a huge thank you for inviting me to join this tour, as well as being one of the best humans I know." Talk about the ultimate cousin duo!
It's clear that Alectra and Michael have a special relationship, but we can't forget about her brothers, Luke and Jake Busey. Although they may not appear on the photographer's Instagram as often as Michael, the three still get together every now and then. In June 2023, Gary shared a photo of him with his three children celebrating his birthday. So, whether it's her father, siblings, or cousin, Alectra never turns down family time.