The A-List Celeb Who Hung Out With Beyoncé When She Was A Teenager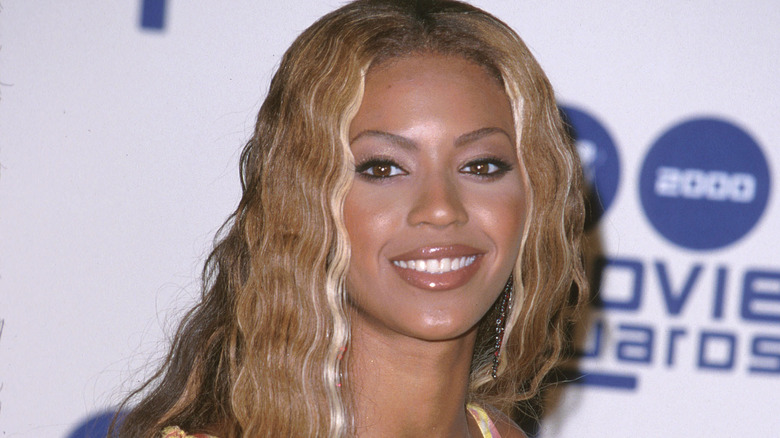 Steve Granitz/Getty Images
One famous '90s star recently revealed that he babysat Beyoncé as a teenager. When most people think of teenage Beyoncé, their minds spring back to her Destiny's Child days when she and her group members wore color-coordinated outfits designed by Tina Knowles Lawson. "The whole thing with Destiny's Child is that we always drew inspiration from the old Motown girl groups," shared Lawson with Essence in 2017. "These outfits were like a little funky thing where I was attempting to mix a cargo type of look with a little bit of drama."
However, true Beyoncé fans know that DC was not her first time sharing the stage. A few years earlier, Beyoncé led a group called Girl's Tyme consisting of herself, LaTavia Roberson, and four other girls who didn't survive the group's transition as they became Destiny's Child. During their run, Girl's Tyme competed on Star Search and filmed a bunch of promotional material that Beyoncé has often repurposed for her recent projects. Unfortunately, Girl's Tyme lost Star Search, though Beyoncé got something positive from the whole ordeal. "At that time you don't realize that you could work super hard and give everything you have and lose. It was the best message for me," she shared in an interview (via Us Weekly). However, another notable thing happened to Beyoncé around this time. She crossed paths with a popular R&B star who briefly had the responsibility of looking after her.
Usher was Beyoncé's babysitter (kind of)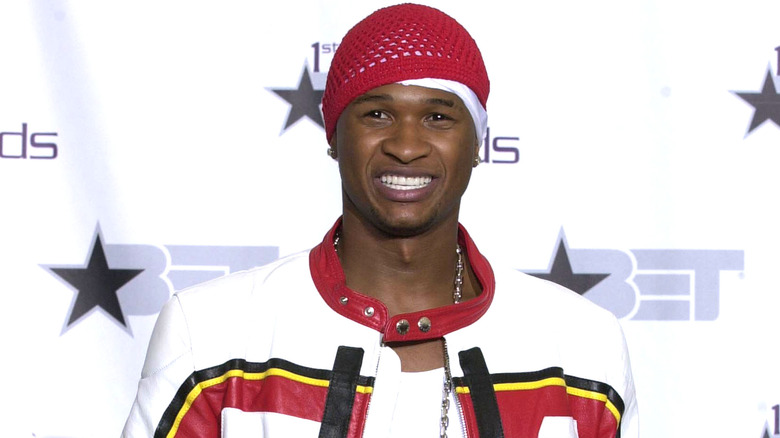 Gregg Deguire/Getty Images
Earlier this month, singer Usher spoke with Roman Kemp and shared hat he once babysat Beyoncé before she was in Girl's Tyme. "Fun fact, I knew Beyoncé when she was 12 years old, 11 years old," shared Usher (via People). "She used to be in a group by the name of The Dolls. I don't know if I could consider myself their babysitter, but I had a time where I had to watch The Dolls." Usher then explained that he first met Beyoncé and her group members while they were recording at famous producer Daryl Simmons' house. "[Simmons] was working with [The Dolls] at the time, and I just happened to be over there and they were working on a session. I kind of found my way into being their like, I don't know, chaperone, nanny, or something like that — the oldest person in the room."
As People points out, Beyoncé and Usher are only three years apart, but it's still nice to know that Usher looked out for her. This was the second time in recent months that Usher has had Beyoncé on the brain. In April 2023, Usher pulled a light-hearted April Fools prank on his Vegas residency fans when he pretended that Beyoncé had popped in for a surprise performance, per Today. Gotta love wishful thinking.
Beyoncé and Usher grew very close over the years
Although we'd love to hear what Beyoncé thought of Usher babysitting her when they were younger, their future endeavors prove that they got off on the right foot. Over the years, Beyoncé and Usher have come together on multiple occasions to give fans what they desperately want, which is them sharing the same stage. One of the most popular instances is definitely Usher's 2004 performance of "Bad Girl," when Beyoncé deemed Usher worthy enough to give up her microphone and served as his leading lady during the special performance. To be fair, it seems like Beyoncé definitely stole most of the attention.
In 2007, Usher showered Beyoncé with flattering sentiments when he presented her with the International Artist of Excellence Award at the American Music Awards. "With gifts as big and generous as nature, a voice that touches hearts all over the world, and a smile that can light up an entire stadium, she is something rare and special. In the world of divas and superstars there is only one Beyoncé," said Usher during his introduction. Once she arrived onstage, Usher read her statue's engraving and kept the compliments flowing. "Presented to Beyoncé Knowles because her music knows no boundaries, no borders," said Usher. "The American Music Awards recognizes the extraordinary worldwide success by her record sales, radio play, live performances, and popularity, by this International Artist Award of Excellence."