Lawyer Tells Us Barron Trump's Financial Fate If Donald Goes To Prison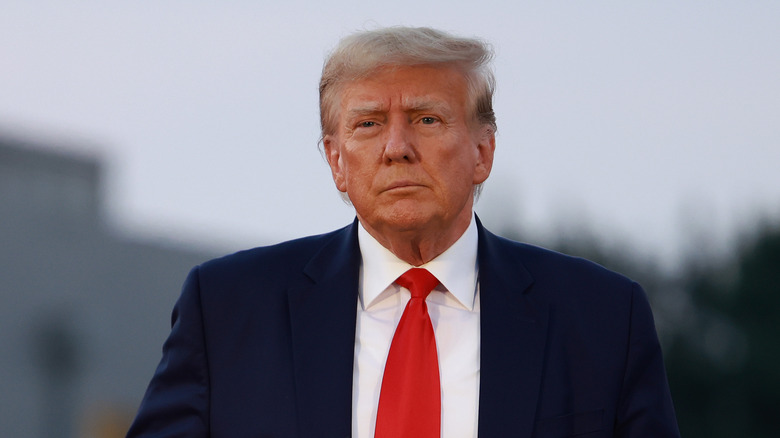 Joe Raedle/Getty Images
Donald Trump made headlines on August 24 when he turned himself over to authorities for arrest after being charged with attempting to tamper with the 2020 election results in Georgia. Perhaps more notable than the arrest was the mugshot that followed. Trump appeared to relish the police photo, as he used the image as the basis for his return to Twitter. The former president of the United States posted the mugshot in a tweet with the text "Election interference! Never Surrender." He also included a link to his website, DonaldJTrump.com.
A message on the website was a call-to-action for his supporters. "But the Democrats will spend billions and billions of dollars to try and stop our movement, and we're counting on YOUR support to finish what we started," a pop-up on the website read. Trump's team also started selling t-shirts with the mugshot on the front for $34. The tees included the phrase "Never Surrender!" under the photo.
Earlier in the month, before he was arrested, Trump had sent out a fundraising email. "[R]eports indicate that I could now face a combined 561 YEARS in prison from the Left's witch hunts," the email read, per The Hill. Trump's team had reportedly spent over $26 million in fundraising on his legal fees. This caused Chris Christie to question Trump's spending while appearing on CNBC's Squawkbox.
Nicki Swift spoke to a lawyer to find out what happens to Trump's youngest son's finances should the former president go to prison.
The Trumps likely protected Barron Trump's finances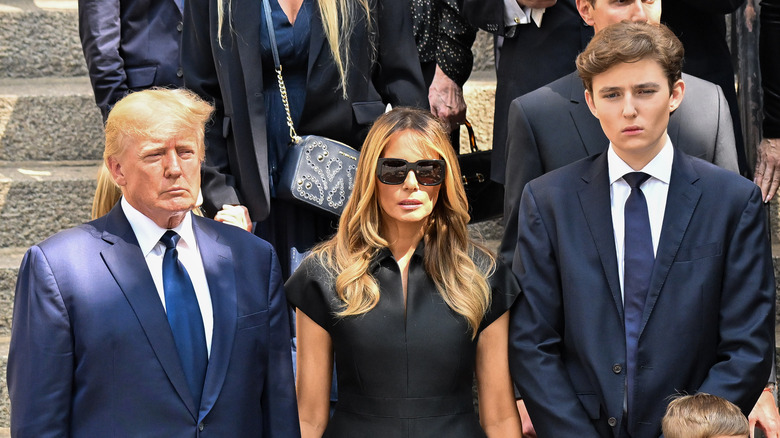 James Devaney/Getty Images
Speaking to Nicki Swift, Holly Davis of Austin-based Kirker Davis LLP, who has extensive experience in high-net-worth divorce cases, gave some insight on what could potentially happen to Barron Trump's finances should Donald Trump serve a prison sentence. We asked if Donald would be on the hook for any child support since Barron is a minor. "Barron would likely not be a minor at the time of any imprisonment, so Trump would not have to pay child support," Davis told NIckiSwift.
We also asked if Barron's inheritance would be impacted by his father serving time. Davis believed that Donald and Melania Trump would likely have set up prior protections for their son. " A parent's financial downfall may negatively impact any inheritance that was expected by a family member, so it is likely that Trump may have already set up certain financial accounts for Barron under the terms of any premarital agreement or postnuptial agreement with Melania, or perhaps created an irrevocable trust in Barron's name prior to any indictments to protect certain assets," Davis said.
In March, as legal charges against Donald rolled out, a source close to the Trumps spoke about the steps Melania had taken to safeguard her son. "Barron has always been a first priority in [Melania's] life," the insider told People at the time while insisting that the former first lady had always been protective of Barron, and that the court cases against her husband had no bearing on that protection.