Carrie Underwood Reveals It Was 'Physically Impossible' To Sing After Face Injury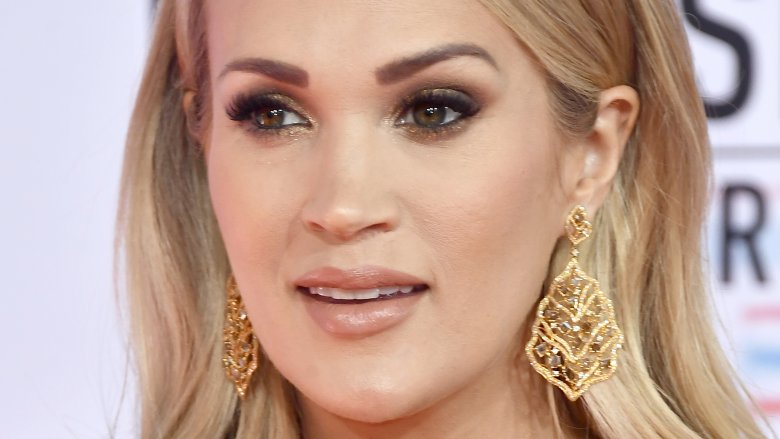 Getty Images
Country music star Carrie Underwood is sharing new insight into her recovery.
During an interview with Vulture published on Thursday, Nov. 8, 2018, the "Love Wins" hitmaker revealed that singing was "physically impossible" after suffering a nasty fall on the steps of her home in Nashville, Tenn. nearly a year ago.
"I had wanted to be in the studio sooner than I was, actually recording these songs," Underwood began in reference to her latest album, Cry Pretty, which was released in September. "But I had stitches inside my mouth, outside my mouth."
Once the "Before He Cheats" singer was well enough to head back into the recording studio, pronouncing her "m's and b's and p's" properly became a bit of an issue. As Underwood, who's expecting baby no. 2 with husband Mike Fisher, noted, "Going into the studio for the first time, it was a mind game. 'Do I sound the same? Is my diction the same? Does my mouth move the same as it did before?'"
As Nicki Swift previously reported, Underwood, 35, faced a long recovery after the incident, having undergone surgery on a broken wrist and receiving 40 to 50 stitches in her face. However, after months of lying low and healing, she made her triumphant musical comeback at the 2018 ACM Awards in April. "In the beginning, I didn't know how things were going to end up," the singer later said on the Today show. "It just wasn't pretty."
These days, Underwood is remaining optimistic about any lingering vocal issues. "Things change when you get older; your muscles change. I kind of expect I'm not always going to sound like I'm 22 coming off of American Idol," she told Vulture, but added, "Hopefully I get better."
Meanwhile, the American Idol alum's husband, NHL pro Fisher, made headlines earlier this week when he released a hunting-themed parody of one of his wife's biggest hits, "Before She Bleats," in promotion of his apparel brand, Catchin' Deers. "A doe will make a bleating sound in mating season...it's called a bleat," the 38-year-old athlete explained to Entertainment Tonight, before noting how it's pretty much public knowledge that Underwood, who's a vegan, is "not a hunting fan." However, as Fisher added, "Opposites attract. My wife is the best. She puts up with my hunting and she loves me."