The Real Reason Bob Barker Never Remarried After His Wife's Death
Paul Archuleta/Getty Images
The entertainment world was saddened by the news that Bob Barker, the longtime host of "The Price is Right," died on August 26 at age 99. "It is with profound sadness that we announce that the World's Greatest MC who ever lived, Bob Barker, has left us," his publicist announced (via NBC News). Barker was famed for his longevity both on and off-screen. He hosted the popular CBS show from 1972 until retiring in 2007 and was married to Dorothy Jo Gideon, his high school sweetheart, from 1945 until she died in 1981. Barker was forced to endure a shocking cheating scandal in 1994. Still, following the loss of his wife, he never remarried.
Yet, while everyone wanted to "Come on down!" for a chance to win cash and prizes, "The Price is Right" wasn't the first game show Barker hosted. The daytime staple previously fronted "Truth or Consequences" from 1956 to 1975. "Mr. Television Game Show" admitted that he'd always have a deep affection for his first hosting gig.
"I had thirty-five great years on 'The Price Is Right,' but 'Truth or Consequences' will always hold a special place in my heart for many reasons," he wrote in his memoir, "Priceless Memories" (via Today). "It was my first national television job; I had the opportunity to work with one of my heroes, Ralph Edwards and Dorothy Jo, and I began to enjoy more financial security." He also maintained deep feelings for first love, resulting in one of the reasons Barker never remarried after his wife's death.
Dorothy Jo Gideon was Bob Barker's muse
Bob Barker and his wife never had the chance to enjoy the trappings of his success following his retirement in 2007. Dorothy Jo Gideon died in 1981, and Barker turned to the single life after leaving "The Price is Right." In 2007, he opened up to "Good Morning America" about why Gideon would forever remain the one and only Mrs. Barker. "I never had any inclination to remarry," the widower shared. "She was my wife." Gideon wasn't just Barker's beloved spouse, though. She was also his philanthropic muse and the reason why he dedicated his spare time to animal rights.
"She was ahead of her time. She really was. She stopped wearing fur coats before anyone was stopping," Barker told "GMA." "She became a vegetarian before people were becoming vegetarian. And I gradually did the same thing with her." Over the decades, Barker regularly visited Gideon's resting place in LA's famous Forest Lawn Memorial Park. According to the New York Daily News, he paid a touching tribute to his late wife on the 36th anniversary of her death. The then-93-year-old was photographed laying daisies on Gideon's grave and polishing her headstone while paying his respects.
However, proving that you can never say never, Barker popped the question to his longtime partner, Nancy Burnet, shortly before his death. "He's doing pretty well ... he's happy, he's engaged. He's just doing remarkably well for almost 99 years of age," his 79-year-old fiancée, Nancy Burnet, told Closer.
Bob Barker's second shot at love with Nancy Burnet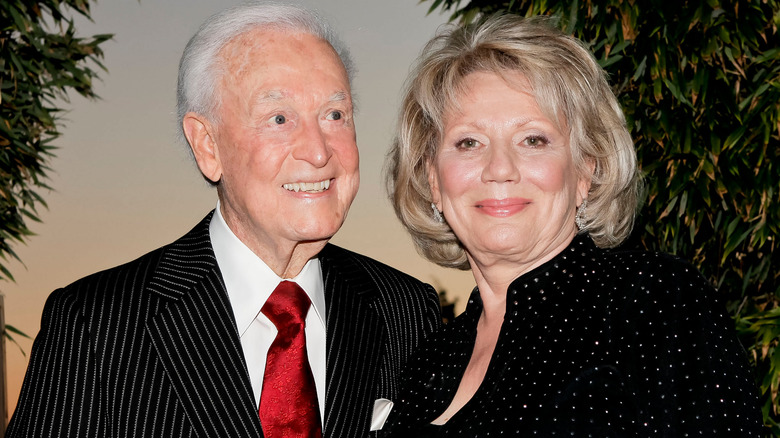 Tibrina Hobson/Getty Images
It was love at first sight for 16-year-old Bob Barker and Dorothy Jo Gideon. "We went to hear Ella Fitzgerald, and I never cared about any of the other girls after that," he told Biography. But in 1943, Barker and Gideon were forced apart after he enlisted in the Navy to train as a fighter pilot. Subsequently, they were off down the aisle the moment he gained his wings.
Barker and Gideon tied the knot in January 1945 and they were inseparable from that moment on. "Dorothy Jo was the single most important thing in my life. She was very bright and totally devoted and did everything she could to help me in everything I tried to do," Barker told Biography. "She was with me all the time until she died," he later told Esquire. "For some men, maybe a second or third marriage would work out fine. In my case, I had my marriage, and she was the love of my life."
However, Barker landed a second shot at love when he met Nancy Burnet at an event he hosted in 1983. "His humor is still in good shape. He's had a very charmed life." Burnet told Fox News on the eve of Barker's 99th birthday. The couple bonded over their mutual passion for animal rights and remained together until his demise. "We were great friends over these 40 years. He will be missed," she said in a statement (via People) following Barker's death.