Kathy Griffin Steals Trump's Mugshot Thunder With Swollen Tattooed Lip Reveal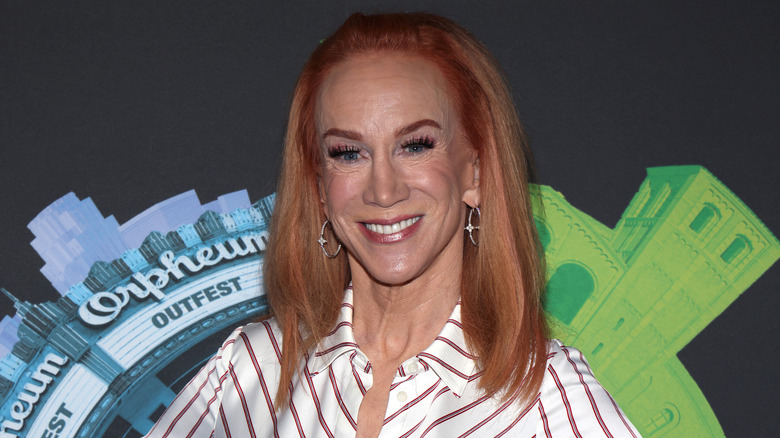 David Livingston/Getty Images
Kathy Griffin strikes again! In light of Donald Trump's arrest, the comedian recently poked fun at the former president's mugshot. Of course, this isn't Griffin's first controversial move aimed at the politician.
In 2017, Griffin's career came to a screeching halt after she posed with a mask designed to look like Trump's severed, bloody head. Following a ton of backlash that included a response from Trump himself, Griffin apologized for the photo. But it was too late. While Griffin eventually bounced back from the scandal, she took a big professional hit for a while. The actor was fired from her CNN New Year's Eve gig and could no longer do stand-up at a number of theaters, according to People. She was deeply impacted by the incident on a personal level, as she was the target of thousands of death threats. The Secret Service even conducted an investigation. In 2022, she told The New York Times, "I wasn't canceled. I was erased."
Years after the controversial incident, Griffin seems to be back in her groove. Following the release of Trump's mugshot, the comedian decided to put her own spin on his infamous photo. On August 24, Griffin shared footage of her getting her lips tattooed in a YouTube video. At the beginning of the video, she alluded to her past Trump drama by pointing out her customized T-shirt with the words "Officially-Uncancelled" written under a picture of her. Later on, she made her big reveal by posing just like the former president.
Kathy Griffin can't get enough of Trump's mugshot
Kathy Griffin walked fans through the process of her lip procedure in a recent YouTube video. "I'm getting my lips tattooed, but they call it blushing. We'll see," she said as she made her way to the appointment. Laying down on the exam table, the camera zoomed into her mouth, which was etched with a white liner. The comedian made faces as plastic covered her lips. After the aesthetician worked on her mouth with a tattoo gun, Griffin revealed her brand new lips, which appeared thick and vividly red.
Griffin then returned home, where her husband Randy Bick chuckled at her notably different appearance. "It's a little swollen," she explained. The star then showed off her inflated lips to actor Kristen Johnston, who also seemed astonished. Fans got a full view of Griffin's swollen mouth, as the star talked about flaunting her new look at a July 4th parade.
At the end of the video, Griffin mocked Donald Trump's mugshot by raising her newly microbladed eyebrows and playing up her tattooed pout. A text message displayed Griffin's pretend mugshot, which said, "You're fired" underneath. Griffin poked more fun at Trump's arrest by sharing a photo of her own fake arrest. Griffin is clearly in hysterics over the president's viral photo as of late. She recently shared a collage of Trump and his defendants' mugshots on Instagram, captioning the post with three cry-laughing face emojis.